First Eat Street was fantástico
Celebration of Latino heritage featured dancers and mariachi band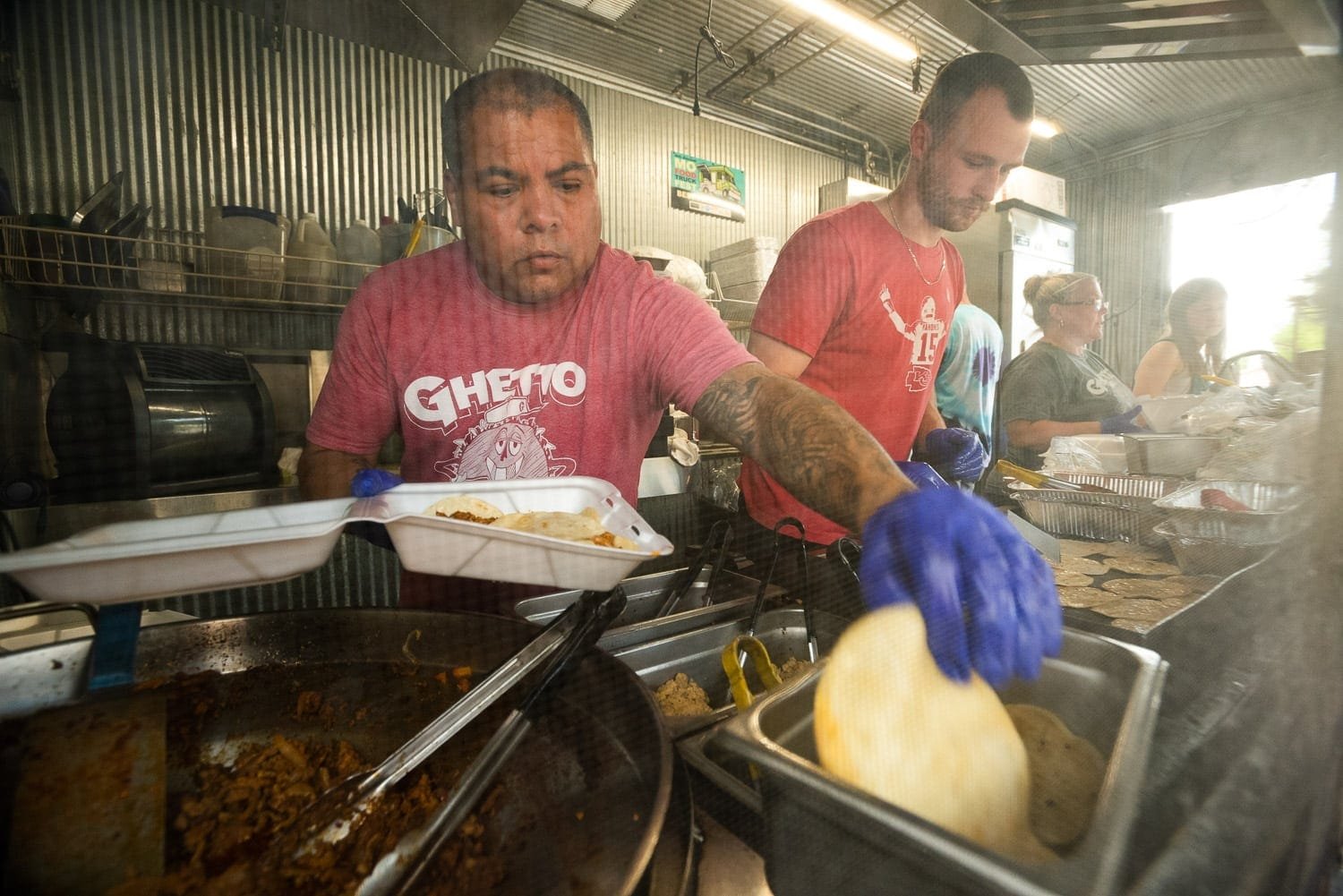 Marcos Renteria and Drake Tweed fill orders for street tacos in the Ghetto Tacos food truck.
If you didn't make it to the market's Eat Street Tuesday, you missed a real treat. The band was wonderful, the dancers delightful, and the food was delicious. The bonus children's craft led by market friend and art teacher Alexandra Burnside had little hands shaking maracas all over the pavilion. 
Eat Street, which is held at the market every third Tuesday of May through August, is a food truck festival combined with special music, a children's craft, and our usual fine market vendors.
THURSDAY
MU Extension Nutritionists will be at the market tomorrow demonstrating and sampling a broccoli recipe. Broccoli has been in abundance, as well as cauliflower and strawberries. (I snagged 13 quarts of strawberries Tuesday.)
It's a delicate crop, strawberries. The Braker boys tell me their plants are loaded, but the rain can cause problems so we'll just hold our breath that we continue to have such a good supply.
Vendors we expect include Brakers and E & O, which means we'll have loads of beautiful plants. The Lee Family Farm, Nature Valley, and Lykou Lee's Farm will also have either plants and/or produce. Bee Hunter will have marmalade and jams, while Greenbush Honey Farm will have, you guessed it, honey. Stormy Farms features pork, chicken and farm fresh eggs. You'll find Asian specialties at Songbird's Kitchen and pupusas at Pupseria Jandres.
SATURDAY
Saturday's activities may sound a bit familiar. Clickety Clack – Reading down the Track was rained out last week, but it's a go this Saturday. The streetcar will pull out of the depot just west of the market about every 20 minutes starting at 9 am. The last run is about 11:40. Children on the free ride will get to follow along as our reader shares The Little Red Caboose.
Smiling Sun Gardens' truck blew a gasket last week so they rescheduled for this Saturday. If you'd like to add native plants to your garden, check out Smiling Sun Gardens and stop by the E & O booth to look over their cornflowers.
Cooking for a Cause this week benefits the market's WIC program. Service runs from 8:30 to 11. Drew Ballntyne is on the market stage.
This Saturday's Free Kids Meal pack is:
Breakfast – strawberry parfaits with market granola and milk
Lunch – rice & beans, chopped veggies, D 'n' D Smoked Ranch dip, and milk. 
The to-go packs are served in the large tent north of the market and free to anyone aged 1 through 18. Kids don't have to be present, but the adult picking up for them needs to show a photo of themselves with the children so the servers can get a head count.
We should have pretty much all our vendors Saturday, including Kettle Corn, who we have been missing lately.
TUESDAY
Max Barnett will be playing at the Tuesday market,  and Ghetto Taco will be back, along with a good selection of produce, meats, and baked goods. 
And on we'll plow toward the high season. 
See you at the market (or more likely on Saturday I'll see you on the streetcar. I'm in charge of spraying all the books on the seats with disinfectant. The CDC says there is almost 0% chance of spreading COVID by touching something like a book – as in 1 in 10,000, but we like to be super safe at the market. We're all about keeping healthy.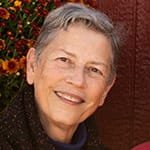 Eileen Nichols founded the Webb City Farmers Market in 2000. From a handful of producers, the market has grown to become nationally recognized.