First of the tomatoes have been delicious and BIG
WCPD, Creative Learning Alliance and Legion Auxiliary will join us Saturday
Sunny days are finally here which means the tomatoes should soon be abundant at the market. The strawberries continue to be available throughout every market. Get them while you can. They have been truly delicious and BIG!
Tomorrow (Thursday), in addition to lots of fresh produce, expect to find Pupuseria Jandres with filled pupusas and baked goods, Asian specialties from Songbird's Kitchen, local honey, and specialty jams and marmalades. Brakers and E & O will have their fabulous flowers. Extension will share a roasted cauliflower recipe. We have loads of cauliflower and broccoli right now.
Saturday is children's kits day. The Webb City Police Department will be by the yellow and white tent north of the pavilion handing out free child identification kits to parents and guardians, which can be completed at home.
Creative Learning Alliance will be in front of the red barn handing out physics bags for kids. While CLA works toward establishing a science center, they are doing STEAM popups in different locations. STEAM stands for Science Technology Engineering Arts and Math. This experiment will engage participants in structural engineering using the scientific concepts of compression and tension to create a bridge made of fettuccini that will hold weight. This activity can be done as a team so they'll have one bag per family until they hand out all 50 bags.
Creative Learning Alliance is a 501(c)(3) nonprofit. Their vision is to engage people of all ages in hands-on learning, driven by curiosity and play. Interested in being featured on their social media? Film a video or take some photos of the experiment in the process and send them a DM or email them at info@creativelearningalliance.org or post it on the market's Facebook page.
The Free Kids Meal packs on Saturday are: 
Breakfast – sausage & cheesy eggs with a biscuit, fruit & milk.
Lunch – ham & cheese wrap with veggies & milk. The meals will be packed to go and handed out in the tent north of the pavilion. 
They are free to kids 1 through 18, who do not have to be present as long as their adult shows a photo of themselves with the kids for our head count.
Cooking for a Cause will benefit the Webb City High School Choir Boosters. Breakfast is served under the green canopy north of the pavilion from 8:30 to 11. Customers have a choice of a full breakfast for $6 or a light breakfast for $3. All profits go to the Choir Boosters.
David Loving will be on the market stage.
It's Memorial Day weekend and the market is privileged to host members of American Legion Post 322 Auxiliary, who will be giving away poppies in honor of the men and women who died while serving in the U.S. military. Donations received help local disabled and hospitalized veterans.
Tuesday will be a special day at the market. It's our first weekday Free Kids Meal of the year. The meal will be served from under the green canopy north of the pavilion from 4:30 to 6:30 pm. That will give us more room for kids to eat under the yellow and white tent. Supper will be a grilled hamburger, veggies, chips, and milk.
Tim Snider will be on the market stage.
With both school and the sun out, high season cannot be far away. See you at the market.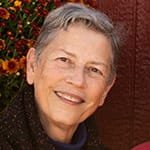 Eileen Nichols founded the Webb City Farmers Market in 2000. From a handful of producers, the market has grown to become nationally recognized.