READERS THEATRE – (FRONT) Fin Brown, Lilly Shea, Nikki Owens, Grace Dalrymple, McKenzie Jones, Bria Brattin. (BACK) Elijah Smith, Anna Beth Trueblood, Kyahn Ely, Kaeden Tebbets, Lily Clark and Kameron Bennett. (TEAM PHOTOS)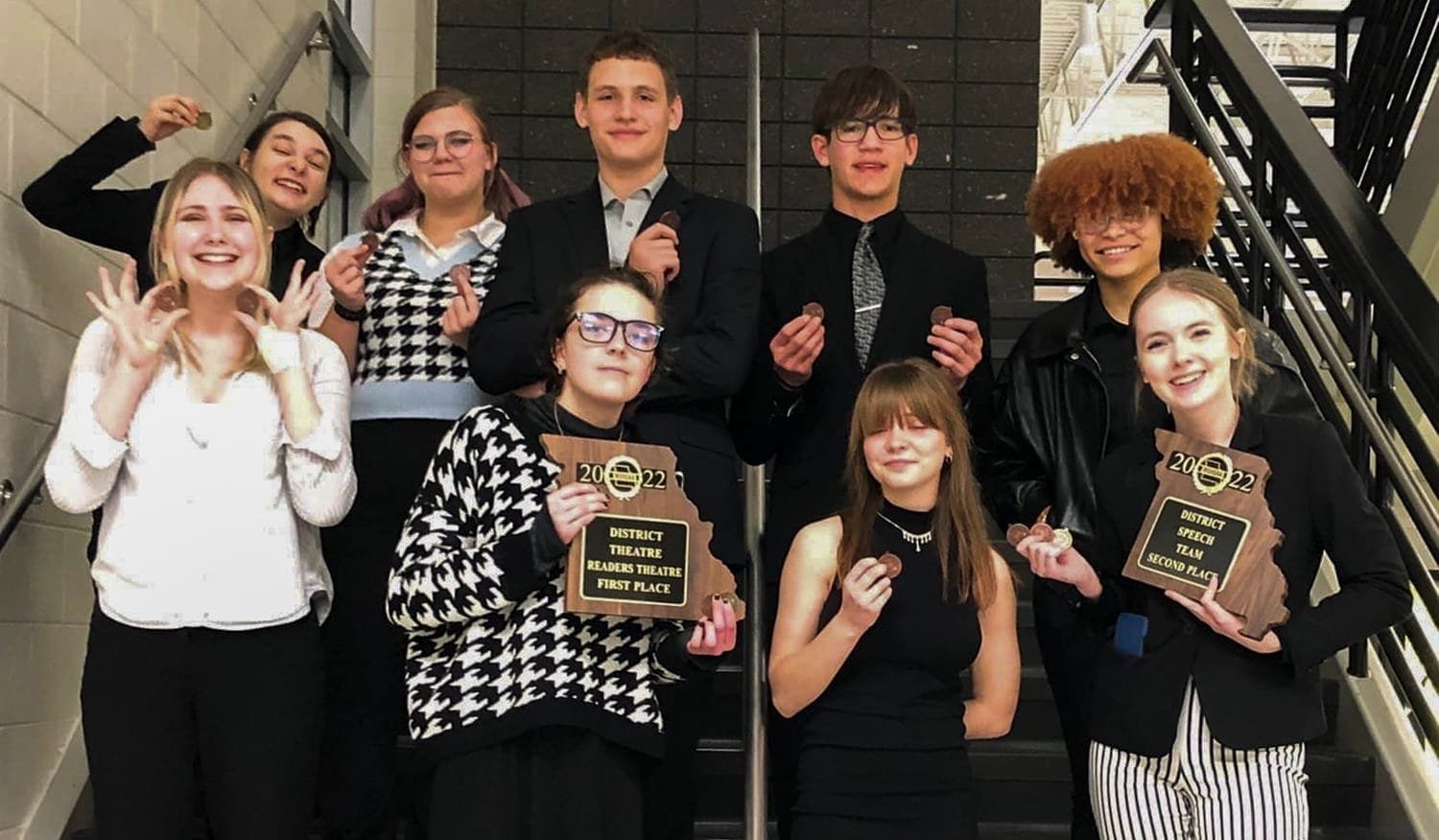 (FRONT) Bria Brattin, Lilly Shea, Charity Goodson, McKenzie Jones. (BACK) Fin Brown, Alex Tyndall, Wyatt Wolfe, Evan Garrison and Yaisa Walker, time keeper.
(BOTTOM STEP) Bria Brattin, Alex Tyndall, McKenzie Jones, Jace Jones. (MIDDLE) Emma Combs, Connor Wald, Evan Garrison. (TOP) Devin Tusinger and Ren Osburn.
Five speech & debate events going to state
Team places 2nd overall at district tournament
The Webb City High School speech and debate team returned from the three-day MSHSAA District Tournament in Carthage last week with three championships and five events advancing to state.
Coach Tiffany Bolin reports that her team members broke to the finals in all 12 individual events, earned 19 medals and broke to quarterfinals in two of the three types of debate.
Webb City finished second overall in the individual events sweepstakes, and the readers theatre group won the district championship.
The state meet will be held April 21 – 23 at Missouri State University, Springfield.
"We are beyond proud of these students who are well on their way to becoming our future leaders," says Bolin. "Congratulations to these amazing competitors!" (• state qualifiers):
• Fin Brown – district champion, prose
• McKenzie Jones and Lilly Shea – district champions, duo interpretation
• Charity Goodson and Wyatt Wolfe – third place, duet acting
• Bria Brattin – third place, informative speaking
Evan Garrison – third place, foreign extemporaneous speaking
Evan Garrison – third place, original oratory
Alex Tyndall – fourth place, humorous interpretation
Lilly Shea – fifth place, dramatic interpretation
McKenzie Jones – fifth place, poetry
Bria Brattin – sixth place, domestic extemporaneous speaking
Alex Tyndall – sixth place, storytelling
McKenzie Jones – seventh place, radio speaking
Jace Jones – quarterfinalist, Lincoln Douglas Debate
Bria Brattin and Evan Garrison – quarterfinalists, policy debate
Ren Osburn and Devin Tusinger – quarterfinalists, policy debate
• Readers theatre cast – Kameron Bennett, Bria Brattin, Fin Brown, Lily Clark, Grace Dalrymple, Kyahn Ely, McKenzie Jones, Lilly Shea, Elijah Smith, Kaeden Tebbets and Anna Beth Trueblood.
Coach Bolin's "fun facts:"
– This is the second readers theatre directed by assistant coach Nikki Owens. The first, in 2020, took second place at district. This year's script, "Drift," focused on teen homelessness.
– This is the first year of competition for district medalists Charity Goodson, Ren Osburn, Devin Tusinger, Alex Tyndall and Wyatt Wolfe.
– The team has advanced 72 places in national ranking since the start of the school year. It has grown with the addition of 26 students. And it has earned 83 National Speech and Debate Association degrees.
Trustworthy Students of the Month
Carterville Elementary students focused in February on being trustworthy by…. always telling the truth, meaning what they say, using good manners, having good intentions, never cheating, being dependable, doing the right thing, doing what they say that they will do, and being loyal to their friends and family.
Students of the Month are: (FRONT) Scout Cranford, Sterling Turley, Harrison Austin, Kaisen Jarrett, Mickel Hinds, Vivian Powell, Breckin Morris.
(BACK) Alliah Morgan (January), Caden Bell, Alivia Coleman, Harper Austin, Brecken Johnson, Collin Wetzstein, Maddox Morris.  (LAUREN THOMPSON PHOTO)
Kindergarten sign-ups begin
The kindergarten registration process for the 2022-23 school year has begun in the Webb City R-7 School District.
Registration for children reaching 5 years of age by July 31, 2022, will be online, and then screening will be held by appointment on April 4.
The district supplies this flyer:
R-7 Honors Banquet coming up
6:30 p.m. Tuesday at WCHS
Tickets are still available for the annual Webb City R-7 Schools Foundation Honors Banquet, which will be held at 6:30 p.m. Tuesday, March 15, in the Cardinal Dome Commons at Webb City High School.
Pam Drake, of Roderique Insurance, will be honored as the Distinguished Citizen of the Year.
Also recognized will be the newest Pillars of Education: Claudia Allen, Bobbie Dykens, Beverly Jones, Larry Kamler, Sharon Lewis and Vernon Williams.
Tickets, including a barbecue dinner, can be purchased for $25 – online or by contacting Kelli Frazier at (417) 673-6000 or kfrazier@wcr7.org. Proceeds benefit the foundation's programs.
Spring Shop Hop VIP tickets expected to be gone quickly
VIP passes will go on sale at 9 a.m. Thursday, March 10, for the Spring Shop Hop in Downtown Webb City on April 1 – 2.
The $10 passes, limited to the first 75 to sign up, include a swag bag with items from various boutiques and a coupon book.
Charlie 22 Outdoors raffle tickets on sale now for July drawings
Charlie 22 Outdoors, a Webb City non-profit organization devoted to ending the problem of veteran suicide, is beginning one of its fund raisers, the 30 Guns in 30 Days Raffle.
The raffle will be held each day from July 1 to July 30. Tickets are sold for $20 each or six for $100.
To buy tickets and for further information about the organization's mission, visit the Charlie 22 Outdoors website or Facebook page or contact executive director Scotty Rae Hettinger at (417) 437-7247 or charlie22outdoors@gmail.com.
"Man of LaMancha"
March 23-27 at JLT
Marilyn Bouldin and Chet Fritz are co-directing Joplin Little Theatre's next production, "Man of La Mancha." 
 As with the best of allegorical tales, the oppressive mood of the fight against evil is heightened by the occasional comic, and at times dramatic attempts of the hero to right all the wrongs of the world. Though his efforts seem puny and pathetic at times, there is no doubt that his intent is pure as he continues his self-imposed crusade.
Inspiring and thought provoking, the story is both entertaining and moving, and will warm the heart of anyone whose spirits were ever raised by the prospect of a victory by the underdog against all odds.
This musical delight contains one of the most moving moments in musical theatre as Don Quixote relates his personal credo in "The Impossible Dream."
Cast members include Karl Wendt as Don Quixote/Cervantes and Jeff Phillips as Sancho Panza.
Performances will be 7:30 p.m. Wednesday, March 23 – Saturday, March 26, and 2:30 p.m. Sunday, March 27. Tickets are $18 for adults, $15 for senior citizens and students, and $8 for children 12 and under. They can be purchased online or by calling (4178) 623-3638.
"Spamalot" auditions
7 p.m. March 28-29 at JLT
Auditions for "Monty Python's Spamalot," will be held at 7 p.m. Monday and Tuesday, March 28 and 29, at Joplin Little Theatre, 3009 West First Street. 
Director Becki Arnall is looking for a cast of 25 plus, specifically 18 men and seven women. Auditions will consist of singing vocal excerpts from the show, which will be taught at auditions, and dance auditions. Tap dancing experience is a plus. There will also be cold readings from the script. The show is rated PG-13 for mature content.
Lovingly ripped off from the classic film comedy "Monty Python and the Holy Grail," "Monty Python's Spamalot" retells the legend of King Arthur and his Knights of the Round Table, and features a bevy of beautiful show girls, not to mention cows, killer rabbits and French people. Did we mention the bevy of beautiful showgirls? 
The 2005 Broadway production won three Tony Awards, including best musical, and was followed by two successful West End runs. The outrageous, uproarious, and gloriously entertaining story of King Arthur and the Lady of the Lake will delight audiences as they search for the Holy Grail and "always look on the bright side of life."
Performance dates are May 18 – 22.