As of Wednesday, Dec. 15, 2021
Oct. 5, 1928 – Dec. 13, 2021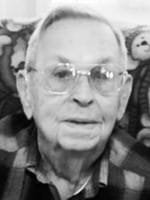 Gerald Eugene Hance, age 93, of Carl Junction, passed away on Monday at National Health Care in Joplin. 
He was born in Carl Junction on Oct. 5, 1928, to William Hance and Roberta (Kirby) Hance. He was a U.S. Navy veteran having served in World War II. He was a member of the Elks Lodge in Joplin, a 32nd Degree Mason, and he loved to fish.
Gerald is survived by his son, Douglas L. Hance and wife Lois; a brother Paul Hance; and a sister, Sondra King. There will be no services. Arrangements are under the direction of Simpson Funeral Home.
Kenneth Humes, age 49, previously of Las Vegas, Nev., passed away Friday at his home in Joplin.
Arrangements are under the direction of Simpson Funeral Home.
June 7, 1930 – Dec. 12, 2021
Wilma Larson Ross, age 91, passed away Sunday at The Communities at Wildwood in Joplin. 
Wilma was born June 7, 1930, in Jasper County, the daughter of Fred Olson and Mabel (Bryan) Olson. She attended Carl Junction schools, graduating in 1948. She worked for Campbell 66 for six years, E.I. Dupont Sales office six years, Ozark Engineering 23 years, Fredrickson Farms nine years and Larson Auction Co. from 1975 to 2000. She accepted Christ at an early age and lived her life in the Carl Junction area.
Wilma married Richard Larson in November 1948. He preceeded her in death in July 1996. She then married David Ross in April 2004. He survives.
Survivors include her two children, daughter Cindy Herr and husband Don, Asbury, and son Richard "Mike" Larson and wife Julie, Carl Junction; stepchildren, Cheri Myers, Joplin, Karen Cowger, Carl Junction, Doug Ross, Carl Junction, and Davette Outt, Webb City; grandchildren Alex Larson and wife Mallorie, Carl Junction, Kristen Spangler and husband Michael, Carl Junction, and Austin Herr and fiancee Atacia Richmond, Asbury; stepgrandchildren Deana Vangel and husband Jamie, Joplin, and Brittany Breedlove and husband Tim, Webb City; 10 great-grandchildren and one on the way.
Wilma loved being with her family and friends. She enjoyed taking her grandkids to Branson. She enjoyed traveling and did quite a lot, even going to Hawaii, Germany, France, and on several cruises. She loved going to Alex's ballgames, watching Kirsten cheer and attending Austin's FFA activities.
In lieu of flowers she would like donations be made to the Joplin Humane Society. The family would like to thank the staff at Communities of Wildwood for all the loving care they gave to their mother while she was there.
Pallbearers were Austin Herr, Alex Larson, Michael Spangler, Doug Ross, Larry Cowger and Dennis Outt.
A funeral service was held Wednesday at Simpson Funeral Home, Carl Junction, and at graveside in Carl Junction Cemetery.
Oct. 9, 1928 – Dec. 10, 2021
Note to Family and Friends: After witnessing first hand the ravaging effects of the COVID-19 virus, the family has decided to provide a video stream of the Rosary, Funeral Mass, and graveside services in lieu of attending in person. We do not want to put our dear friends and family at risk of exposure to this deadly virus. In addition to the video stream of the service, which will begin at 12:30 p.m. on Thursday, Dec. 16, we will also hold a live, virtual reception on Zoom at 5 p.m. Please join us in this virtual celebration of the life of Mary Jane and share your favorite photos and memories of her at this link: https://my.gather.app/remember/mary-lucchi
Mary Jane Lucchi, of Joplin, passed away on Friday at Landmark Hospital in Joplin. Mary was born in Cherokee, Kan., graduated from Crawford Community High School in Cherokee, and attended classes at Pittsburg State College.
On July 19, 1952, she and Bill Lucchi, of Cherokee, were married at St. Anastasia Catholic Church in Cherokee. Bill preceded her in death on Nov. 15, 2001. Also preceding her in death were her mother, dad and two brothers.
Mary, Bill and the boys moved to Joplin from Coffeyville, Kan., in 1960, where she was employed as a secretary-bookkeeper for several companies, retiring in 1993. She was presently a member of St. Peter the Apostle Catholic Church in Joplin and was active in PTA, Altar Society, St. John's Auxiliary, Aerobic Divas, Grand Slammers and several bridge clubs in Joplin and the Lunch Bunch in Pittsburg, Kan.
She did volunteer work at Sacred Heart Catholic Church of Webb City; St Peter the Apostle Catholic Church of Joplin; St. John's Hospital; and the Vantage Club of Joplin.
Mary is survived by Steve and Mary Jo, of Little Rock, Ark., Chris and Lori, Branson, Neal and Lorrie, Pittsburgh, Pa.,; four grandchildren; and three stepgrandchildren.
A Funeral Mass will be held at 1 p.m. Thursday, Dec. 16, at St. Peter the Apostle Catholic Church in Joplin, with a Rosary to be held at 12:30 p.m. preceding Mass. Celebrating Mass will be Fr. Brian Straus. Burial will follow at Highland Park Cemetery in Pittsburg, Kan. Memorial contributions may be made to the St Peter the Apostle Catholic Church. Funeral arrangements are under the direction of Simpson Funeral Home.
Aug. 2, 1943 – Dec. 10, 2021
Gary Leroy Miller went to be with his Lord and Savior Friday at the age of 78. He was born on Aug. 2, 1943, to Howard V. and Dora E. Miller.
As a young man, Gary served in the Army as a private E2. For most of his life, he worked as a wallpaper hanger and took pride in the quality of his work. 
On Aug. 5, 1967, he married Mildred "Milly" Olive Dodson. They raised a daughter, Melinda (Mendy), and two sons, Colby and William (Bill).
In his free time, Gary enjoyed flying airplanes, playing the piano, and was an active member of Purcell Baptist Church. Most of all, he loved spending time with his family.
Gary is survived by his wife, Milly, of Neck City; his daughter, Mendy Preston and her husband Steve, Webb City, and his sons, Colby Miller and his wife Electa, Roseburg, Ore., and WH Miller, Neck City, eight grandchildren; and six great-grandchildren. Preceding Gary in death were his parents, Howard and Dora; his brother, Leonard (Buddy); and his sister, Jessie Hatfield.
A funeral service will be held at 10 a.m. Thursday at Purcell Baptist Church in Purcell. Interment will follow at Friends Cemetery in Purcell. Memorial contributions may be made to The Gideons International, in care of Simpson Funeral Home.
March 7, 1949 – Dec. 13, 2021
Eric Stephenson, age 72, of Alba, passed away Monday with his wife by his side. 
Eric was born on March 7, 1949, in San Gabriel, Calif. to Eric and Constance Stephenson. He served honorably for six years in the U.S. Army. His time in the military ended after exposure to Agent Orange, the affects of which he and his family coped with throughout his life.
Eric worked for 29 years at the City of Alba, where he performed a wide variety of duties at the water and wastewater treatment plant until his retirement in November 2011. He was an avid fisherman and enjoyed mushroom hunting.
Eric is preceded in death by his parents, Eric and Constance Stephenson, and a grandson, Brandon, who passed away in 2013. He is survived by his wife, Nancy, of Alba; brothers Larry and wife Sue, Rancho Cucamonga, Calif., and Randy and wife Janice, Springfield; a daughter, Brandy Pickering and husband Russell, Lincoln, Neb.; sons Eric and wife Andrea, Golden City, and Keith and wife Margarita, Joplin; numerous grandchildren; great-grandchildren, and nieces and nephews.
A memorial service will be held at 10 a.m. Saturday, Dec. 18, at Alba Christian Church in Alba. A graveside service with full military honors will be held at Friends Cemetery in Purcell. Services are under the direction of Simpson Funeral Home of Webb City.