Good-tasting melons are plentiful
It won't be long before 2-quart tubs of cut melon will be sold to benefit the WIC program
The melon supply continues to increase, which means the kids meal will have lots of melons on the menu from now on. 
As soon as melons are over abundant, the market will add 2-quart cut melon tubs to its market-branded products for sale at the information table. They were a big seller last year in the online store. The market granola has been available for several months and has received rave reviews. Granola profits go to support the market. Sales from the cut melons will support the market's WIC program. More on that when the time comes!
Meanwhile, Thursday's ready-to-eat selections are a celebration of fresh and local, but with far flung traditions. Pupusaria Jandres (below) serves pupusas with meat and/or cheese and veggie filling for lunch. Songbird's Kitchen serves Asian specialties, Family Pleitez makes South American snow cones (minutas), featuring a variety of homemade syrups. Star's Aquas Frescas sells cool fruit based drinks popular in Mexico. Juniper Coffee attends with locally roasted beans, house syrup, drip coffee, and cold brew.
Just Jake and Corky will be on the market stage from 11 to 1.
Thursday we'll have eight farms, six of whom will be loaded with produce, plus Bee Hunter with their specialty jams and marmalades and Greenbush Honey Farm with honey. The Clear Water Shrimp Farm is coming, as is Stormy Farm who will have meats and eggs. Pupusaria Jandres will have baked goods. Marta was trained by Mable so if you like Harmony Hill baked goods, you should like Marta's as well.
MU Extension will make and sample mini eggplant pizzas at their cooking demo table in the market pavilion.
Kids activities abound on Thursdays. Eat from the Garden, an interactive kid class presented by Ms. Lindsey who is a nutritional specialist with MU Extension, runs from 12:30 to 1 p.m. by the market gardens north of the pavilion. At 1 p.m. the Webb City Public Library hosts an outdoor story time in the Kids Tent.
The Free Kids Meal is served from 11 to 1 p.m. The Thursday meal is market munchables: crackers, cheese, and local cut melons, cucumber slices, and cherry tomatoes served with DnD smoked ranch dip, and milk. Any child, aged 1 through 18, eats for free, regardless of income or residency. Kids can eat under the yellow and white tent or take their meal to go. Adults may also pick up meals without their children present but must show a photo of themselves with the children for our headcount. Please note that menus are subject to change so the market can take advantage of produce that is in abundance.
On Saturday, Drew Pommert will grace the market stage. The Community Clover 4-H Club will serve Cooking for a Cause from 8:30 to 11 a.m.
It's Lady Bug Day at the Kids Gardening Club. The come-and-go activity will be near the market gardens north of the kids tent and will include a craft, plus planting a petunia to take home. It's free and open to kids, large and small.
The Free Kids Meal pack Saturday is: Breakfast of fruit-topped French toast and milk, and lunch of a grilled cheese sandwich, tomato soup, cut melon, and milk. Any child, aged 1 through 18, receives both meals for eat-in or take-out.
We expect all our usual vendors, plus Hillside Farm with their elephant garlic which has been super popular this year. A regular Saturday vendor that has really ramped up her game this year is Maypop Flower Farm. Her bouquets are spectacular. If you have a special occasion or just want to bring beauty into your home or into the home of someone you love, be sure to check out her selection.
Tuesday's Free Kids Meal is chicken noodle soup, applesauce, and milk.
Scott Eastman will be on the market stage.
Gardening skills will be learned and practiced at the market's garden north of the kids tent.
It's high season at the market. Don't miss it!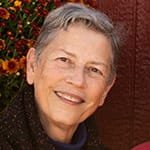 Eileen Nichols founded the Webb City Farmers Market in 2000. From a handful of producers, the market has grown to become nationally recognized.