The Keystone Building, on the southeast corner of Joplin's intersection of Main and Fourth streets.
Jesse Starr, early millionaire
Read till the end to see what this has to do with Webb City
In May of 1865, in Vermillion County, Ill., "a Starr is born"! Jesse G. Starr's parents were Simon P. and Maria Starr. Jesse was one of six children and he was industrious from birth. By the time Jesse was 11, Simon made a major decision in his life to move the family to Pittsburg, Kan. Being a farmer and merchant in Illinois, Simon continued that profession in Kansas and was quite successful.
Jesse couldn't wait to finish school, to head out into the working world. At the age of 15, he got a job with the Lanyon Smelting Co. in Pittsburg. He made good money for a young lad… $1 a day, which was high pay in 1880.
Throughout the next nine years, Jesse gradually made his way up the ladder through promotions. In 1889, he was transferred to the S.H. Lanyon Co. in Aurora. His new duties included being in charge of the ore buying.
Jesse made the move to Aurora with his new bride, Myrtle Spicer Starr, a native of Pittsburg. They stayed there for about eight years when Jesse moved his wife and daughter Elsie to Joplin. He was now working with Lanyon & Sons Smelting Co. Then in 1906, at the age of 41, Jesse, along with E.V. and Dee Lanyon organized the Lanyon, Starr Smelting Co. They built a large plant in Bartlesville, Okla. The business was exceedingly prosperous, with Lanyon as president and Jesse Starr as vice president and in charge of the ore buying.
A year before the organization of the Lanyon, Starr Smelting Co., Jesse had been instrumental in organizing the Conqueror Trust Co., of which he became a chartered member and vice president.
When the smelting company closed down in 1910, Jesse then devoted all of his time and energy into the trust company. Jesse's partner in the trust company was William Houk, who was president of Conqueror Trust until his death in 1927, at which time Jesse became the president.
In 1928, Conqueror Trust consolidated with First National Bank, and Jesse Starr continued to serve as president. He sold his holdings in 1929 and established the Starr Investment Co. with the following officers: Jesse as president and J.W. Ratcliff as vice president. When the company incorporated, it became the Installment Finance Co., with Ratcliff as president and Starr as vice president.
In 1929, Jesse sold his holdings in the Quinton Smelting Co. in Quinton, Okla. There was a large gas well and additional acres used for leasing of gas. The holdings sold for $2 million.
By this time, Jesse felt he had earned some time for rest and relaxation. He spent the winter months in Ephraim, Fla., where he kept a summer home, and in Miami, Fla., where he owned apartment houses and business lots.
Jesse Starr was not born with a silver spoon in his mouth and his success was not accidental. He worked long and hard to obtain his status as a millionaire. He did it without stepping on people; in fact he was a highly respected individual in the community. He contributed to many charities and he was active in the community. He belonged to the Masonic Lodge and the Rotary Club.
Now, you may be wondering why I would give so much time and attention to someone from Joplin, but there is a connection with Webb City. You see, Jesse's daughter Elsie married Roy Teel, owner of the Teel Drug Store in Webb City. And she was the mother of Bob Teel, a member of the Webb City R-7 Hall of Fame.
Jesse was no relation to the infamous Belle Starr (daughter of Judge John Shirley from Carthage).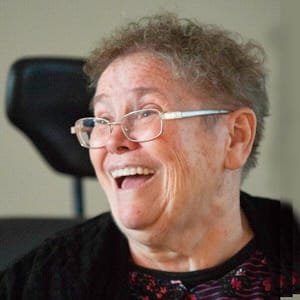 Jeanne Newby
A lot of us appreciate the Bradbury Bishop Fountain, but Jeanne actually worked behind the counter making sodas while she was in high school. She knows everything about Webb City and is a member of the Webb City R-7 School Board.