Hunger Free America CEO Joel Berg is coming to our market Tuesday
Our VISTA volunteers are sponsored by Hunger Free America
You may remember that earlier this year I wrote about the market securing three VISTA members to help out this summer. They have been every bit as wonderful as we expected – helping prepare the Free Kids Meal and serving it, harvesting fruit at you-pick farms, as well as gleaning the last of the strawberries at Braker Farm, to keep the Kids Meal full of local fresh fruit. Teaching the children about gardening and healthy eating, working with our various hunger programs like SNAP match and WIC and so much more.
Our VISTA program is sponsored by Hunger Free America, a national nonprofit with 110 Summer Associates, including our three, that work with anti-hunger organizations like the market in 23 states. HFA handles all the administration and paperwork for the government program. They also administer the year-round VISTA program with 80 members in 16 states.
We are delighted to welcome the CEO of Hunger Free America, Joel Berg, to the market this Tuesday. Mr. Berg joined the organization 20 years ago and has grown the nonprofit into a multi-million-dollar, respected national champion for Americans struggling to obtain nutritious food. Focused on building a nonpartisan grassroots national movement to address domestic hunger, Berg says, "Ending hunger lifts us all."
We'll have a space at the market Tuesday for customers and others to visit with Berg. I hope you'll stop by to say thanks for the support, share any impacts of the market's programs or needs you know of, and learn more about solutions to hunger.
There's more about Tuesday at the end of the column. Unlike my usual column, Tuesday's market is the star this week!
But tomorrow's market will star produce! Sweet corn is in, tomatoes of all sizes and colors, and all the other summer delights will be available.
Pupusaria Jandres serves fresh pupusas and Songbird's Kitchen serves Asian specialties. Doug Dicharry plays from 11 to 1 p.m. on the market stage.
At 1 p.m., the Webb City Public Library's outdoor story time begins.
Kids Eat Free from 11 to 1p.m. The menu is a sloppy Joe, Braker Farm sweet corn and blackberries, and milk (seriously, how tasty is that?!). All kids, aged 1 through 18, eat for free. The meal can be eaten under the Kids Tent or taken to go.
CLICKETY CLACK SATURDAY
Chef Isaiah Cadena will do a tomato saucing demonstration throughout the Saturday market – remember, it's tomato season!
Clickety Clack – We're Reading down the Track is this Saturday. We have some stellar readers – retired teachers Ann at 9 and Deb at 10, with Ashley, one of our VISTA members, at 11. They'll be reading "The Little Engine That Could," of "I think I can, I think I can" fame. The free rides leave the station just west of the market about every 20 minutes starting at 9 and running throughout the market.
Marshall Hill will be on the market stage.
Cooking for a Cause benefits the Friends of Camp Mintahama. Buy a full breakfast for $6 or choose a la carte and support this organization working to continue the camp's presence in the lives of southwest Missouri Girl Scouts. It's served for eat-in or to-go from 8:30 to 11 in the canopy just north of the pavilion.
The Free Kids Meal pack on Saturday is:
Breakfast – blueberry apple parfait and milk and 
Lunch – chicken pot pie casserole, fruit, and milk.
It's served for eat-in or to-go from 9 to 11 in the Kids Tent north of the pavilion.
ROOTS CELEBRATION TUESDAY
Tuesday is Eat Street and so much more.
The Free Kids Meal is served from 4:30 to 6:30 and will be ham wrap with lettuce and market tomatoes, cheesy cauliflower, and milk.
Eat Street vendors include: Culver Creek (BBQ), Hershey Mobile Ice Cream Parlor, Songbird's Kitchen (Asian), Ghetto Taco (& Mexican street corn on the cob), MO Mushrooms with fried at the market mushrooms, Star's Aguas Frescas, and Pupusaria Jandres (South American pupusas).
We're celebrating our Market Roots Tuesday with vendors sharing a taste of their culture. Small sampling dishes will be for sale by a number of vendors. Karen with OakWoods Farm will demonstrate fresh salsa. Ask her about her roots – they spread into a number of cultures.
Our music celebrates roots as well – from 4 to 5 Lee Ann Sours and Friends will fill the pavilion with the music of Appalachia and from 5:10 to 7, JoMo Jazz plays on the lawn between the pavilion and the Kids Tent. Jazz, as you probably know, originated in the African-American communities of New Orleans.
We'll have a special Clickety Clack – We're Reading down the Track on Tuesday from 4 to 6 with volunteers reading "Tomás and the Library Lady." Tomás is a son of migrant workers. Every summer he and his family follow the crops north from Texas to Iowa. In one town, Tomás discovers the Carnegie Library and is befriended by the librarian. He becomes a voracious reader and the direction of his life is changed. Based on the true story of the Mexican-American author and educator Tomás Rivera, a child of migrant workers who went on to become a chancellor in the University of California system.
Our Master Gardeners and VISTA members will help children build gardens out of milk crates. The kids can take home their own square foot of herbs to grow.
And, of course, we'll host Joel Berg with Hunger Free America.
Our thanks to the Missouri Humanities Council for supporting the music of our Roots Celebration.
Don't forget, Tuesday doesn't end at the market. The city's Old Urban Trolley will stop regularly at the market to take folks to the downtown Wine Walk from 4 to 7. Make your first stop Just a Taste where you can buy a wrist band for $15 that gets you a souvenir glass and a taste of wine paired with snacks at each participating business. Or just ride the trolley and visit the stores!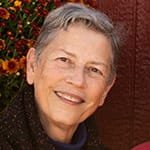 Eileen Nichols founded the Webb City Farmers Market in 2000. From a handful of producers, the market has grown to become nationally recognized.