Colorful finds currently at the market. (RACHAEL LYNCH PHOTOS)
Join us Saturday to help CROP Walk make a dent in hunger
Only two more Tuesday markets – but remember WE'LL STILL BE OPEN SATURDAYS!
October is starting off with a positive step. This Saturday we're hosting the 2021 Ozark Area CROP Hunger Walk, a fundraiser to end hunger one step at a time.
The money raised by walkers and through donations will not only help in a global effort but also assist Joplin Bright Futures Snack Pack Program and the Lion Co-op at Missouri Southern State University. Joplin's Snack Pack program regularly sends home an average of 400 bags with elementary students who suffer from food insecurity. The Lion Co-op program helps students on campus who are food insecure.
Walkers can begin registering at 9 a.m. at the south end of the market. They'll assemble at 9:30 a.m. to begin walking around the trail in King Jack Park.
If you would like to register ahead of time or just donate to this essential service you can do so online at: events.crophungerwalk.org/2021/event/joplinmo
Musician Peter Situ plays this Saturday, and the streetcar will run between 9 and11:40 a.m., giving free rides around the park every 20 minutes.
With coffee drinks available at the Juniper Coffee Roastery table and hot food ready to eat or take home, we are set up for another great morning to start your weekend.
TWO TUESDAY MARKETS LEFT
You have two more weeks before the market snuggles up, only opening on Saturdays. Our Tuesday evening market will conclude on October 12, thereafter, WCFM will be plowing forward on winter hours.
WE ARE NOT CLOSING ON SATURDAYS!
Saturdays are year-round and have been for, give or take, 10 years. Webb City Farmers Market never shuts down completely, we are still open Saturdays.
Nosotros estamos abiertos el sabado. Nous sommes ouvert le samedi. Wir haben samstag geoffnet.
Hey, so guys, we continue to stay open Saturdays with growers who produce fresh local vegetables all year. I hope that you are understanding the point of this paragraph, which is to ensure you that we will stay open Saturdays.
So if you overhear your neighbor, cousin, or whoever stating Webb City Farmers Market is closed, scream, I mean, politely say, "NO! Good news for you, they're still open every Saturday because their farmers are insanely talented at growing in all weather, and even though that manager never knows where her keys are, somehow, she gets that place open all year long."
Talking about steps; besides stepping out with CROP Hunger Walk and the Tuesday Market stepping back, Songbird's Kitchen is taking a huge step forward. For the last seven years, Song Lee and Kou Yang have operated a pop-up food stand named Songbird's Kitchen. They started out at the Neosho Farmers Market with the idea to make hand-rolled eggrolls while you wait. They use the vegetables grown on their families' farm, making their product as fresh as you can get. Song and Kou, along with their six bright children have grown this business into a stable food company with full meals now available. They have grown to operate at two farmers markets, and they attend several community events, such as this weekend's Porchfest 2021 in Joplin.
What the big buzz is that I am over the moon to share is they are graduating from pop-up food stand to food truck! Last spring they ordered a bright red food trailer that will take their business to the next level. The trailer was built in China and shipped across the ocean to California on a boat.
Two weeks ago, I got a message from Song with the best news – they would be missing Tuesday's market, which is actually terrible news, but their short-notice absence would be because the trailer had arrived in Kansas City. After ordering and waiting nearly six months, Kou and Song were jumping into their truck to bring home the future of Songbird's Kitchen.
There is much assembly to be done still, but I am already looking forward to the first time they pull in the Songbird's Kitchen Food Truck at our market.
Life's full of opportunity big and small; this family is going for big. You, my beloved farmers market enthusiast, recognize that heating up fresh rolled eggrolls in the oven at home has more value than a mass manufactured frozen one. You make it routine to stop by a farmers market on your way home for a meal made by local hands, as opposed to running into a store for a microwaveable meal or skillet dinner.
We note the times farmers markets are open. We arrange time to stop by and shop. We make sure these vendors can do what they love, and we improve so much by doing so. These choices may seem insignificant but they are the ones that make local food possible. You are just as important as a shopper to a farmers market, as the farmer. Come refuel, relax, and let's head into a new month together.
Webb City Farmers Market
4-7 p.m. Tuesdays through Oct. 12
9 a.m. – noon Saturdays YEAR-ROUND
Here's proof I don't really do much past enjoy local food.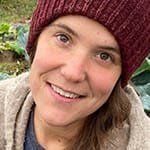 Rachael Lynch
Rachael Lynch is the manager of the Webb City Farmers Market.  For more current updates, visit the market's Facebook page.