As of Wednesday, June 9, 2021
July 16, 1929 – June 5, 2021
Mrs. Marjorie Ruth Auld, 91, of Webb City, peacefully departed this life on Saturday morning in the comfort of her home with her daughter by her side.
Marjorie entered this life on July 16, 1929, in Detroit, Mich., daughter of the late Otto and Ruth (McCoy) Toutz. She was raised in Indianapolis, Ind. Following high school, she and her family moved to Webb City. After graduating from Joplin Junior College, Marjorie moved to Kansas City to begin her career as a stewardess for TWA. In 1955, while she was working a flight to Las Vegas, she met a young USAF Fighter Pilot, David Hunter Auld Jr. They married Oct. 20, 1962, and were blessed with two children. In 1976, they retired to Webb City to raise their family. Marjorie was a longtime member and Ruling Elder of First Presbyterian Church in Webb City and a 43-year member of the P.E.O Sisterhood.
She was preceded in death by her husband of 57 years, Ret. Col. David Auld Jr.; a son, David Auld, III; and a brother, James Toutz.
Marjorie is survived by her daughter, Elizabeth Auld, of Dallas, Texas; as well as a host of other family and friends.
Funeral services were held Wednesday, June 9, at First Presbyterian Church in Webb City, with Pastor Charles Spencer officiating. Burial was in Mt. Hope Cemetery. Memorials may be made to Mt. Hope Cemetery Care Fund, in care of Hedge-Lewis-Goodwin Funeral Home.
Bob L. Dalton, age 74, of Mount Vernon, passed away Saturday at Mercy Hospital Joplin. 
He was born on Sept. 22, 1946, in Hyden, Ky., to Hardy Dalton and Mary (Woods) Dalton. He was a United States Navy Veteran and retired from O&F Machine in Joplin. He loved to garden and go to the races in Springfield. 
Bob married Janet (McDaniel) Dalton on April 3, 1976, in Oronogo, and she survives him. He is also survived by a daughter, April Bland and husband Jerry, Duenweg; four brothers, Bill Dalton and wife Nita, Carterville, Dave Dalton and wife Hilary, Webb City, Lester Dalton, Webb City, and John Dalton, Greenfield; two sisters, Betty Wingo and significant other Gene Bastings, Neosho, Linda Dalton and fiancé Steve Feurt, Joplin; three grandchildren, Jerry Bland, Thomas Bland, and Cayden Bland. 
A graveside service will be held Thursday in Carterville Cemetery, with full military rites. The family will be present for a visitation from 1 to 2 p.m. Thursday at Simpson Funeral Home.
Dec. 20, 1926 – June 4, 2021
We celebrate the life of a wonderful wife, mother, grandmother and great-grandmother. Esther Marie Doran, age 94, of Joplin, passed away Friday, following a long-fulfilled life. Esther was born on Dec. 20, 1926, the daughter of the late Joe and Josephine (Natrop) Roth. She married James "Jim" Doran on June 23, 1956, together they were blessed with three sons.
She devoted her life to taking care of her family, and she loved spending time with her grandchildren. She worked for approximately 10 years as a secretary for Eagle Picher. She was a longtime member of St. Mary's Catholic Church and more recently was a member at St. Peter the Apostle Catholic Church.
Esther was preceded in death by her loving husband, James "Jim" V. Doran, on Oct. 1, 2016. She was also preceded in death by four siblings, Lawrence, Richard, Carrie, and Marge; and infant son Roger.
Survivors include her three sons, Steve Doran, his wife Donise and their three children Ashley, Austin and Avery; Brian Doran and his wife Kris and their three children Kaitlyn, Kelsea and Kenzie; Kevin Doran and his wife Toni and their daughter Addison. Her great-grandchildren include Lucy, Lydia, Lowen, Willa, Delilah and Calleigh, and one on the way.
A Mass of Christian Burial will be held at 10 a.m. Thursday at St. Peter the Apostle Church. The Rev. J. Friedel will officiate. Burial will be at 11 a.m. Friday at St. Teresa Cemetery in Westphalia, Kan.
A Rosary and visitation were held Wednesday evening at Mason Woodard Mortuary. Memorial contributions may be given to the Joplin Area Catholic Schools in care of the mortuary.
April 11, 1938 – June 2, 2021
Dixie Hathcock, age 83, of Carterville, passed away Wednesday June 2, following a sudden decline in health.
She was born April 11, 1938, in Webb City to Charles and Vera (Edwards) Horn.
Dixie was raised in Alba, and graduated from Alba High School. She worked at the former Webb City Lumber and retired from Hedge-Lewis Funeral Home. She enjoyed camping and meeting new people, working in the yard, cooking, reading, working on new ideas and going to Walmart. She never met a stranger and always had a story to tell. Her biggest enjoyment was being with her grandchildren and great-grandchildren.
Dixie married Philip Hathcock on April 10, 1955. He preceded her in death on April 27, 2021. She was also preceded in death by her parents; two brothers, Eugene and Clifford; and one sister, Bessie.
Dixie is survived by her son, Dan Hathcock and wife Heidy; a grandaughter, Krisalyn Manes and husband Tim, Webb City; a grandson, Sam Hathcock, Ft Collins, Colo.; four great-grandchildren, Jack, Amy, Rachel and Isabella; one sister, Mae Lassiter, Webb City; very special extended family members, Isaac, Tiffanie, Lilliana, Gavin and Logan; and numerous friends.
Funeral services were held Monday at Mason-Woodard Mortuary, with Randy Wilson officiating. Burial was in Mt. Hope Cemetery.
Memorial contributions may be made to Webb City Cares, in care of the mortuary.
Sept. 1, 1948 – June 2, 2021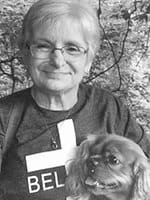 Linda Belle Wilton-Yeager, age 72, of Webb City, Missouri, went to be with her Lord and Savior on Wednesday, June 2, at Mercy Hospital Joplin, following an illness.
Linda was born on Sept. 1, 1948, the daughter of the late William Paul Wilton and Virginia (Watkins) Wilton. She was a lifetime area resident. She worked as a housekeeper for Mercy Hospital, for One Hour Cleaners and most recently as a cashier for Walmart. She was a member of Uncommon Life Church, where she volunteered. She enjoyed crochet and cross stitch. She was a great seamstress.
Linda is survived by four sons, Brian Butler, Joplin, Eric Butler and fiancé Michael Franklin, Kansas City, Justin Butler and fiancé Adrienne Smith, of Carthage, and David Gregory and wife Kim, Webb City; two stepsons, Tim Yeager and wife Melanie, Bella Vista, Ark., and Jeremy Yeager and wife Tamaryn, Carl Junction; two brothers, Rick Wilton and wife Brenda, Joplin, and Jimmy Wilton and wife Julie, Joplin; two sisters, Paula Oakes, Neosho, and Pam Barr and husband Rick, Springfield; and 14 grandchildren, Mariah Gregory, Alex Gregory, Addyson Butler, Kamdyn Butler, Cailey Woznick, Dillon Jones, Jaylea Yeager, Katlin Yeager, Jerod Yeager, Callum Klue, Jade Yeager, Ethan Yeager, Kalie Smith and Riley Smith. She was preceded in death by two sisters, Patricia Robinson and Mary Spruk.
Funeral services were held Tuesday at Mason-Woodard Mortuary, with Richard Morris officiating. Burial was in Ozark Memorial Park Cemetery. 
Feb. 13, 1952 – June 3, 2021
With profound sadness, we announce the passing of Janice Elaine (Hagan) Wood, of Joplin. Janice entered into the presence of her Lord and Savior Jesus Christ on Thursday, June 3. She was born on Feb. 13, 1952, in Warrensburg, the third daughter of V. Juanita (Wharton) and Raymond D. Hagan. Janice attended school in Jefferson City, Missouri, graduating in 1970. She was active in church, gymnastics, and band and was a twirler performing with fire, capes and machetes. She worked as a lifeguard and a swimming instructor for special children. While working three jobs Janice earned a bachelor's of science in Education in 1973 from University of Central Missouri. She earned a master's of science in education in Clinical Mental Disabilities from University of Central Missouri in 1978. She continued post graduate studies at University of Central Missouri, University of Missouri and Arkansas State University, obtaining nine certifications in education.
Because Janice was a caring compassionate person, placing the needs of others before her own, she became a remarkable teacher for special needs children. Janice began her career in education at Rolling Meadow School for Severely Disabled
in Higginsville, teaching both home living life skills and in the deaf and blind program. She started the Learning Impairment program for Holden R-3 Schools and wrote federal grants for the district She subsequently taught for Warrensburg R-6 schools in Warrensburg, setting up an award-winning classroom with individualized instruction utilizing learning centers and positive reinforcement strategies. She worked with the Johnson County Sheltered Workshops Board of Directors. Janice taught for Columbia Public Schools and served as principal and teacher for Delmar Cobble State School.
She volunteered as a Special Olympics coach and cheerleader sponsor. Janice moved to Lake Ozark to be instructor and administrator for Dogwood Hills State School serving the Lake Ozark area. She was a realtor for Cliffside Welek Realtors in Lake Ozark and Lodge of the Four Seasons where she held a record for highest sales percentages. She established a business, Professional Cleaning Services, which served the Lake Ozark area.
In 1991, Janice married Jim H. Wood and moved to Joplin, where she taught home bound medically fragile children for College View School for the Severely Disabled, and special education preschool and orthopedically challenged children for Joplin R-8 Schools.
Janice worked for Webb City Schools as a library media specialist in various elementary schools teaching library skills and computerizing media centers. She trained twenty-six future teachers in her classrooms and over fifty interns. She was a golden apple teacher and was awarded a fellowship for graduate studies from the Department of Elementary and Secondary Education. Janice was an educator at heart, kind and loving. One student remembers "Mrs. Wood had time to listen attentively, smile and pray for her students".
Jim and Janice enjoyed time together serving Christ Jesus, organic gardening, hiking traveling, and their pet cats Willow, Winnie Pooh and Mittens. She was an avid reader, woodworker and painted with oils. Janice frequently rescued pets locating their families or rehoming them. She was known for discerning the needs of others and compassionately helping them in a discreet manner. To all who knew her she was a loving encourager. Her life was a living example of her favorite Bible verse, Ephesians 4:32 -"And be kind and compassionate to one another, forgiving one another, just as God also forgave you in Christ."
Janice was a long-standing member of Faith Assembly of God Church in Joplin, where she joyfully worshipped and faithfully served her Lord. She was a Bible quiz bowl coach and assisted with children's ministries. She launched and managed the church library. Janice led an interdenominational prayer ministry for women and led and trained altar workers. A prayer chain grew out of the lady's prayer ministry. Prayer needs were sent to intercessors across the nation. This grew into an international prayer ministry. The lady's prayer group sponsored community prayer vigils, healing services and served as intercessors for the John Kilpatrick Ministries' crusades. Janice authored a book on building a personal relationship with Jesus through prayer, and coauthored two books with her father.
Janice is survived by her devoted husband Jim, a daughter Lisa (Mike) Johnston of Neosho, Missouri and a son Tracy Wood (Laurie Triplett) of Eureka, Missouri, three sisters, Sharon Gonder and Jane (Ron) Burd of Jefferson City Missouri, Kathy (Mike) Kirtley Grant of Louisville, Illinois, one brother Curt Kirtley (Julie) of Columbia, Missouri, four sisters-in-law Doris Thrasher of Santa Clarita, California, Merlene Besh of Celina, Texas, Bonnie Wood of Peoria, Arizona and Mary Davison of Joplin, Missouri and brother-in-law Bobby Hodges of Houston, Texas. Janice was a beloved grandmother to twelve grandchildren and two great grandchildren, and aunt to fourteen nieces and thirteen nephews. She was predeceased by her parents, a nephew Jeffrey Steenburgen. Janice was lovingly loyal to her friends and family. We will always remember her sweet smile, quick intellect, caring heart and unconditional love. Her presence in our lives will be sorely missed.
Janice's life message is; we are God's eternal creations, accountable to our loving Lord. She knew that leaving this world allowed her to enter the kingdom of heaven to meet her Savior, Christ Jesus. Janice wanted this message shared at her departure from this world. She leaves an invitation to join her beloved church family at Faith Assembly Church in Joplin.
A private graveside interment was held at Mount Hope Cemetery. Janice requested; "Instead of flowers please do an unexpected and unsolicited act of kindness for someone in need".
Memorial donations may be made to the library or building fund at Faith Assembly of God Church, East 32nd Street, Joplin, Mo 64804. Cremation arrangements were under the direction of Simpson Funeral Home.