Ancestors, Legends & Time
Karbe's then Piggly Wiggly were Webb City's first supermarkets
Still during the days of our quaint neighborhood mom & pop stores, came the advent of big grocery stores and supermarkets. There were several big grocery stores on Main Street. But there was one store that seemed to move around a bit… Karbe's.
Karbe's started out at 16 S. Main St., which later became home to Day's Grocery and Bev's Market. Karbe's Super Market first moved to 205 N. Main St. in 1949. Then it moved out to 1510 S. Madison St., and that is when the excitement began. 
There was the Blue Law, which allowed some stores to be open on Sunday, but they were restricted to selling only certain items that could be purchased on a Sunday. But it seems the temptation of making a few more dollars tempted the owner of Karbe's to break the Blue Law and sell items that he wasn't supposed to sell. He would get caught, get arrested, pay the fine and go back to the store to sell what he wanted.
On Christmas day, 1960, tragedy struck as Karbe's burned to the ground. They rebuilt the store and it reopened in March of 1961. Karbe's was eventually bought out by a new super market chain from the south with the unusual name of Piggly Wiggly.
Piggly Wiggly had been founded in 1916 in Memphis, Tenn., as the first grocery store where the customer had control of the groceries being purchased. They had the first checkout stands. They were the first to price each individual item, the first with refrigerated cases, and the first to have uniforms for their employees. Each individual customer had a shopping cart to fill on their own, open shelves to make their own selections, and they paid cash for their purchases. 
Within five years, Piggly Wiggly had over a thousand franchised stores. But the company was over 50 years old when Piggly Wiggly finally made it to Webb City. By then, we already had supermarkets that supplied all those Piggly Wiggly firsts. But the name still made it unique. They had a good meat department, as many of Webb City's finest butchers worked in that store.
Many of our super stores had swapped buildings through the years, but we were doing pretty good with their self-serve supermarkets. We had Safeway Super Market at 217 W. Broadway, IGA SavMor Super Market at 205 N. Main St. (which had been home to Karbe's Super Market), and Day's Super Market, 16 S. Main St. (also the home of Bev's Market) and had previously been the first home to Karbe's).
Prior to the supermarkets, the customer would call in an order, or walk in with a list, and the store owners or employees would gather the groceries, sometimes even deliver the groceries, and the customer would pay for the groceries on payday. That sounds kind of nice in this hectic-paced world we live in, but there was no freedom of choice as to brands, sizes, etc. Prices included those little extra amenities. The credit was the issue that broke the small stores and forced them into closing due to not always getting paid for those groceries that they had sold on credit. Even the enticements of candy or gifts for fully paying off their credit did not always tempt enough of the customers to pay those bills.
Louise Marsh remembered her childhood neighborhood store offered a brand new pair of skates for paying off the grocery credit. She said, "You know, the skates that had the key to tighten the skates onto your shoes!" I had heard of the sack of penny candy but not the skates. That would be a great incentive for a family like Louise's, which had 10 children.
By the way, the man who founded the Piggly Wiggly, Clarence Saunders, is one of those guys who made it rich, went bankrupt, started another business and made millions, lost it – and his mind was still coming up with ideas to make the world more automated when he died of heart failure in 1953. He never did tell anyone how he came up with the name Piggly Wiggly, but he did say he wanted an unusual name that would make people ask him how he came up with the name. He did succeed in that goal. 
It needs to be said that when Saunders went bankrupt after only six years of his new Piggly Wiggly, it was due to problems with the stock market. He started another chain called Pacific Stores that went bankrupt during the great Depression, and his third business in 1937 was Keedoozle. 
Keedoozle was an automated store where you picked your merchandise from behind glass, it fell to the conveyor belt and was waiting at the cash register with all of your choices. The machinery breaking at busy times resulted in another bankruptcy. 
The final genius scheme that he was working on when he passed away was a grocery store called Foodelectric, where the customer would select their groceries, bag them and tally their own bill. Kind of sounds like today's self -checkout lanes. He had good ideas, but he was way before his time with automation! 
The Piggly Wiggly chain still survives to this day, even though Saunders only had it for six years.
The Piggly Wiggly building at 1510 S. Madison St., is now a Dollar General.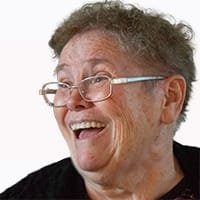 Jeanne Newby
A lot of us appreciate the Bradbury Bishop Fountain, but Jeanne actually worked behind the counter making sodas while she was in high school. She knows everything about Webb City and is a member of the Webb City R-7 School Board.