Look for Maypop Flower Farm to be at the market more regularly now
Molly McCleary loves flowers; Fortunately they're a high-value crop
You will find details about this week's markets later in this column, but first I want to introduce you to one of the market's newest farmers. 
Molly McCleary returned to southwest Missouri in 2019 to help her aging grandfather. She moved back from Kansas City where she had been engaged in landscaping and masonry. I've been following Molly on Facebook since her return and her initial contact with the market. The posts are often beautiful both in thought and picture. I think this post from April of this year sharing a video of her playing the violin on the farm tells you a lot about her:
A song for my grandpa in the Spring from a song that speaks of the hills, blooming dogwoods, and singing cardinals, all of which, he loved.

While playing this, a dogwood is blooming in the front yard and I could hear the cardinal in the pecan tree next to me.

Some of you may know but my grandpa died over the winter. He will be sorely missed. His relentless humor, his generosity, his artful swearing, and for me, his love of the fiddle.

He was my biggest fan and the reason I play as well as I do. He would sit and listen to the fiddle by the wood stove for hours. Even when I sounded like a screeching alley cat, he would sit down and listen as long as I felt like playing… 10 years ago when we were caring for his wife Doris, my grandma, together, in the last year of her life.

Two years ago I moved in again with him but this time to be his caregiver so he could remain at home just as his wife did and I could work toward my farming goals. I'm grateful for everything I learned and experienced with him.

He gave me this fiddle and I've always thought of him with every song I played.
In 2020 Molly came to the market infrequently to sell her flowers. While she had a background in growing, she said that flower farming is very different from what she learned in landscaping. There was quite a learning curve and learning is what she focused on last year. She listened to her wholesale florist customers, she listened to her customers at the market, she experimented with making bouquets for market sale, she took notes, and made plans for the next growing season. That's one of the challenges of farming, you have to plan a year ahead. There is no quick redo of June – June is gone and it will be another year before you can implement what you learned about growing and selling in June, or July, or August. One thing she learned was that people like a lot of bright color and they like variety. And as you can see from photos of this year's crops, she has excelled in both.
She estimates that her production has tripled or even quadrupled this year over last. She primarily plants annuals, often with two to four sequential plantings of each type of plant. Annuals provide a quick harvest and a quick return on investment. Perennials may do well in her future, but for now she is focusing on the abundance of annual flowers that can be raised in compact spaces. In fact, that characteristic is one reason she chose to go into flower farming. According to the USDA (US Department of Agriculture), cut flowers are one of the highest value specialty crops that can be grown. In other words, sales revenues of the cut flowers are higher per square foot than virtually any other market crop.
This year with her abundant crop Molly is developing wholesale relationships with florists in Springfield, Northwest Arkansas centered on Fayetteville, and the Joplin/Webb City area. Our market is her only farmers market, but she hopes to expand to others in the coming years. As the market has for other growers and vendors, we've served as an incubator, the starting place for learning, experimenting, and developing her business. Braker Berry Farm, the Lee Family Farm, Nature Valley Farm, OakWoods Farm, and Redings Mill Bread Co. all started at the market and have now expanded to other locations. MaMa JoJo's started with the market and has now established itself as Famos Grill in Carterville. Check out their Facebook page for the daily special. Their meals are delicious and available for eat in or take out.
When I asked Molly "Why a flower farm" she pointed out that it was a very high value crop and that there are few flower farms in our area, making it a great opportunity. But the answer from the heart is "I love flowers – who doesn't?" The rhythm of flower growing also suits Molly well. Like all successful farmers, she loves working really hard. But she also values a period of rest during the winter season that she can fill with planning for the new year, working on other farms, and traveling. It is a change of pace that refreshes her and reinvigorates her for the coming year of hard work.
Molly made a custom bouquet for me last week. It was for a special occasion. The dedication of a prairie named for the late Rae Letsinger, a dear friend who loved the prairie and the plants and creatures on it. The leaders of the Missouri Prairie Foundation who held the dedication were entranced by the lavish bouquet (and loved the vase which was actually a trash can because all my vases now live in Colorado). They especially loved the two native passion flower pods trailing off of it. And that's how I found out why the farm is named Maypop. You may already know this if your native to the area, but in the Ozarks the common name for the native passion flower plant is maypop. It is thought to derive from its blooming in May and the popping sound when its dried pod is stepped on while walking on the prairie.
The maypop is the farm's signature plant. Molly loves native plants, but making that arrangement for me was a special favor. Molly's bouquets are not usually native plants which typically don't hold well after being cut. People mistake her bouquets for wild flowers because they are so exuberant and delightful, but most of the flowers have been developed and bred for 50 to hundreds of years to achieve their form, color, and lasting qualities. Molly said with a laugh, "They are the furthest thing from wild." If you see photos of her plantings you will agree that these are well-groomed and tended farm plantings. Plantings of a smart hardworking farmer who has done her research and put in the time to bring top quality products to the market.
Even though I have been away from the market more than here in the last couple of years, watching Maypop Flower Farm improve and expand makes me proud that the market can be a part of the farm's success and that the farm's beautiful products can enrich the lives of our customers.
You will find Maypop at the market most Saturday mornings.
Tomorrow (Thursday) at the market Pupusaria Jandres serves pupusas with meat and/or cheese and veggie filling for lunch. Songbird's Kitchen serves Asian specialties. Star's Aquas Frescas sells cool fruit based drinks. Juniper Coffee brings with locally roasted beans, house syrup, drip coffee, and COLD BREW.
MU Extension nutrition educators will encourage folks to re-think their drinks by teaching them how to make their own infused water. Eat from the Garden, an interactive kid class presented by Ms. Lindsey, a nutritional specialist with MU Extension, runs from 12:30 to 1:00 by the market gardens north of the pavilion.
The Free Kids Meal is served from 11 to 1 pm. The Thursday meal is a turkey and cheese melt, market veggies with DnD Smoked Ranch dip, watermelon, and milk. Any child, aged 1 through 18, eats for free, regardless of income or residency. Kids can eat under the yellow and white tent or take their meal to go. Adults may also pick up meals without their children present but must show a photo of themselves with the children for our headcount.
On Saturday the streetcar is giving free rides around the park, starting at 9. They'll pull out about every 20 minutes from the depot just west of the market kitchen.
The Kid's Garden Club will meet at the market gardens north of the pavilion from 9 to noon. They'll make a pinwheel craft and learn how to transplant kale plugs. Kale is a fall crop that loves cool weather and, believe it or not, our farmers are planting their fall crops this month.
The free kids meal pack on Saturday is served from 9 to 11 in the yellow and white tent by the gardens. The meals can be eaten on site or taken to go. Saturday's breakfast is a berry parfait and milk, and lunch is ants on a log, watermelon, a cheese stick, and milk.
Cooking for a Cause is served by volunteers and staff with Area Agency on Aging, Region X. Profits will go to their Meals on Wheels program.
Region X serves Barton, Jasper, Newton, and MacDonald Counties. The Meals on Wheels program provides a week's worth of frozen meals once a week to qualified recipients in rural parts of the counties and in group residences like Webb City's Messenger Tower. The meals can be heated up in a microwave or oven. To qualify, you must be over 60 years old, be certified home bound by your doctor, and have no one who can assist you with meals.
A donation of $3.50 per meal is requested of recipients but no one is turned away because they can't pay. The program receives some funding from the federal Older Americans Act and from Meals on Wheels America, but without local fundraisers, there could be a waiting list to join the program. And that wait can result in a person being forced to move to a nursing home because if you are homebound and have no access to food, there are just not a lot of other good options.
Meals are delivered by volunteers within city limits and by two staff members who use box trucks with freezers to reach rural areas. This delivery once a week is sometime the recipient's only outside contact so that contact can be important for social reasons, in case of an emergency or safety issues.
Great program, great food, be there between 8:30 and 11 to support the first and enjoy the second.
Just Jake's Trio will be on the market stage from 9 to 11:00.
Tuesday, the Kid Gardening Club is learning about composting and making miniature worm farms.
The Free Kids Meal will be a turkey melt with sweet potato fries, cantaloupe, and milk, served from 4:30 to 6:30.
When I arrived in Denver Tuesday I found half a watermelon in my fridge. My daughter Emily said "you're welcome to it, but it's not very good." "It'll make good compost," I said. "I brought three watermelons from the market with me." Yes, I'm going to miss Webb City's good market produce SO much. Along with a lot of other things and people.
Pandemic allowing, I take off Tuesday for France to see my daughter Cora and her partner Emmanuelle, and my six- and nine-year-old granddaughters for the first time in over two years. Since I'll be gone for a month and then will essentially be living away from Webb City for 80% of the time, this will be my last column, some 700 columns and 20 years since Bob Foos was gracious enough to allow me space.
There are many thanks to be made and perhaps I will return to the Sentinel occasionally to write those, but for now I'll end my official market columns with not "See you at the market," but instead "Thanks for reading and supporting the market. Enjoy the market as often as you can. Please be my voice and spread the word. We love the Webb City Farmers Market!"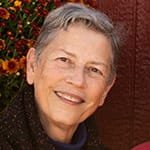 Eileen Nichols founded the Webb City Farmers Market in 2000. From a handful of producers, the market has grown to become nationally recognized.