Kings Kettle Corn is returning to the market after a winter break.
Maybe this Saturday will be more conducive to preparing a garden
Let's celebrate International Day of Happiness
Market Garden, take two. Yes, our garden preparationproject was rained out last Saturday but it's good to go this Saturday at 1 p.m. Could there be a better way to celebrate the first day of spring than creating a garden? Wear gloves and come dressed for gardening, and bring a shovel if you have one.
This Saturday is International Day of Happiness and the market is a great place to celebrate. The official International Day of Happiness website encourages you to celebrate by doing something that makes you happy, so come be happy at the market. I know what makes me happy – Kings Kettle Corn returning after their winter break!
Start with breakfast at Harmony Hill and grab lunch from Songbird's Kitchen for later. If you have kids or grandkids, aged 1 through 18, stop by the Free Kids Meal and pick up breakfast and lunch for them: 
Breakfast – yogurt with berries and granola.

Lunch – black beans and rice with corn, cheese stick, and grapes.

 
Both meals come with milk. If the kids aren't with you, just show the servers a photo of you with the kids so they can get a head count.
Stop by the composting mini garden. Two weeks ago the sprouts were just breaking the surface of the soil. Last Saturday some of the pea plants were already curling a couple of inches above the soil and other plants had their first true leaves. It should be full of green life this Saturday.
David Loving is on the market stage Saturday.
Vendors we're expecting include:
FARMERS
Braker Berry Farm–produce

Helm Family Farm – honey

MO Mushrooms – fresh mushrooms & dried mushroom products

OakWoods Farm – produce, wheat grass

Yang Family Farm–produce
RANCHERS
Clear Water Shrimp Farm

Garrett Family Farm

Misty Morning Farms

Sunny Lane Farm
BAKERS
Harmony Hill – plus produce

Redings Mill Bread Co.
OTHER DELIGHTS
Debbie Fedie – sewn goods

DnD Smoked – salts, spices, mixes

Good Golly Tamale – frozen handmade tamales

Juniper Coffee – coffee beans, coffee drinks, & house syrup

Kings Kettle Corn

Songbird's Kitchen

2Ts Soap & Stuff
I won't say "See you at the market" because this Saturday I will be at the Middlewest Building selling my great-grandmother's 120 year-old treadle sewing machine, and hopefully lots of other very old and not so old things. But I've got my order in for fresh veggies and kettle corn.
Come to the market and BE HAPPY!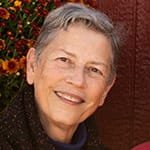 Eileen Nichols founded the Webb City Farmers Market in 2000. From a handful of producers, the market has grown to become nationally recognized.