More winter crops are arriving at the market
Try a pupusas at the market Saturday
Have you tried the pupusas at the market? You'll find them at the Harmony Hill tables, cooked to order. The Brubackers' friend, Marta, is bringing us a taste of El Salvador every Saturday morning. Pupusas are small round corncakes and look a bit like a thick taco. Marta's pupusas are stuffed with zucchini and cheese and sold with a side of shredded cabbage salad, salt, vinegar and salsa. You can also get biscuits and gravy and eggs cooked to order at Harmony Hill's stand.
Yang Family Vegetable Farm is back at the market. We've only been seeing Fue Yang at our monthly board meetings lately while the family's three high tunnels were cleared out, replenished, and replanted. (Fue is the board president of the market.) 
The Yang family's return means we have an even bigger supply of lettuce and spinach, plus we'll now have mustard greens, bok choy and cured ginger.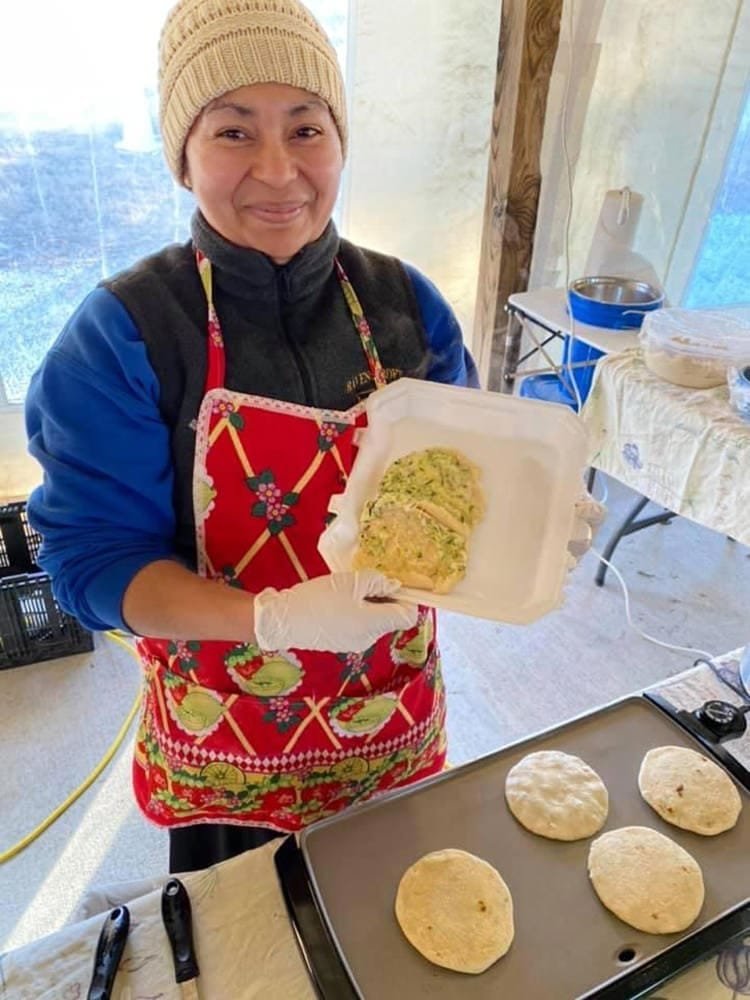 If you're like me, the return of bok choy is particularly welcome. It's one of my favorite veggies. Boc choy is packed with fiber, vitamins, minerals and antioxidants, but it's very low in calories and carbohydrates AND super easy to prepare.
I usually just cut off the root end, rinse it well in cool water, rough chop it, and steam it until tender. You can put in the stems first and add the leaves about 4 minutes later if you want everything cooked to the same tenderness, but I like a little crunch in the stems so I just put them in all together. They are great as a side with salmon and other meats and also can be added to any dish that calls for cooked greens. Unlike a lot of dark greens, they are very mild.
Of course, if you like things spicy, just stop by DnD Smoked or Good Golly Tamale!
This free kids meals this week are:
Breakfast – yogurt loaf, berries in berry sauce, and milk.
Lunch – chicken noodle soup, green beans, and milk.
Every child from 1 through 18, receives both meals packed to go. If the kids or grandkids aren't with you, just show the server a photo of yourself with the kids so we can get a head count. The meals are handed out from 9 to 11.
Vendors we expect on Saturday and a sample of what they'll bring are:
FARMS
Braker Berry Farm – spinach, sweet potato, cabbage, butternut squash, lettuce, Brussels sprouts, carrots, turnips, radishes…
Fairhaven Garden – picked out pecans, jelly, jam, and sweet treats
Helm Family Farms – honey and honey products
MO Mushrooms – fresh, dried, & powdered mushrooms, Mane cakes
OakWoods – chili seasonings, microgreens, salad mix, wheatgrass….
Yang Family Vegetable Farm – ginger, boc choy, lettuce, spinach, mustard greens
RANCHES
Clear Water Shrimp – farm-raised shrimp
Garrett Family Farm – pork, chicken…
Misty Morning Farm – beef, broccoli, winter squash
Sunny Lane Farm – grass-fed beef, chicken, lamb, pork
BAKERS
Harmony Hill – country breads, cinnamon rolls, cookies, biscotti, breakfast and lunch, handsewn masks, and some veggies too like onions and winter squash!
Redings Mill Bread Co. – chocolates, artisan breads, pizza crusts
OTHER GOOD FOOD
DnD Smoked – smoked spices and seasonings
Good Golly Tamale – frozen meat tamales, gluten free and vegan tamales, mild to HOT
Juniper Coffee – house syrup, freshly roasted coffee beans, coffee drinks
Plus – 2 Ts Soap & Stuff
Next week the market and our extension partners begin our virtual Winter Production Conference. Every Tuesday evening in February from 6:30 to 8, you can virtually visit a southwest Missouri farm and learn about year-round growing. February 2 features the Yang Family Vegetable Farm.
Registration is online for the free conference.