Farmer Fue Yang and the customers in line for his strawberries wait for the market opening bell to ring last week.
Mother's Day market will be big
Look for more parking and a new south exit
Spring in Missouri – when the grass is too wet to mow and growing like crazy! The crops are growing too and you'll see some new ones this week, like asparagus. I'm heading for a quick trip to Colorado today and I'm bringing along market asparagus, spinach and broccoli. Denver has a lot of wonderful things that we don't have, like a botanical garden, zoo, and a museum of science and nature, but they can't touch our veggies.
And I doubt they have granola as good either. Folks are raving about the market-made granola and it's available at every market. The choices this week are Honey Almond and Apple Cinnamon. Pick it up at the information table, 1 lb. bag for $5.
Pupuseria Jandres and Songbird Kitchen will have made-at-the-market snacks and lunches at this week's Thursday market. Just Jake & Corky are on the market stage. We're expecting six farms, including E & O and Brakers with flowering baskets and bedding plants and Fairhaven with Joe's delightful handcrafted planters. Juniper Coffee is back. Bee Hunters will have their specialty jams and jellies.
You probably won't notice it tomorrow since weekday markets are not typically crowded and there's plenty of parking, but on Saturday the improvements to the south parking lot will be very evident. Kudos to Webb City public works employees who, despite a very full plate of projects, increased the parking in the south lot by about 50%. It's not much larger but it is graveled and organized now with bumpers on the west side and in the middle. Thank you, Jim Dawson, for coming up with that idea. And thank you, City, for making it a reality.
 There is also a new exit to keep folks from having to exit by the pavilion and through all the in-coming traffic. Just keep heading south in the south parking and you'll come out on Hall Street. It's a one-way street so there should be no opposing traffic. The hope is that all the cars parked in the commons lot (the commons is the grassy section inside the streetcar track) and in the south parking lot will all leave through the new south exit. It should improve the traffic flow tremendously once we all get used to it.
Unregistered walkers on the first Market Walk last week.
There's a lot going on Saturday in addition to a pavilion full of growers, ranchers, bakers and other fine vendors. It is, after all, our Mother's Day market, which is one of the prettiest of the year when the pavilion is overflowing with beautiful flowers and loaded with fresh produce.
Andrea Dicharry leads yoga at the market from 8 to 8:45 in the tent north of the pavilion. Andrea says, "Beginners and experienced are both welcome. We will move slow, breathe, stretch, and get ourselves centered and ready for the day. Bring a mat or hang out on the grass. No rules here! This is a FREE offering… donations always welcome but absolutely not expected."
The Market Walk starts at 8:15 by the bike rack just west of the pavilion. Vendors Robin Green and Misty Philips lead this easy stroll through the park that returns to the market before it opens.
Cooking for a Cause this Saturday benefits the market's WIC program. Enjoy a good breakfast and help the market improve the diets of our littlest neighbors who are at risk of hunger. Breakfast is served from 8:30 to 11.
The Free Kids Meal packs are served to go from 9 to 11 in the tent north of the pavilion.
Breakfast this Saturday is a parfait topped with fresh Yang Family strawberries and market-made Honey Granola, plus milk.
Lunch is pepperoni pizza bagels, fruit salad, oven roasted broccoli, and milk.
The meals are free to anyone aged 1 through 18. Adults can pick up for their kids, but please show a photo of yourself with the children so we can get a head count.
The Mayfields will fill the market with their high energy bluegrass and gospel from 9 to 11.
We expect all our farmers and bakers Saturday. We should have locally farmed shrimp, farm fresh eggs, cheese from Grison Dairy, honey, mushrooms, and meats. Debbie Fedie will have her sewn goods, Delightful Gifts, with fire starters and other gifts, and Jane's Glass Art. Lynn Sharpening Services is back.
You don't want to miss the Mother's Day Market.
And then we're back to the Tuesday market, from 4 to 7 p.m. Be sure to put Tuesday, May 18, on your calendar. More details will follow, but think Eat Street with lots of great food and a mariachi band!
Life is good. See you at the market.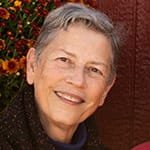 Eileen Nichols founded the Webb City Farmers Market in 2000. From a handful of producers, the market has grown to become nationally recognized.