We've got mums at the market and wagons to pull them away.  (RACHAEL LYNCH PHOTOS)
Need therapy? Try gardening
Expect a full pavilion Saturday, come hungry for Eat Tuesday 
Whether you are walking along your neighborhood sidewalk for a morning stroll or walking through a pasture carrying morning slop, we can all agree that these 70-degree mornings are incredibly welcome.
According to the Farmer's Almanac, these humid days will melt away as September progresses ushering in a rainy October. The farms that grow for Webb City Farmers Market have already been diligently putting in cold weather crops like broccoli and Brussel sprouts. Now with the cold nights, we can put in the more delicate delights like spinach, lettuce, or kale.
That is exactly what is happening out at Oakwoods Farm where, along with getting the winter's lettuce plugs planted, they are in the process of completing a new high tunnel. This tunnel will be 150 ft making it the largest Doug and Karen have ever worked. I'll be heading out to purchase some of her excess Kale plants and also checking in on this new construction that has the farm in a flurry of activity.
My children are looking forward to coming home tonight to help get our new plants from Karen's farm in the soil. We have Brussel sprouts growing and just this weekend planted 24 collard green starts, which is nothing when some of our farms plant over 2,000. Thank a farmer right!? 
There's no way, with all my obligations, that I can maintain a garden of the magnitude needed to satisfy my children's appetites, but growing some household favorites can be a memorable reward.
Of course, gardening provides the satisfying crunch of vegetables grown by your own hands, with flavors only experienced with freshly picked products. I believe the best rewards of gardening are ones never to be seen. Those being patience, and the capacity to care for something and spend time learning about it; the full circle connection to what you are eating, where it came from, and pride in how it got to your plate.
If you are looking to get hooked on a healthy pastime, then gardening can be your therapy. Anyone, seriously anyone, can garden to some level. Your garden can be a few herbs in a window sill, a backyard full of plants, or a sunny side yard with a raised bed. The fact is, the rewards come free with any effort.
A Kids Garden participant returns for the cucumber harvest.
The market made an effort this year to share our love of growing things by adding a learning garden. We had great success with the Kids Gardening Club and impressed a few of our farmers with the lovely tomato plants the children cared for all summer. You can still walk out to smell the fresh herbs that helped keep garden pests away, and you will find that broccoli now fills the space where our tomato plants were. If you're interested in getting your hands dirty and volunteering for next summer's Kid Gardening Activities, ask for a volunteer application at the information table.
This Saturday will provide another full pavilion of remarkable farm stands, artisan bread, coffee, handmade soaps, hot food, and natural meats. It's the second weekend so that means Grison Dairy & Creamery will be here with cheese. Clear Water Shrimp farm says they'll be back this Saturday, and Drew Pommert will play for customers from 9-11 a.m.
We stay busy until noon so there's plenty of time to swing by for a cup of Joe and shop for next week's meals.
The before mentioned cool mornings along with seeing mums, pumpkins, and late summer sunflowers have us all rushing to find our sweaters, however, the fruits of summer are still here. Green beans, watermelon, tomatoes, okra, and other yummy summer foods are available alongside butternut and acorn squash. This is the unique mesh of seasons and I just love it, it's after all my favorite time of year!
Our Tuesday market will continue throughout September, staying open from 4 to 7 p.m.
This Tuesday our performing artists are a family duo, Doug Disharry and Lily Clark. They've been jamming out at home for years and this Tuesday will be the first time in public. Lily's mother is a Webb City teacher who also teaches yoga online and sometimes at the market.
You can always find a dynamic community supporting local farmers markets and you, my beloved shopper, are a part of it.
We'll be looking for you on Tuesdays and Saturdays. See you soon.
"Gratitude unlocks the fullness of life.
It turns what we have into enough, and more."
Watch Doug Scott single-handily build the fourth high tunnel at Oakwoods Farms. This one is the biggest, 150 feet long and has an air vent at the top. It's going up later than planned because of the steel shortage.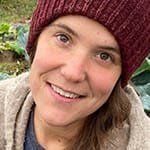 Rachael Lynch
Rachael Lynch is the manager of the Webb City Farmers Market.  For more current updates, visit the market's Facebook page.