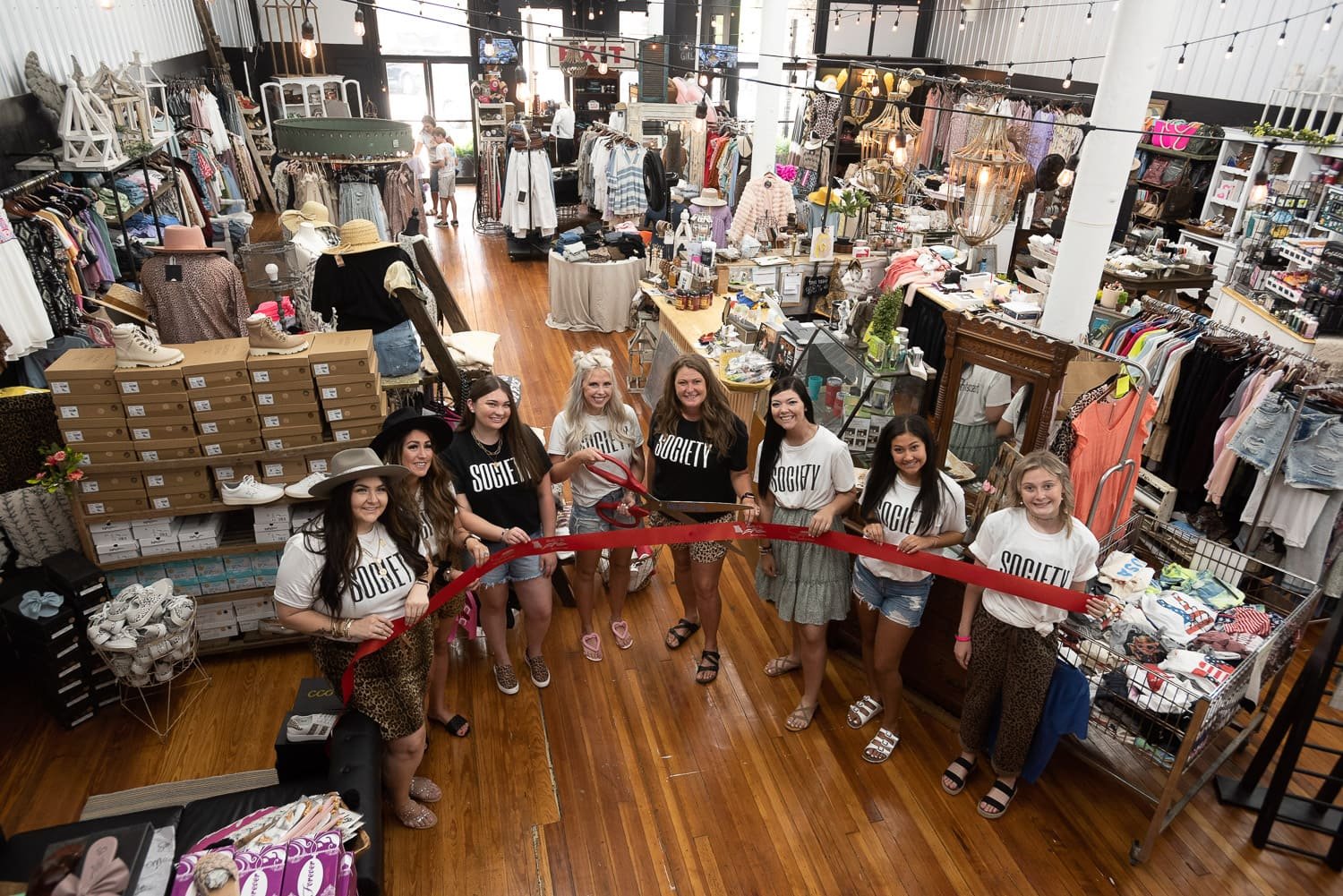 Society's one-year anniversary
The Society Marketplace, at 4 S. Main St., celebrated its first anniversary Friday with a ribbon-cutting and open house.
Back to School Sales Tax Holiday weekend starts Friday
Back to school shoppers this weekend should buy all they can in Webb City, Carterville, Oronogo and Airport Drive.
It's the annual Missouri Sales Tax Holiday, and only the Jasper County sales tax of 1.225% will be charged at cash registers on approved items in those four towns.
The Missouri sales tax of .04225% won't be charged anywhere, but Jasper County and most other area cities, including Joplin, Neosho, Carthage and Carl Junction, have opted out of participating in the holiday.
Webb City, as the City Council chooses to do every year, is giving up .025 cents for every dollar spent during the three-day tax holiday, which begins after midnight Friday.
The sales tax exemption is limited to:
Clothing – any article having a taxable value of $100 or less
School supplies – not to exceed $50 per purchase
Computer software – taxable value of $350 or less
Personal computers – not to exceed $1,500
Computer peripheral devices – not to exceed $1,500
Graphing calculators – not to exceed $150
QUALIFYING ITEMS
Section 144.049, RSMo, defines items exempt during the sales tax holiday as:
CLOTHING – any article of wearing apparel intended to be worn on or about the human body including, but not limited to, disposable diapers for infants or adults and footwear. The term shall include but not be limited to, cloth and other material used to make school uniforms or other school clothing. Items normally sold in pairs shall not be separated to qualify for the exemption. The term shall not include watches, watchbands, jewelry, handbags, handkerchiefs, umbrellas, scarves, ties, headbands, or belt buckles; and
PERSONAL COMPUTERS – a laptop, desktop, or tower computer system which consists of a central processing unit, random access memory, a storage drive, a display monitor, a keyboard, and devices designed for use in conjunction with a personal computer, such as a disk drive, memory module, compact disk drive, daughterboard, digitalizer, microphone, modem, motherboard, mouse, multimedia speaker, printer, scanner, single-user hardware, single-user operating system, soundcard, or video card; and
SCHOOL SUPPLIES – any item normally used by students in a standard classroom for educational purposes, including but not limited to, textbooks, notebooks, paper, writing instruments, crayons, art supplies, rulers, book bags, backpacks, handheld calculators, graphing calculators, chalk, maps, and globes. The term shall not include watches, radios, CD players, headphones, sporting equipment, portable or desktop telephones, copiers or other office equipment, furniture, or fixtures. School supplies shall also include graphing calculators valued at $150 or less and computer software having a taxable value of $350 or less.
Missouri Bicentennial
Ice Cream Socials
The City of Joplin, in partnership with Historic Murphysburg, North Heights Neighborhood Association, and Bookhouse Cinema, is hosting set of ice cream socials on Tuesday, August 10.
DOWNTOWN MIDDAY ICE CREAM SOCIAL
Spiva Park, 4th & Main, Downtown Joplin
11:00 a.m.-1:00 p.m.
Toppings: Chocolate, caramel
Other Activities: Cornhole, chalk, bubbles, Giant Jenga
MURPHYSBURG ICE CREAM SOCIAL
The Gustave Kleinkauf House, 523 S Sergeant Avenue, Murphysburg
5:00-6:00 p.m.
Toppings: Chocolate, caramel, strawberry, and sprinkles
Other Activities: Lawn bowling, Scavenger Hunt Tour and Chalk Art. So far.
NORTH HEIGHTS ICE CREAM SOCIAL
Neighborhood Lifehouse, 516 N Wall Ave, Joplin
Hours: 6:30-7:30 p.m.
Toppings: Chocolate, caramel, strawberry, and sprinkles
Other Activities: Cornhole, bubbles, music
BOOKHOUSE CINEMA PATIO ICE CREAM SOCIAL
6:00-7:00 p.m. (World's Fair 1904 documentary 7:00-9:00 p.m.)
Toppings: Sprinkles
Other activities: Showing of the documentary "The World's Great Fair."
Carthage Council on the Arts and Carthage Historic Preservation are excited to celebrate the Missouri Bicentennial with a community ice cream social in Central Park from 5:00 p.m. to 8:00 p.m. on Tuesday, August 10. The event will include live music, lawn games, ice cream treats and more!
Carthage Central Park
714 S. Garrison
Carthage, Missouri 64836
Ozarks Food Harvest provides record-breaking 23 million meals as part of COVIE-19 response
SPRINGFIELD — Ozarks Food Harvest provided 23 million meals from July 2020 to June 2021, marking another record year of food distribution for children, families and seniors facing hunger in southwest Missouri.
The Food Bank attributes their record-breaking distribution to their long-term focus on helping communities in their 28-county service area recover from the effects of COVID-19. Ozarks Food Harvest focused specifically on increasing Mobile Food Pantries, drive-thru food pantries and Supplemental Nutrition Assistance Program (SNAP or food stamps) outreach to help meet the increased demand for food experienced by their network of 270 hunger-relief organizations.
SNAP outreach contributed 1.2 million meals to Ozarks Food Harvest's record-breaking distribution and helped bring more than $5.6 million in economic stimulus to southwest Missouri. More than 1 million meals were distributed through Mobile Food Pantries to help feed more than 52,000 individuals facing hunger during the pandemic.  In total, Ozarks Food Harvest has provided $37 million worth of food and funds across its service area. 
"COVID-19 has put such a strain on our community, and its effects on food insecurity will linger for the foreseeable future," said Tommy Wohlgemuth, COO & CFO at SGC Foodservice in Springfield and Ozarks Food Harvest's board president. "That's why The Food Bank will continue to make sure children, families and seniors have access to food in the Ozarks."
The Food Bank's volunteers and members of the Missouri National Guard were also key in ensuring food distribution continued during the pandemic. Together, these groups spent nearly 27,000 hours sorting and packing 5 million pounds of food for Ozarks Food Harvest.
"Thousands of families will face hunger this year due to the effects of COVID-19, so we're still operating as if this is an emergency," said Bart Brown, president/CEO of Ozarks Food Harvest. "We're so grateful for the community's support as we work to get folks on the road to recovery in southwest Missouri."
Before the COVID-19 crisis, 1 in 7 adults in southwest Missouri faced hunger. Now, Ozarks Food Harvest estimates 1 in 6 adults face hunger.