The Webb City Singers performs during the preview concert Friday night.
Choir Boosters enjoy a preview concert before showchoir season begins
New DoMENance choir joins Webb City Singers and Bella Vocé
Webb City's showchoir competition season opened Saturday with a trip to Mt. Vernon.
The Webb City Choir Boosters sponsored a preview concert at Ronald R. Barton Performing Arts Center Friday night during which choir director Melinda Benham introduced not two but three choirs.
The longstanding Webb City Singers and more recently formed all-girl choir, Bella Vocé, is now joined by a new all-male choir,  DoMENance.
Webb City represented by 12 members on all-district band
Twelve Webb City musicians were selected recently for the 2021 Southwest Missouri Music Educators Association All-District Jazz Band.
They now have the opportunity to submit recordings to compete for seats in the all-state jazz band.
Making all-district are:
Ella Dodd – alto saxophone 1
Benji Contreras – tenor saxophone 1
Evan Garrison – tenor saxophone 2
Connor Peterson – baritone saxophone
Daniel Roy – trumpet 1
Caleb Witte – trumpet 3
Gavin Burdette – trombone 1
Silas Frank – trombone 2
Nick Smith – bass trombone
Jordan Russell – trombone alternate
Max Watson – guitar
Liya Therrian – drums alternate
Carterville spelling bee winners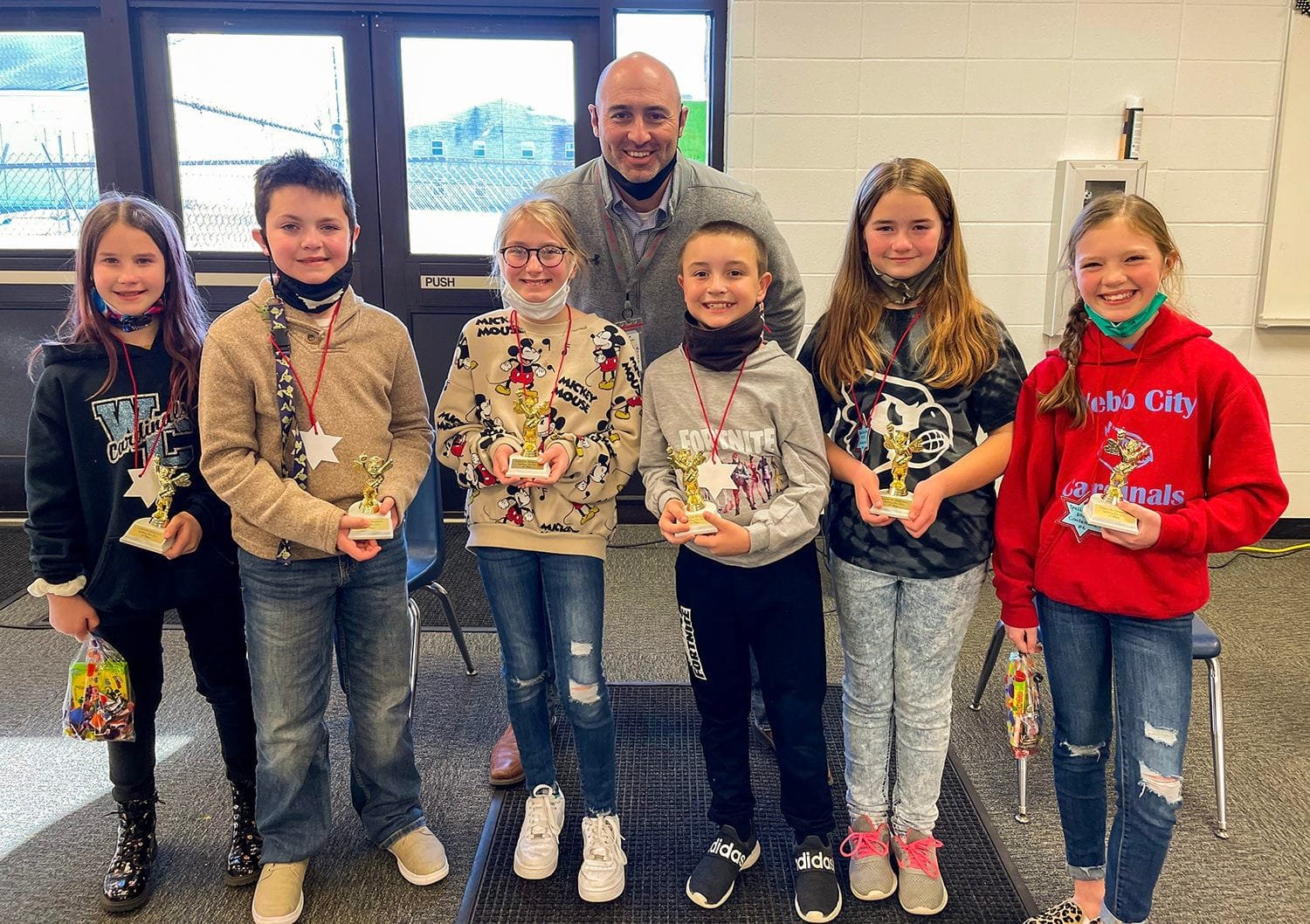 The annual Carterville Elementary School spelling bee for fourth graders was held recently. 
The top six spellers were Breckyn Swaffar, Madden Jensen, Tenley Johnson, Konnar Carter, Calea Cranford and Natalee Taylor.  At right, Principal Jarett Cook congratulates spelling bee winner Natalee Taylor. – Lindsey  Bell photos.
249 bridge to close overnight Monday
The Missouri Department of Transportation alerts motorists to the scheduled Monday overnight closure of the tall bridge coming into Webb City from Highway 249.
A guardrail will be repaired during the closure, from 11 p.m. Monday, Feb. 1 through 4 a.m. Tuesday, Feb. 2.