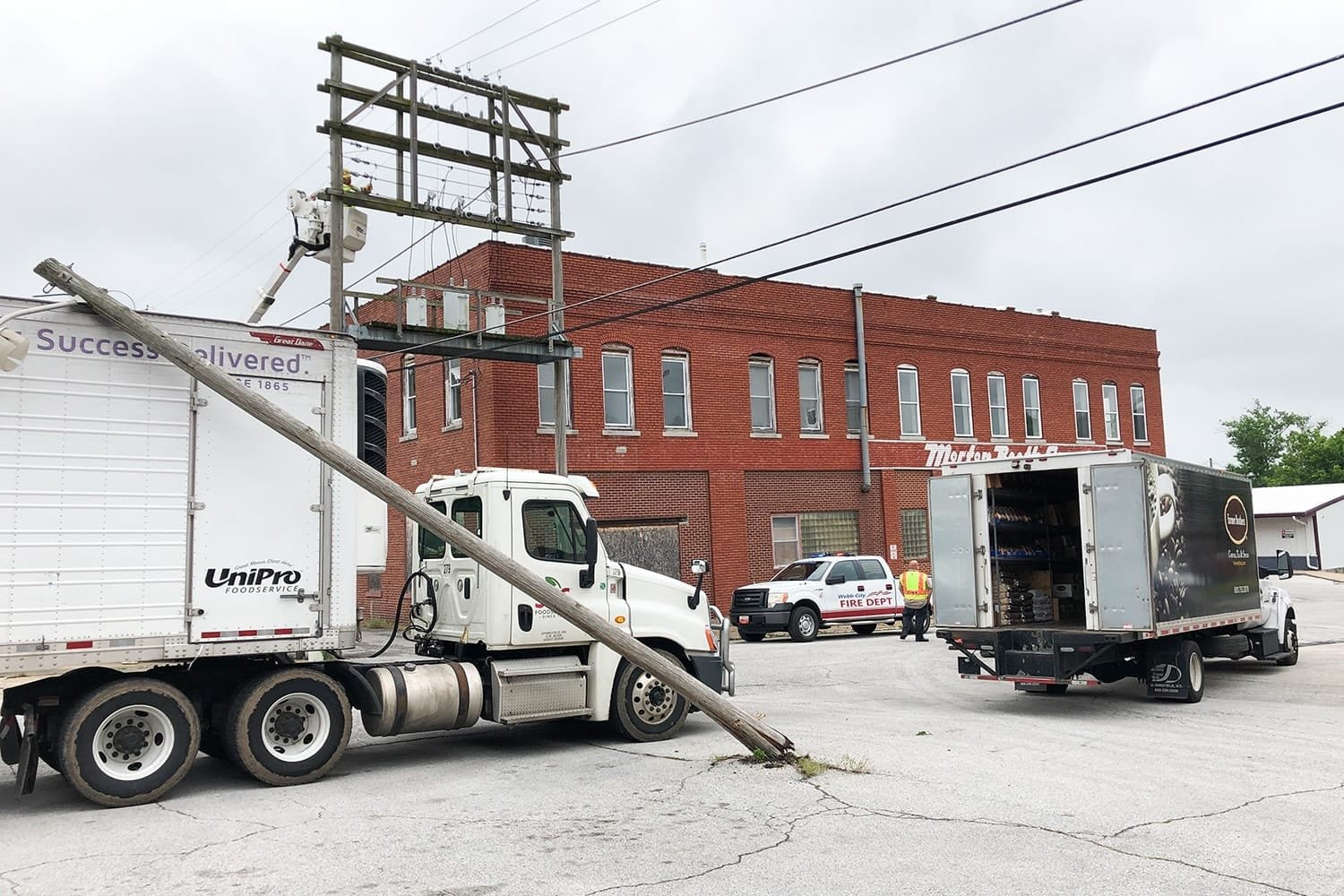 PARKING MISHAP
Two trucks making deliveries on Church Street behind Webb City Cafe on Tuesday were involved in what could have been a shocking accident. One truck backed into a light pole, which fell onto the trailer of the other. Webb City police and fire departments directed traffic while Liberty Utilities deactivated and rerouted the live cable.
Carl Junction first-Saturday breakfast to return in August
It was announced this week that the Carl Junction Lions Club's first Saturday breakfasts will resume.
Prior to the pandemic, the breakfasts had become a community institution.
The breakfasts, held from 8 to 11 a.m. at the Carl Junction Community Center, will restart Saturday, Aug. 7, with Gary Stubblefield teases will feature "an exciting new menu!"
Joplin Little Theatre is back in operation
After being dark for the past year because of the pandemic, Joplin Little Theatre is announcing its schedule of performances for the 2021-2022 season and enrollment in the Children's Summer Workshop.
The two-week summer workshop is for students from kindergarten through junior high school (ages 5 – 14). It will be held July 12 – 16 and July 19 – 23. Enrollment starts this week.
Stranded On An Island is the theme of the first week. An Artist Finds Inspiration will be the second-week theme.
Students can choose morning or afternoon sessions each week. The cost is $70 per student per week.
To enroll, call the JLT box office at (417) 623-3638 or go online.
Regular office hours (9 a.m. – 2 p.m. Monday – Thursday) resumed this week, with Ann Lile as the new office manager.
In addition to enrolling for the summer workshop, she's taking season-ticket reservations Costs are $75 for adults and $65 for seniors (55 and up) and students of any age.
2021-2022 JLT SEASON
CLUE: ON STAGE – Sep. 29-Oct. 3 2021 – A madcap mystery comedy, based on the popular board game, that will keep you guessing until the final twist. Directed by Tegan Whited.
PLAID TIDINGS – Dec. 1-5, 2021 – The Forever Plaid boys come back to earth bringing musical fun, 1950s songs and a big plaid Christmas bow on top! Directed by Carolyn McGowan.
DRIVING MISS DAISY – Feb. 2-6, 2022 – Classic play offering searing, funny and hopeful meditation on an unusual relationship between an elderly woman and her African-American chauffer. Directed by Greg Green
MAN OF LaMANCHA – Mar. 23-27, 2022 – The funny musical story of a mad, but kind and chivalrous elderly nobelman, Don Quixote, and his sidekick, Sancho, who fight windmills and dragons. Directed by Gary Roney.
MONTY PYTHON'S SPAMELOT – May 18-22, 2022 – This musical comedy retells the legend of King Arthur and his Knights of the Round Table in outrageous, uproarious and gloriously entertaining fashion. Directed by Becki Arnall.
MARK TWAIN ALL-STAR READERS
To reach the Mark Twain Elementary All-Star Reader level, students had to read a variety of genres, reach AR goals, raise reading levels, and raise fluency.
All-Star Readers, listed alphabetically, are:
Khloe Allen, Zoey Bard, Grayson Barnes, Adelyn Billings, Hanna Carson, John Channel, Allison Comstock, Cole Dingman, Alexander Estevez, Gray Garrett, Bentley Hanna, Sawyer Hedger, Addyson Herbinger, Aden Holifield, Jace Horn, Rachel Klor, Jonathan Lemmon, Jordan McAllister, Ryker McDonald, Hadlee Moore, Jackson Moore, Tynnley Outt, Kolbie Peak, Drew Peeples, Myriah Phillips, Larry Potter, Ainslie Purcell, Joshua Reed, Colby Renfro, Abigail Rodriguez, Zaydia Sims, Keegan Snyder, Addyson Standefer, Lydia Stockton, Leelynn Sutten, Paola Zavala.  Not pictured are Bently Pendergraft, Karlee Tunnell and Brayden Webb.
EUGENE FIELD ALL-STAR READERS
To reach the Mark Twain Elementary All-Star Reader level, students had to read a variety of genres, reach AR goals, raise reading levels, and raise fluency.
Bentley Armstrong, Titus Beverlin, Layla Butler, Lukas Curry, Owen Dodd, Kate Drinkwitz, Grayson Farrar-not pictured, Boen Gordon- not pictured, Nayeli Guevara, Kaden Horn, Jayden Houston, Jmar Jarmin, Makiah Johnson, Grace Jones, Laniey Mahurin, Skyler Martin, Aiden Myers, Olivia Pointer, Tanner Pugh, Brayton Robinson, Jaelyn Rumble, Elijah Smith, Lexie Smith, Conley Stanton, Brayden Steele, Owen Taylor, Sunshine Webb and Madison Wicklund.
CARTERVILLE ALL-STAR READERS
 (KRISTI COLLINS PHOTOS)
CARTERVILLE READING ROCK STARS
(TOP) top row Isaac Brown, Jacob Cantrell, Dallas Burwell.
(ROW 2) Owen Diehls, Connor Sampson.
(ROW 3) Braxton Johnson, Kinsey McGinn, Lyric Hazley.
(ROW 4) Adri Ayres, Colton Wiskur, Lailoni Baird.
(ROW 5) Cade Cranford, Isaac Thomsen.
(BOTTOM) Zaidon Bowman, Gentry Cogbill and Cohen Orr.
(KRISTI COLLINS PHOTOS)
CARTERVILLE READING ROCK STARS
(TOP) Carson Foreman, Evan Hoth, Tenley Johnson.
(ROW 2) Marlee Dickenson, Kylie Slinker.
(ROW 3) Calea Cranford, Isaac Thomsen, Natalee Taylor.
(BOTTOM) Brinley Peterson, Martin Theriot and Mason Maxwell.
(KRISTI COLLINS PHOTOS)