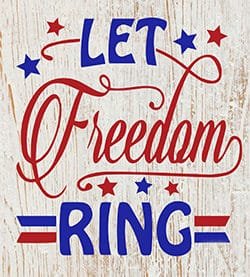 Let Freedom Ring patriotic celebration set for July 3
Members of Emmanuel Baptist Church are planning the ninth annual Let Freedom Ring festival. It will be held from 6 ton 9 p.m. Saturday, July 3, in Memorial Park.
The festival will include a bounce house, water fun provided by the Webb City Fire Dapartment, free hamburgers and hot dogs, ice cream and much more for all who sign up at the event. 
The church's VBS children will perform as a celebration of their weeklong bible school. 
A patriotic concert will be performed by the EBC choir, followed by recognition of veterans and those currently serving in the military. 
The event will close with fireworks after dark. 
Emmanuel Baptist Church is adjacent to Memorial Park, which is at the northeast corner of Daugherty and Ball streets.
Watch Joplin/MSSU fireworks from cars again this year
Joplin's annual Independence Day Celebration will be strictly fireworks again this year because social distancing is still required at Missouri Southern State University.
Area residents are welcome to watch the display from designated MSSU parking lots. "The eastern side of campus is one of the tallest points in Joplin, which provides a good viewing experience from different vantage points around the area," says Paul Bloomberg, Joplin parks and recreation director.
Parking lots will open at 8:30 p.m., with the fireworks show starting at 9:45 p.m. Ten minutes prior to the show's beginning, crews will launch a single display to alert the audience of the impending start. The show will last approximately 20 minutes and be set to music, which will be broadcast on 88.7 KXMS-FM. The entirety of the fireworks celebration will be broadcast live on KGCS TV Channel 21 and on the KCGS Facebook page.
The stadium and amenities will be closed to the public. More information is online.
COVID deaths, hospitalizations increase
A surge in COVID-19 cases has prompted Freeman Health System and Mercy Hospital Joplin to reopen their medical COVID-19 units. 
Physicians are also seeing more patients with gastrointestinal symptoms that include nausea, vomiting and diarrhea.
The Joplin Health Department announced two coronavirus-related deaths this week – an 83-year-old female and a 38-year-old female. There have now been 133 deaths in Joplin attributed to the virus.
According to the Joplin COVID-19 dashboard, there were 76 hospitalized as of Wednesday.
In Jasper County (not counting Joplin), there have been 204 new cases in the last two weeks. The number of deaths stands at 159.
Drive-thru clinics scheduled for student COVID vaccinations
To get students completely vaccinated before school resumes, Freeman is offering a back-to-school vaccine clinic. The drive-thru clinic will offer first-dose vaccines from 2 – 6 p.m. Tuesday, July 13. Second doses will be given from 2 – 6 p.m. Wednesday, Aug. 11.
Children 12 years old and older are currently approved to receive both the Pfizer-BioNtech and Moderna vaccines. 
Parents can go online to freemanhealth.com, click on the top banner and self-schedule a time. A parent must be present when a juvenile receives the vaccine. A 15-minute observation period follows the vaccination at the drive-thru clinic and can be done in your vehicle. 
The drive-thru vaccination clinic site is at 1221 McIntosh Circle. The same location is home to drive-thru COVID-19 testing. Those without access to the internet can call the COVID vaccine information number at (417) 502-SHOT for scheduling assistance.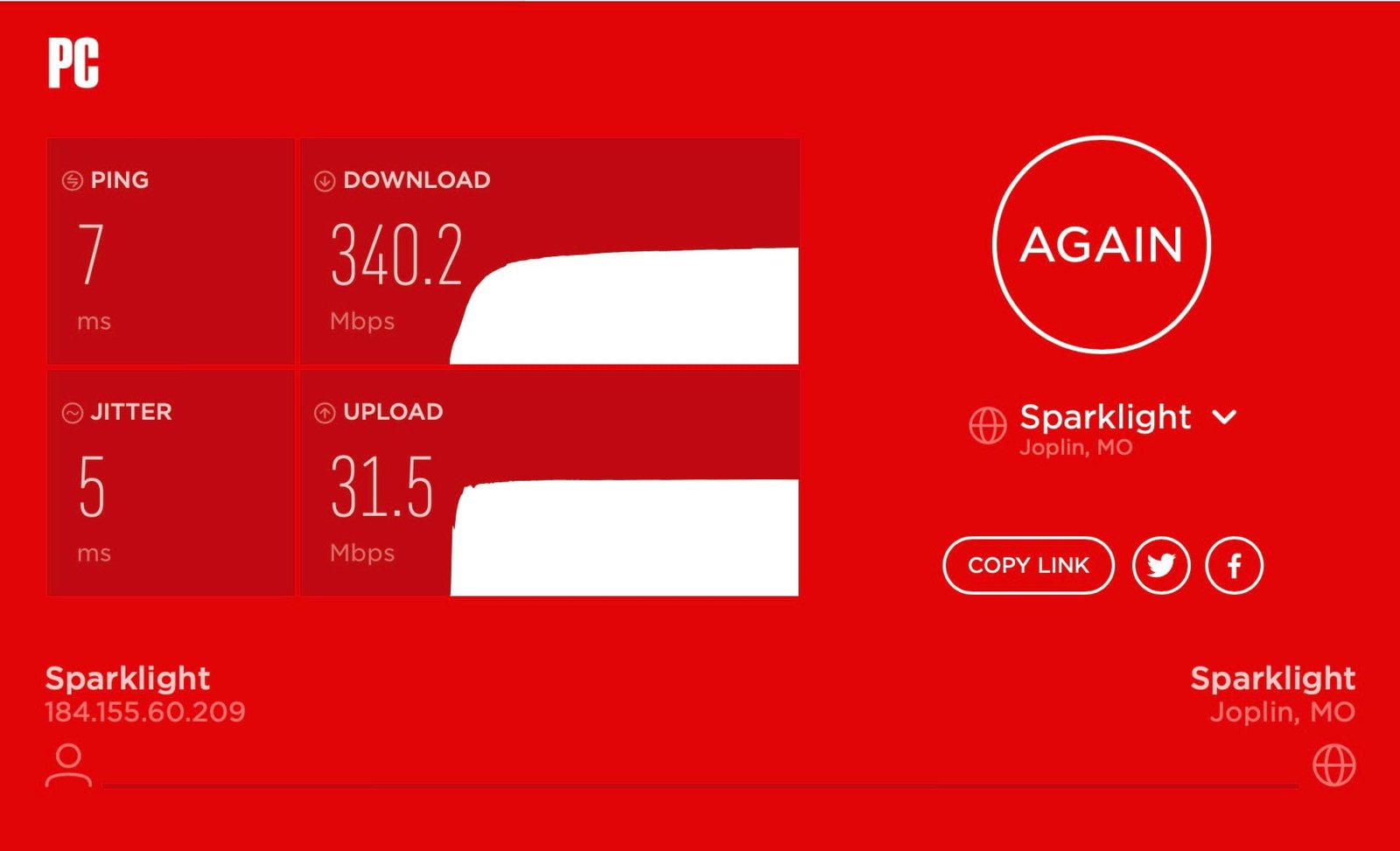 A screenshot taken of a completed PC Magazine Speedtest on June 23 on a computer in a Webb City household with the $80 Turbo 300 Plus plan indicates at the time of the test – download speed was 340.2 megabytes per second and the upload speed was 31.5 Mbps.
PC Magazine ranks Sparklight third fastest internet service provider
Sparklight, the primary internet service provider in Webb City, has been named third in the nation on PC Magazine's list of the top 10 Fastest Internet Service Providers (ISPs) of 2021.
The leader for rigorous, labs-based comparative reviews of internet products, PC Magazine tested ISPs via PCMag Speedtest from April 1, 2020, through June 7, 2021 – a time period that saw unprecedented broadband usage due to the COVID-19 pandemic.   
"We have engineered a robust and reliable network to support the high-speed internet needs of our customers and communities – today and in the future," said Julie Laulis, Sparklight president and CEO. "As a result of the company's continued planning and investment in our network, we were able to meet the surge in internet usage throughout the pandemic and provide the seamless connectivity that was so critical over the past year."   
Sparklight Business was also named a Top Business Internet Service Provider by PC Magazine, ranking fifth in the nation out of 23 internet providers. The magazine asked businesses to rate their internet service provider based on a variety of criteria, including overall satisfaction, cost, reliability, support and whether they would recommend their provider. Sparklight Business scored top marks in all categories.
Local Sparklight plans (download/upload Mbps, $ per month) are: 100/10, $45; 200/20, $65; 300/30, $80, and 1,000/50, $125. Some households may be eligible for discounts under the FCC's Emergency Broadband Benefit Program.