Kerry Sachetta is cracked up by one of Ron Lankford's usually farm-related-isms during a recent retirement party for Lankford, who is leaving his position as an assistant superintendent for the Joplin R-8 School District. Sachetta is the assistant superintendent for operations. (ROGER NOMER-JOPLIN GLOBE PHOTOS)
Is Ron Lankford finally retired?
Former Webb City superintendent is without a job July 1
Ron Lankford will officially be retired on July 1 – for the third and what he says will be the last time.
A retirement party was recently held for him by his current coworkers, friends and family. For the past five years, he has been the assistant superintendant of business services for the Joplin School District.
Prior to that, of course, he was an administrator for 33 years with the Webb City R-7 School District. When he retired the first time in 2010, is was as superintendent here. In the next breath, he became the Missouri Department of Elementary and Secondary Education as deputy commissioner for financial and administrative services. He retired the second time in 2016.
John Hacker told the story well about Lankford's effect on education in the region in the Tuesday edition of the Joplin Globe.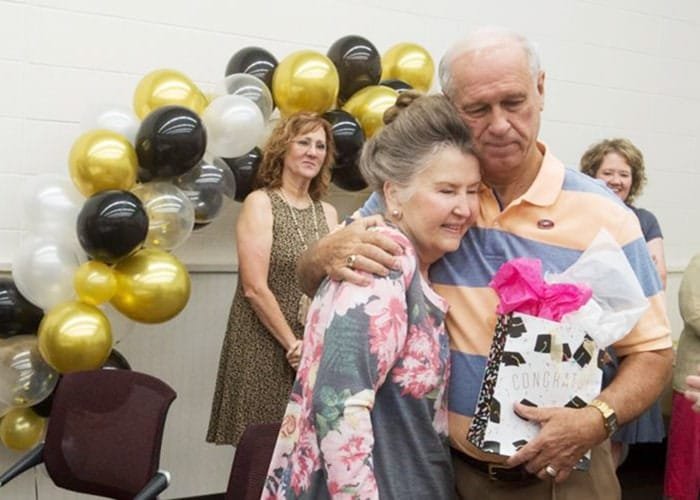 Ron Lankford hugs his wife, Carolyn, during his retirement reception.
Help to pay back rent and utilities available
Anyone behind on rent or utility payments can now apply for assistance to get caught up.
The Missouri Housing Development Commission is receiving nearly $600 million through the 2020 American Rescue Plan and 2021 American Recovery Plan to distribute specifically to those behind on rent and utilities.
"Keeping Missourians in their homes is our highest priority," said Kip Stetzler, MHDC executive director. "The Missouri State Assistance for Housing Relief (SAFHR) program provides money for rent and utilities for up to 12 months going back to April 2020 and for up to three months in the future. The money is paid directly to either the rental property owner or the utility company."
Due to federal requirements, certain eligibility documents must be uploaded or provided. The typical application process takes approximately three to four weeks.
People needing help can apply online at MOHousingResources.com or by phone at (833) 541-1599. Spanish speaking representatives are also available to assist by phone.
In addition, 13 social service organizations have been approved to assist tenants and landlords with preparing and submitting applications.
The organization in this area is Catholic Charities of Southern Missouri, (417) 624-3790.
JROTC rifle team places 11th nationally
It wasn't all stress for the Webb City JROTC rifle teammates competing at nationals. They are Bailey Russell, Zach Chronister, Jager Carter, Gabe Elder and Lauren Gilpin. (Lt. Col. DUSTIN ELDER PHOTOS)
Webb City JROTC arrived back in Webb City Monday after finishing 11th out of 40 teams entered in the Junior Olympic National Air Rifle Championships at Camp Perry, Ohio.
After the competition ended and before heading home, their instructor, Lt. Col. (retired) Dustin Elder, allowed them to have some fun.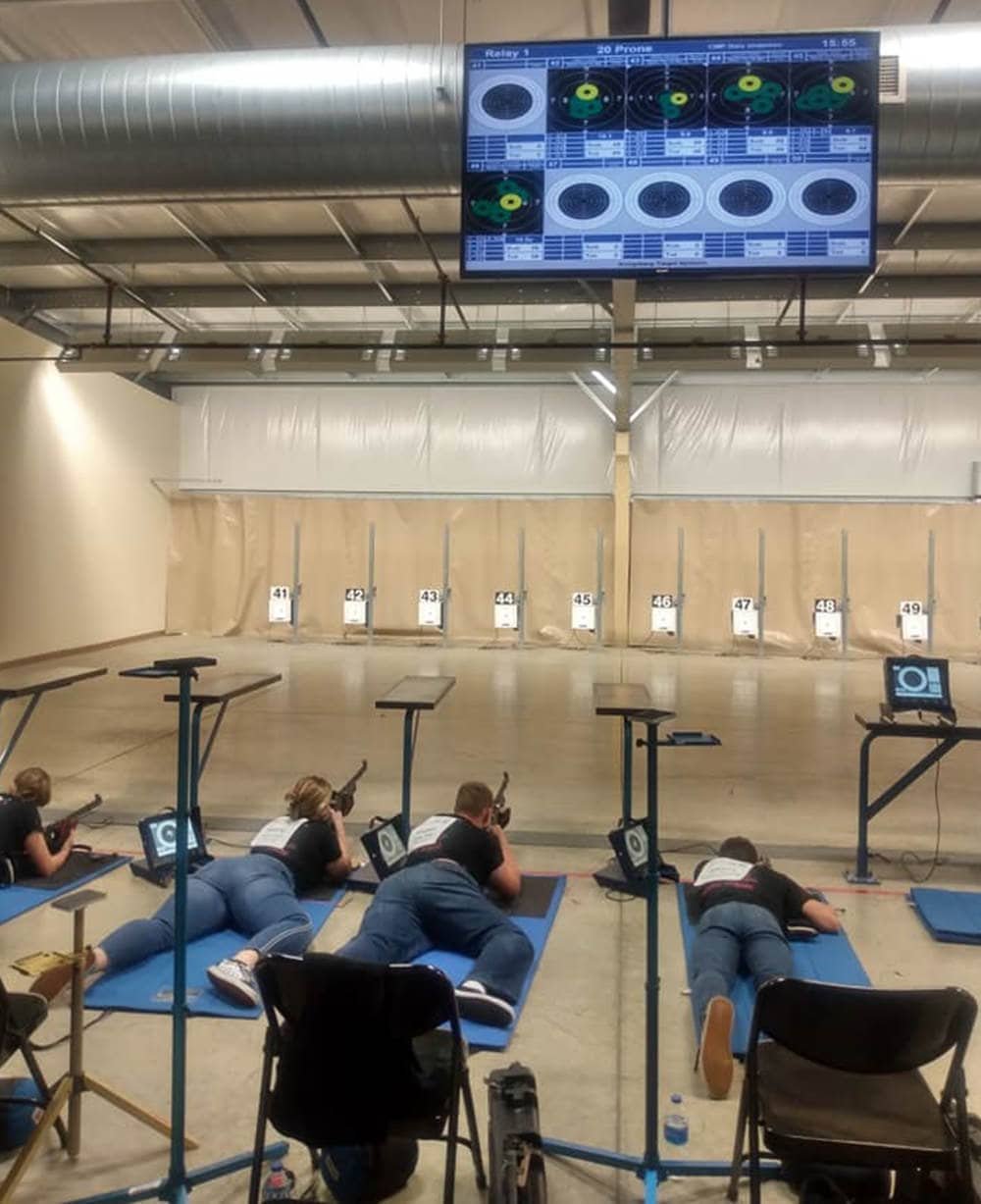 Scores are tallied overhead as the Webb City shooters compete in the prone position.
A phone app shows how the Webb City teammates scored individually.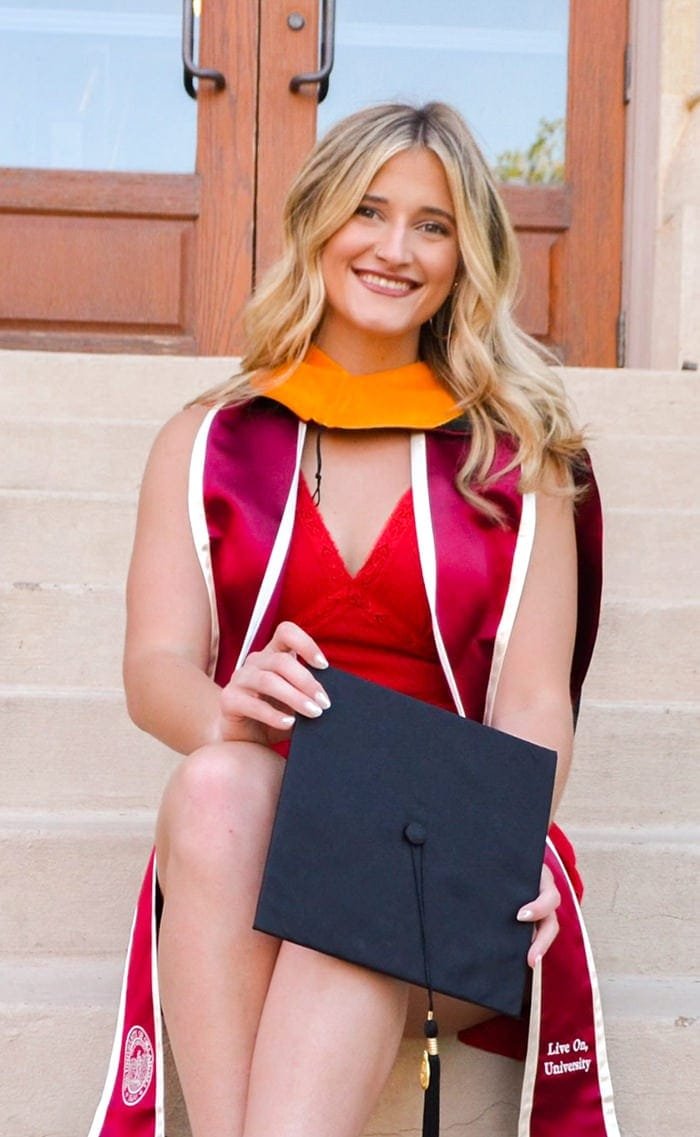 Erin Psajdl received her master's degree in May.
Erin Psajdl joins the Houston Texans 
Erin Psajdl is starting a new job as a data analyst for the NFL's Houston Texans.
Sports Data Analytics is what she just got her master's degree in last month from the University of Oklahoma. The title of her master's thesis was "4th Down Strategy in the NFL."
Erin majored in sports management while earning her bachelor's degree in business administration at OU. She graduated summa cum laude in May 2019  and went on to get a 4.0 while working on her master's.
While going to school, she worked for the Oklahoma City Thunder, was an OU Athletics Marketing lead intern, was a data analytics graduate assistant for the OU women's basketball team, was an intern on the NFL football data team and had a three-month contract with the NFL.
Erin, a 2016 graduate of Carl Junction High School, is the daughter of Robin (WCHS '86) and Brad Psajdl, and the granddaughter of Sandy and John Harrison and Kim and Thurman Taylor.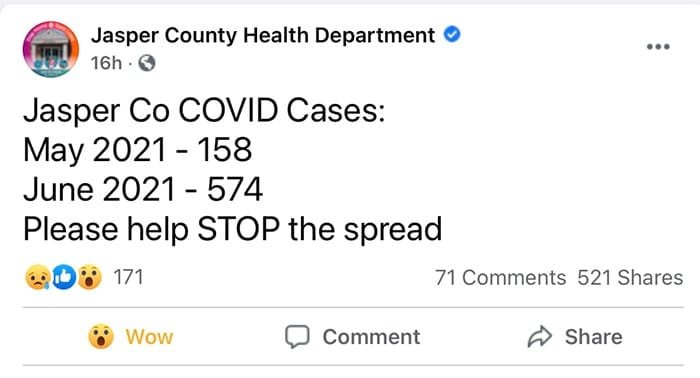 The Jasper County Health Department reports a 15% increase in the number of coronavirus infections during the past week.
As you can see in the Facebook post above, there were 263% more cases (416) in June than there were in May.
The number of deaths in the county reached 160 this week when the department reported the death of a female in her 60s. It's likely there have been more recent deaths not reported yet.
Joplin's death count remained at 133, but the weekly count of new cases rose from 117 to 173 
Of the 77 hospitalized in area hospitals, 20 are from Jasper County and 15 are from Jasper County. The remaining 42 patients are likely from surrounding counties.
The rise in the number of cases and introduction of the Delta variant of the virus in this area is causing officials to plea for more people to be vaccinated.
The Missouri Hospital Association reports that 70% of Missourians over the age of 60 have had at least one shot.
However, data from the state's ShowMeVax system indicate that 1,036,298 Missourians between ages 12 and 59 would need to initiate the vaccination process to reach 70% of the eligible population in Missouri with full or partial vaccine-induced immunity.
"Missouri has made important progress in protecting the most vulnerable from the most deleterious effects of the virus," said Herb B. Kuhn, Missouri Hospital Association President and CEO. 
"Unfortunately, the arrival of the Delta variant in Missouri is driving transmission of the virus, and is resulting in increased illness and hospitalization among a younger population and the unvaccinated – a tragic consequence considering the vaccine's effectiveness at reducing hospitalizations and deaths."
Unfortunately, recent demand for the vaccine has been low among younger Missourians. Throughout the last two weeks, an average of 3,339 Missourians between the ages of 12 and 59 have decided to initiate vaccination each day. If the vaccination rate remains stable, Missouri would not reach the 70% target for another 309 days, or May 2, 2022.
Kuhn adds that "the July 4 holiday could be a super-spreader event among the unvaccinated, leading to further pressure on hospitals. To stop the spread of the Delta variant, we need the vaccination rate to increase significantly and quickly."
Missouri has led the nation in both new cases and cases caused by the more transmissible Delta variant throughout the past two weeks . Research on vaccine hesitancy in Missouri finds significant geographic and demographic differences in attitudes. Nonetheless, vaccination can reduce transmission and harm. Missourians can find a convenient vaccination location online at https://covidvaccine.mo.gov/find/#vaccine-finder.
At last check of local pharmacies on the site: Walmart Webb City and Airport Drive have Moderna; Walgreens has Pfizer; Prater's has Johnson & Johnson's Janssen; and Stone's Corner has Moderna and Pfizer.
Charlie 22 Outdoors Banquet announced
The 2021 Charlie 22 Outdoors Dinner Banquet will be held Saturday, Aug. 28, at Carterville Christian Church.
Veterans are invited to attend the free event to enjoy a night of faith, fellowship and food.
It will also be a night of fundraising for the organization's mission of providing outdoor activities for veterans with the goal of showing them there is hope, love and personal meaning in God's grace.
On the Charlie 22 website, executive director Scott Hettinger, of Webb City, cites two references to why the organization was named Charlie 22.
In 2013, the U.S. Department of Veteran Affairs released a study showing that roughly 22 veterans were dying by suicide per day between 1999 and 2010.
His late father, Sgt. 1st Class Jess Webster Hettinger III, was a Ft. Leonard Wood drill instructor with Charlie Company 2nd Battalion, 2nd Brigade (Charlie 22).
The silent auction will begin at 5 p.m., followed by the dinner at 6 and live auction at 7.
Auction items will range from household items to oil changes, restaurant gift certificates, and hunting trips and guns.
Twenty table sponsorships are available $500 each. Sponsor benefits include raffle tickets and one item of Charlie 22 Gear.
Hettinger says all funds raised will go directly toward upcoming events for veterans and their families.
For more information, go to the Charlie 22 website or contact Hettinger at (417) 437-7247 or charlie22outdoors@gmail.com.
Comments accepted on MoDOT plan to remove I-44 interchange east of Duenweg
The Missouri Department of Transportation is proposing the removal of the I-44 interchange east of Duenweg, Exit 15, which is sometimes referred to as the Scotland Interchange.
The public can comment and or ask questions about the plan online until Monday, July 12.
The bridge and ramps were built in 1960. According to recent inspection ratings, the bridge over I-44 is now in poor condition. While it is safe for daily use, the bridge requires more frequent maintenance and is not designed to current roadway standards.
In 2015, MoDOT constructed a new interchange along I-44 at Prigmor Road, 2 miles west of the Scotland interchange. When the Prigmor interchange was constructed, removal of the Scotland interchange was recommended, but delayed.
The bridge over I-44 at the Scotland interchanges carries an annual average daily traffic of 1,509 vehicles. A recent traffic analysis has shown that adjacent interchanges and roadways will easily carry the traffic which now uses the Scotland interchange.