Tonya Overstreet receives help Friday from her daughter while welcoming friends and new customers to her ribbon cutting ceremony at Darling Daisy Boutique.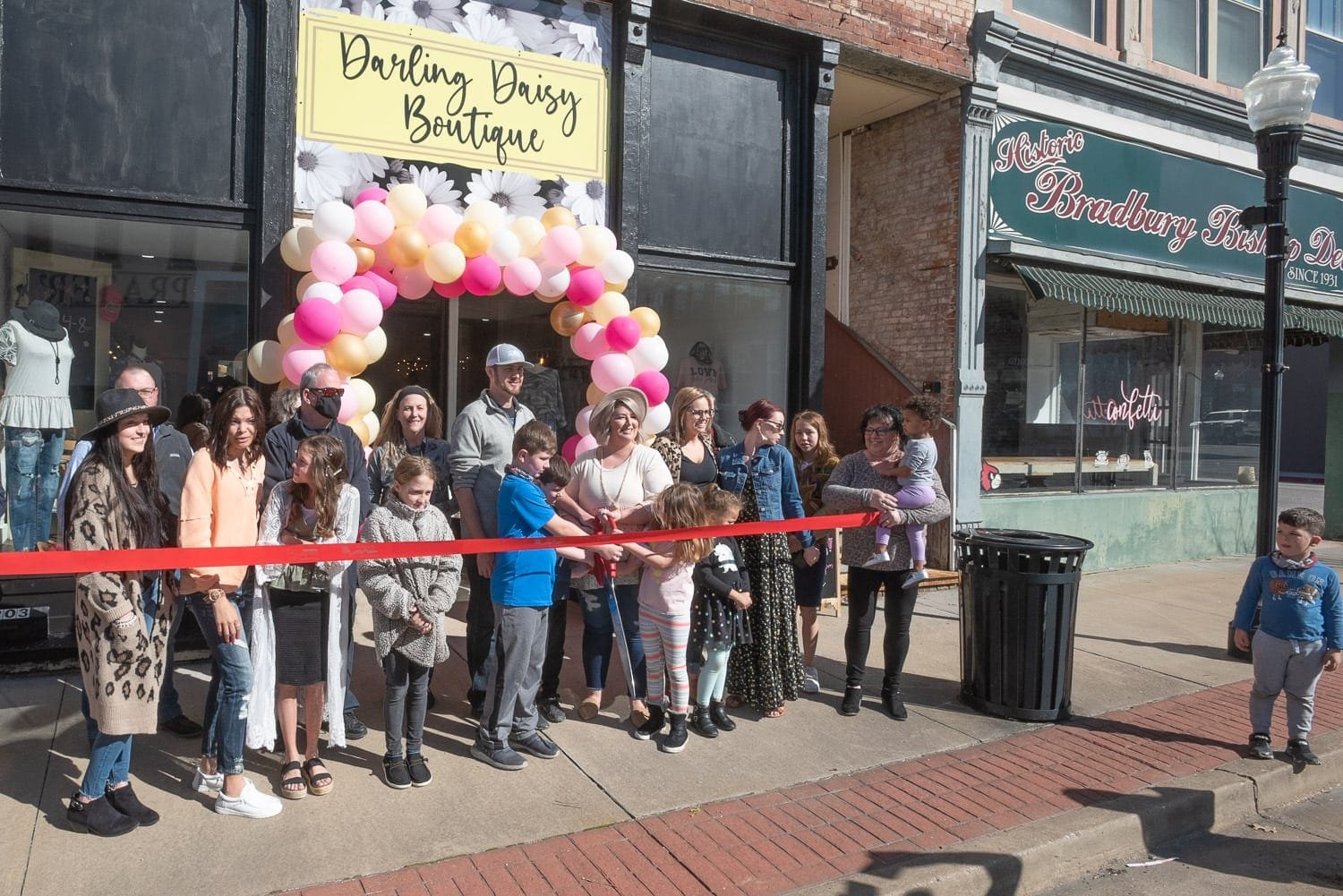 Darling Daisy joins other downtown boutiques
Darling Daisy, a women's fashion boutique, is graduating from Facebook and Instagram sales to a store on Main Street, adjacent to Bradbury Bishop Deli.
Tonya Overstreet is the owner. She and her family cut the ribbon Friday to officially open her store during a ceremony sponsored by the Webb City Area Chamber of Commerce.
Vaccination clinic on April 9 is open to all adults
Freeman Health System invites residents to pre-register for a vaccine clinic scheduled for 7 a.m. to 6 p.m. Friday, April 9. 
That date marks the opening of eligibility for all Missouri adults 18 and older to receive the COVID-19 vaccination. 
Freeman received its first shipment of vaccine Dec. 20 and has since given more than 15,600 doses to Freeman staff and the public. 
As of Wednesday, appointment times were still available for a March 25 first-dose clinic. And 1,200 second doses were scheduled this week.
Those wanting a vaccination can call (417) 502-SHOT to register for the vaccine or they can pre-register online.  Pre-registration will prompt a return call from a Freeman employee to schedule a vaccination appointment.
Webb City show choirs win trophies
The Webb City Singers were first runner up in the Pleasant Hill Battle of the Best show choir contest Saturday, March 20. First place went to the Neosho Choraliers.
Bella Vocé, Webb City's female choir, placed first in the unisex category, beating out Webb City's new male choir, DoMENance, which took second.
Bella Vocé was also fourth runnerup in the overall competition and won best show design.
Webb City's Gavin Phillips won the outstanding male vocalist award.
Cardinal Teacher nominations now being accepted
The Webb City Chamber of Commerce is now accepting nominations for the Cardinal Awards, which are presented annually to five teachers.
Parents, guardians, students, and patrons may nominate teachers by filling out this form stating why you feel the teacher should be a candidate for the Cardinal Award. Please include how the teacher affected a particular student or situation, their professionalism, activities in and beyond the classroom, and ability to instill in his/her students the desire to do their best and reach their full learning potential.
Forms are to be submitted by Wednesday, April 14.
Sue Miller retires from Mid-Missouri Bank
From the company's website: " While we can't sum up what Sue has meant to all of us here at MidMoBank in just one paragraph, we want to express our gratitude for her friendship the past 39 years. And while we understand her desire to spend her golden years watching her grandsons play baseball and spoiling George, her four-legged companion; we are going to miss her like crazy and so are her customers. So we wish you the best, Sue, and we hope you, George and your grandsons will stop by to say "Hi" every once in a while. Thanks for everything!"
Mike Miller joins Cardinal/Detecto as executive vice-president
Cardinal/Detecto, of Webb City, announces the hiring of Mike Miller as executive vice-president.
Miller has nearly 30 years of experience in sales and operations management from his previous position as president of Leggett & Platt's machinery and global systems group. His group operated 13 manufacturing locations, with four in the U.S. and the others located in China, Croatia, Spain, Mexico, United Arab Emirates, Asia, Italy, and the United Kingdom, and 62 sales locations around the globe.
As executive vice-president, he will oversee Cardinal/Detecto's sales, marketing, customer relations, engineering, and the recently-acquired Belt-Way Scales, based in Rock Falls, Ill. He will report to President Matt Stovern. He has a degree in management and marketing from Missouri Southern State University.
With this transition, Larry Hicks will move to executive vice-president of operations and oversee quality administration, human resources, manufacturing, materials management and information technology.
Severe Weather Preparedness 101
Severe Weather Preparedness 101 will be a free webinar for the public presented at 6:30 p.m. the next two Tuesdays (March 30 and April 6) by the National Weather Service in Springfield.
Participants will learn more about NWS severe weather forecast products, forecasting approaches, science, sending reports, and how to prepare for the upcoming spring season. A representative from the Springfield NWS office will conduct the sessions.
You can register for either of the two sessions online at weather.gov/springfield. Although, pre-registration is not necessary. A recording of the webinar will be available later.
In addition to the website the Springfield NWS office has an online presence on:
Twitter: @NWSSpringfield
Facebook: US National Weather Service Springfield Missouri
YouTube: youtube.com/NWSspringfield
As the storm season begins, residents are encouraged to have a plan for where to seek shelter during severe weather. They should also have an emergency supplies kit packed with bottled water, non-perishable foods, necessary medications, a flashlight, batteries and a first aid kit.
"Another tool that will help community members be prepared for emergencies is an all-hazards NOAA weather alert radio," adds Joplin emergency manager Keith Stammer. "These programmable radios operate on electricity with battery-backup. They can be programmed to receive information for only the counties and topics of interest to the user. They carry alerts and information on severe weather, missing children, public health emergencies, civil emergencies and more."
The radios can be purchased at local retailers. For more information on preparing for emergencies, go to the Joplin-Jasper County Office of Emergency Management website.
New support group for caregivers
Freeman Health System announces the first meeting of the Caregivers Support Group will be held at 10:30 a.m. Thursday, March 25, at Freeman East Conference Rooms. The group will then meet every third Thursday at Freeman East Conference Rooms. Freeman East is located at 932 E. 34th Street.
Caregivers interested in attending should RSVP to Kathy Mason at kdmason@freemanhealth.com or or by calling (417) 347-8463.
65.7 million people in the United States are caregivers – that is 29% of the adult population. Caregivers face a multitude of challenges and even frustrations in taking care of a loved one.
"These selfless individuals need support, comradery, resource education, and reminders of the importance of self-care and how to avoid caregiver burnout," said Freeman Geriatric Center social worker Jennifer Berry. "Sometimes, all they need is normalization and to know that others are struggling with caregiving responsibilities too."
Each month, the group meeting will have a different agenda with various guest speakers and tangible resources. This group has connections with physicians who can provide education on disease management to help caregivers anticipate the progression of decline as well as legal resources or medical equipment resources and education on how to utilize these items to reduce the injury for both the individual and caregiver.
"Caregiving can be challenging, stressful and overwhelming at times," said Berry. "It is taxing not only physically, but also mentally and emotionally. Throughout my career as a social worker within the healthcare system, I have witnessed the impact that a caregiving role can have on an individual. I've had several report feelings of guilt that they wish that they could do more or don't feel they are doing enough. But in reality, they are balancing their own life and the large role of caregiving to the best of their abilities, and they need to hear that because it's so very important and so easily forgotten."
Dr. Henry Petry, director of the Freeman Center for Geriatrics, will take part in the first meeting discussing chronic conditions and offer information about prevention through diet and exercise. The group is open to all types of caregivers, including those caring for the elderly, children with special needs and the disabled.
Chris Walker, of Freeman Health Essentials, will also speak at the first meeting to share details of home medical equipment available.