Car kept turning right, knocking over light pole
West Broadway was blocked Tuesday morning while Liberty Utilities replaced a streetlight pole.
The vintage pole was knocked over by a southbound car on Liberty Street, which wouldn't keep turning right as it got on Broadway. A steering link was the suspected culprit.
The accident occurred in front of Hedge-Lewis-Goodwin Funeral Home, less than a block away from the Webb City Police Department.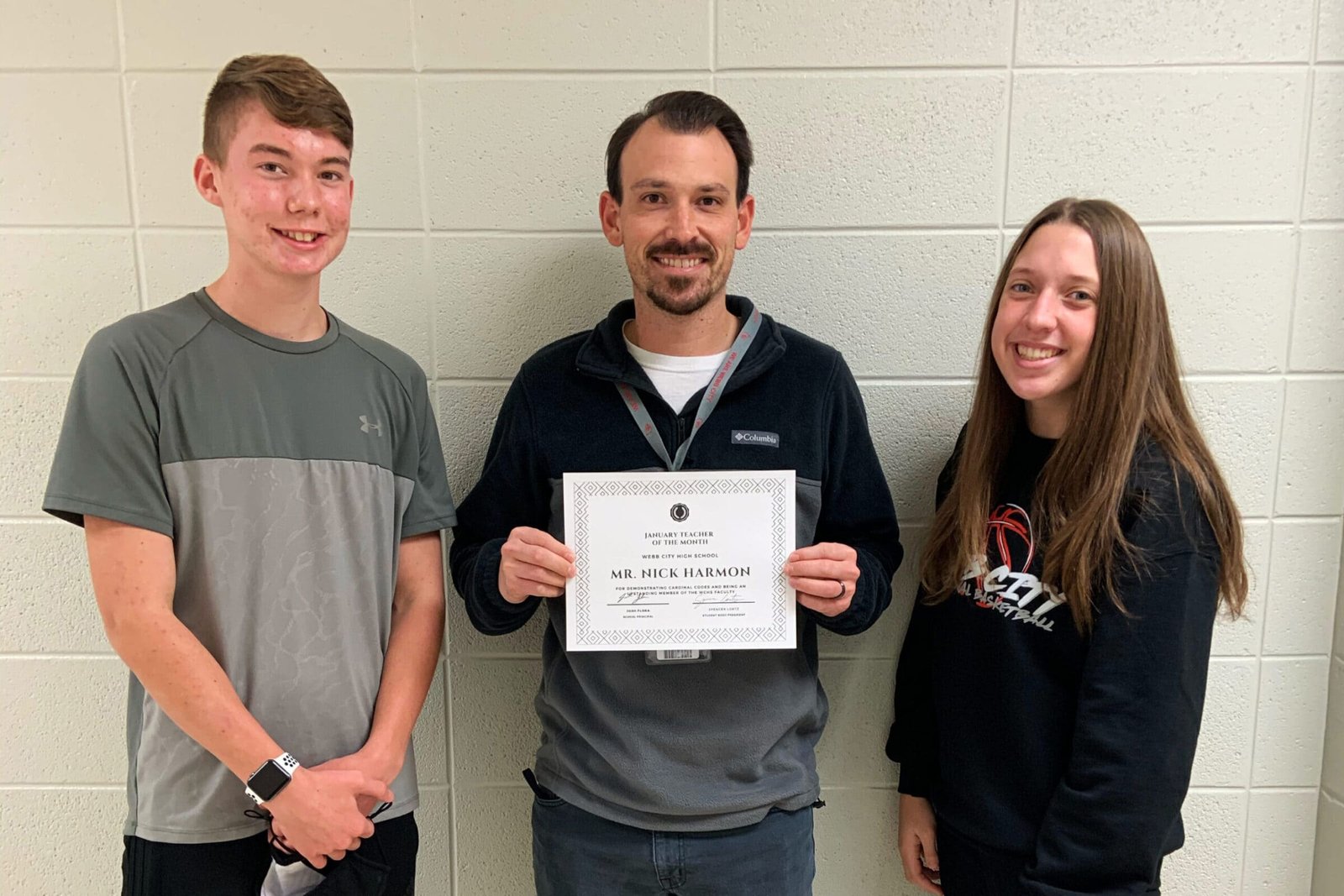 WCHS Student/Staff of the Month
Webb City High School freshman Hunter Busick is the January Student of the Month. He was nominated by 1st Sgt. Stephanie Attaway.
History teacher and soccer coach Nick Harmon is the Staff of the Month. He was nominated by Brayden Brockmiller and Austyn Mickey.
REGISTER FOR FREE COMMUNITY TESTING SITE
The City of Joplin and Jasper County Health Departments announce a free community COVID-19 testing site will be offered on Friday, January 22, at Access Family Care, 530 S. Maiden Lane, in Joplin.
Testing will be from 9 a.m. to 1 p.m. on at Access Family Care location, 530 S. Maiden Lane. Missouri residency is the only requirement. Any Missouri residents who wish to be tested with an anterior nasal swab to determine if they have an active COVID-19 infection can do so at no cost to the individual.
Registration can be done online. For assistance, call (919) 351-6256.
The Jasper County Health Department reported three more deaths related to COVID-19 during the past week, bringing the total number of lives lost to 113.
The Joplin Health Department is urging residents eager to be vaccinated to be patient. Although more people now qualify to be vaccinated, there is not enough vaccine on hand.
Once there is enough vaccine, Ryan Talken, director of the Joplin Health Department, says there will likely be a community vaccination clinic.
EXTENSION COUNCIL ELECTION
The 2021 public election of 11 new members for the Jasper County University of Missouri Extension County Council began Monday and will continue through Tuesday, Jan. 26.
Central United Methodist Church, at Broadway and Pennsylvania Street, in Webb City is one of three polling places. The other two are at the University of Missouri Extension office in the basement of the Carthage Courthouse and Midwest Ag Supply, at Central and Grant streets in Carthage.
Registered voters also have the option of casting a ballot online or printing a ballot from the Jasper County University of Missouri Extension website to either mail or deliver to University of Missouri Extension, Courthouse Basement, Carthage, MO 64836.
You may also call the extension office to request a ballot.
Every county in Missouri has an extension council made up of elected and appointed members who represent the broad educational needs and backgrounds of people in that county.
The county extension council works with University of Missouri Extension staff members in planning and making recommendations for educational programs.
Voting at the polling places will begin on January 19 and end on January 26. If you mail your ballot, it must be postmarked no later than January 26.
Nominees for the 11 open positions are:
Gayle Brown and Jeff Brown, Oronogo
Christy Groves Graham, Webb City
Kim Lambeth, Webb City
Dan Sellers, Webb City
Sandra Smith, Webb City
Terry Smith, Webb City
Bruce Waggoner, Webb City
Gail Lawrence, Carthage
Fran O'Kelley, Carthage
Yessenia Viera, Carthage
E. Wayne Wilson, Carthage
I-49 BLASTING AT PINEVILLE
Traffic is slower than usual on I-49 near Pineville today as rock is blasted for the new bypass going into Arkansas.
Three days of scheduled traffic slowdowns are to end today.
The current work is part of the larger I-49 Missouri/Arkansas Connector project to complete the final five miles of I-49 between Pineville and the Missouri/Arkansas state line. For more information about this project, click here.