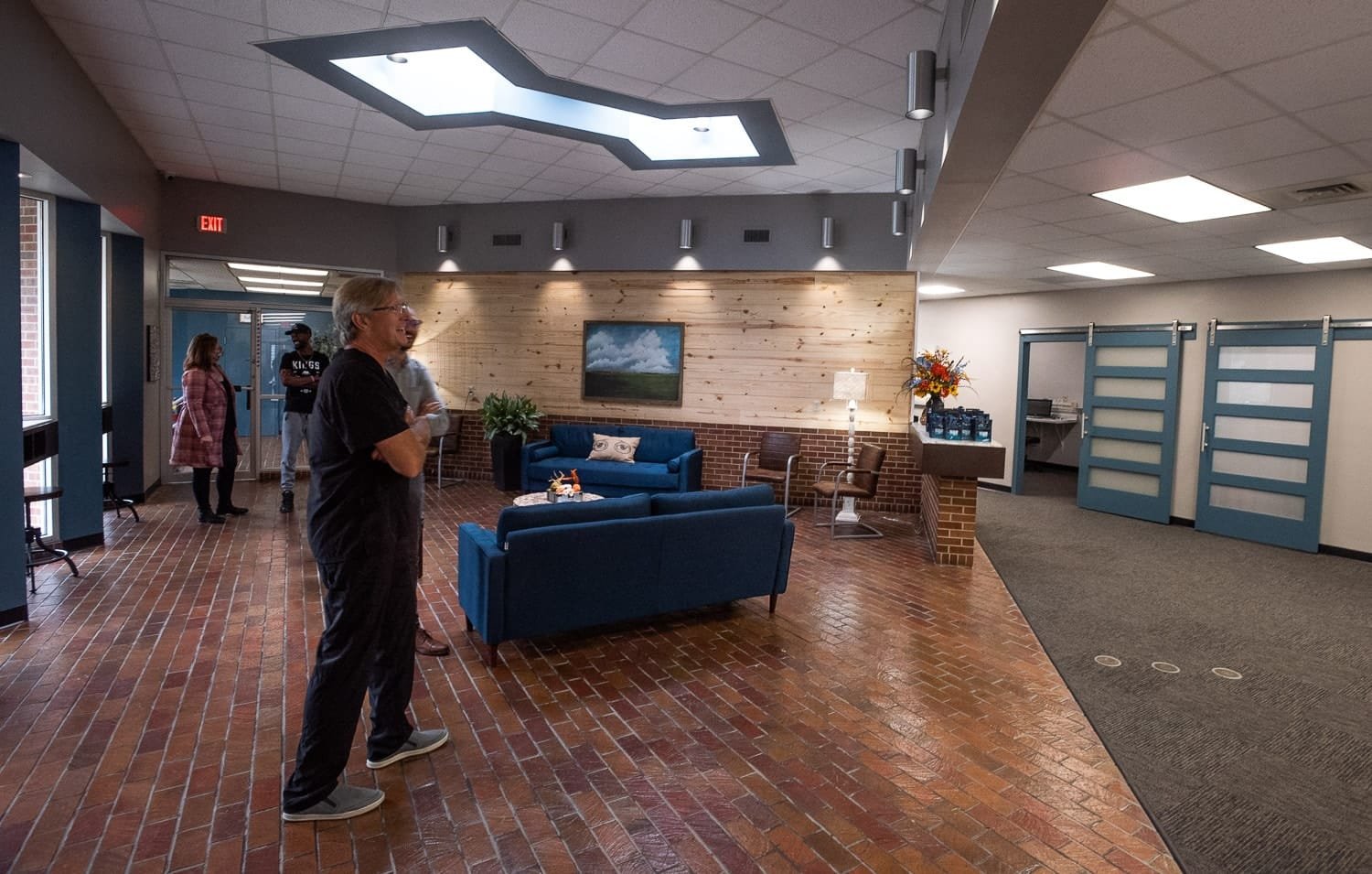 Vision Solutions held an open house Thursday at its Webb City facility, which is in the remodeled former U.S. Bank building. 
Doctors Erica Burton and Cameron Byergo in front of one of three safes that came with the building. Byergo will run the Webb City office.
Lamar-based firm remodels the former U.S. Bank building for its third location
Webb City's first bank with an ATM now has a bank of eyeglasses to choose from.
The former U.S. Bank building at 121 W. Broadway, has become the third location for Vision Solutions.
Vision Solutions is based in Lamar, with a second location in Nevada.
Dr. Erica Burton, owner and optometrist, was giving tours of the remodeled bank building during an open house on Sept. 30, along with Dr. Cameron Byergo, who will manage the Webb City facility.
Burton said she has wanted to expand to Webb City for some time. Her father, Gerald Swearingen, founded Vision Solutions 50 years ago and was acquainted with Dr. Roger Talley, who had a private practice of optometry in Webb City for 37 years before his death in 2010. 
The building's interior layout is much the same but with different purposes. Visitors wait in what ws the lobby. The eyeglass selection area is where the loan officers used to sit. Where tellers once stood is a wall that hides exam rooms. In one exam room, the drive-up teller room has been covered up.
Vision Solutions also had to be creative when repurposing three bank safes.
Ryan Lewis cuts the ribbon for his new business, Celltronix Wireless Solutions.
 Chamber welcomes Celltronix
Ryan Lewis and his firm, Celltronix Wireless Solutions, received an official welcome Tuesday from members of the Webb City Area Chamber of Commerce.
He said he primarily repairs mobile phones and other digital devices, such as tablets, but he considers himself as a consultant to help customers make the best decisions when purchasing equipment and services.
Until he reaches his goal of offering Verizon phone contracts, he is providing prepaid plans for Verizon and AT&T.
Lewis thanked developer Wes Barnum for helping him start his business, which is in Barnum's strip mall at 530 N. East St.
Sky Kings Fun Fly
9 a.m. – sunset Saturday 
Sky Kings remote-control aviation club members will hold their last fun fly Saturday at the air field they maintain between Webb City and Carterville.
R/C aviators from around the region usually attend the Sky Kings events, which include a swap meet. Spectators are welcome, too. There's no admission charge. Lunch will be available for purchase. Donations will be accepted and appreciated.
The event will start at 9 a.m. and end at sunset or as long as weather allows. Lawn chairs are recommended.
The Sky Kings air field is located east of East Street and north of Sharon Drive, on the border between Webb City and Carterville.
Junior high show choirs to perform during fundraiser
Tuesday, Oct. 21 at WCJHS PAR
Webb City Junior High Show Choirs will be having their annual fundraiser on Thursday, Oct. 21 in the Performing Arts Room. 
Director Laurie Brower says both show choirs will perform twice. The Euphonics will be on stage at 5:30 and 6:30 p.m., and the Polyphonics will perform at 6:30 and 7:30 p.m.
In addition to the fine singing, there will be desserts included in the $5 ticket price. Children 3 and under can attend for free. 
There will also photo opportunities and a small gift shop to add to the fun. Tickets are available now from Brower at the school and will be available at the door if all seats aren't sold in advance.
JLT auditions for 'Six Who Were There'
7 p.m. Oct. 18 – 19
Due to circumstances beyond our control, Joplin Little Theatre must cancel the performances of Plaid Tidings.  The theatre will replace it with a play titled Six Who Were There by June Lauzon.
Auditions for Six Who Were There will be held at 7 p.m. Monday and Tuesday, Oct. 18 and 19, at Joplin Little Theatre.  The production will be directed by Greg Green.  The show requires four males and two females ages 20 and older.  Those auditioning may perform a prepared monologue or read from the script.
 Six different people are represented, each giving his or her own version of what happened on that starry and eventful night in Bethlehem. The monologues are accompanied by choral singing.  A meaningful, warm play for the season.
Performance dates are December 1 – 5.
For more information, call the Joplin Little Theatre office at (417) 623-3638 during office hours – Monday through Thursday – 9 a.m. to 2 p.m.
Candidates Sought For Jasper County Extension Council
 Nominations are being accepted for the January 2022 public election of Jasper County's University of Missouri Extension Council, according to Council Chairman Clint Lambeth, of Webb City. 
Council members are elected or appointed to two-year terms and may not serve more than two consecutive terms. Nominees must be at least 18 and must reside in Jasper County. 
Jasper County's council election will be held the third week of January. The election is being held in accordance with state law (Chapter 262.550-262.620 R.S. Mo. 1969). 
"We want nominees who are interested in education and the progress of our community," Lambeth said. "The resources of the University of Missouri System and Lincoln University are available to us. We need active council members to help plan educational programs and to work with University of Missouri Extension specialists." 
Candidate recommendations may be made by contacting the Jasper County Extension Center, 417-358-2158 prior to December 6. Nominees will then be contacted to secure their permission before being placed on the ballot. 
Every county in Missouri has an extension council made up of elected (and appointed) members who represent the broad educational needs and backgrounds of people in that county. Council candidates must be at least 18 years old and reside in Jasper County. The Jasper County extension council meets on the first Tuesday of each month. 
Missouri state statutes create county extension councils to work with University of Missouri Extension. The publicly elected (and appointed) council members assist in planning and carrying out extension programs in their county, providing local extension governance and representing the diversity of the county's changing population. 
University of Missouri Extension offers educational programs in categories such as agriculture, home economics, business and industry, community development, youth development (4-H) and various continuing education courses, seminars and workshops. 
A brochure about county elections, as well as information about Jasper County University of Missouri Extension, can be found online at http://extension.missouri.edu/jasper or by calling or visiting the extension center, Courthouse Basement, Carthage, MO 64836. 
COVID-19 deaths continue in Jasper County
The Jasper County Health Department has reported three deaths due to COVID-19 in the past week.
Last Thursday, the death of a man in his 70s was reported.
And on Tuesday, the deaths of a woman in her 80s and a man in his 40s were reported.
There have now now been 219 COVID-19 related deaths reported in Jasper County (not counting Joplin).