New made-at-the-market items
An explanation and announcement about the market's sustainability efforts
Sustainability. Do you know what this word means? It's a word that unravels into a concept that is becoming a necessary interest to many people around the world. It's complex but a word that I and the current Board of Directors have at the forefront of our future plans.
Sustainability can be as small as an individual's lifestyle supporting things like recycling, eating locally sourced foods or carpooling. Sustainability can also expand into the bigger picture where cities value green energy or public transportation. 
No matter how big or how small the effort, if you put it all together we can have a priceless impact on future generations. I mean, we all 100% have an impact so why not mindfully set out toward a positive one.
I was astonished at how much of the market's waste was cardboard when I started working here back in 2018. Thanks to the inquisitiveness of a board member, we were able to add a cardboard recycling bin at our corner of the park. Thanks, Galen! This was only the beginning.
Last year, we made a huge effort to substantially use more locally sourced food for our free summer kid's meals. And this year, that effort trickled into the Cooking for a Cause breakfast. 
There have been challenges, but there always are when change occurs. The first obvious challenge is that local produce costs more than commercially produced food from a box store, and because of that we couldn't afford to waste food.
For example, we've had to quickly figure out on a large scale the best ways to keep local fruit from spoiling. You see local food hasn't been sprayed with gallons of preservatives and fungicides. If we wished to harvest, say, strawberries, how could we ensure they'd still be of use to us three weeks from then. This particular challenge led to the development of the market's berry sauces. Our genius kids' meal chef would serve a freshly harvested fruit once and then make a sauce to freeze with the excess. We would then return to that sauce when needed for yogurt parfaits. 
Another thing we stumbled over was how to keep fresh shredded potatoes from browning, like apples, so that a casserole presents the same coloring folks are comfortable eating when they are used to the look of chemically processed foods. Alas, we are still working on that one.
The more tedious challenge laid before our market's sustainability effort is finding ways to raise funding without reliance on outside sources. 
My mentor, Eileen, was a goddess when it came to grants. She could sniff out money, write up the most masterful concepts, and then mobilize resources to get what she envisioned. 
Grants are primarily used to provide training or tools for farmers, marketing materials for the farmers market, or to educate the public about local foods. Her talent even helped establish a commercial kitchen here in Webb City. 
Grants are not great for providing things like property maintenance, paving, or year-round employees. 
My explanation is a roundabout way of telling you about my vision for a sustainable movement at WCFM.
What I lack in legal writing, I excel in understanding people and food. So I've started a push toward utilizing the market's commercial kitchen in a way that will directly benefit the market, our farming friends, and customers. 
We started back in April producing a fresh batch of granola to sell each week, featuring local honey and in-season locally grown fruits.
I want to recognize when there are excesses of a particular produce item and then research a way to preserve that food, turning it into a valuable product – again, a sustainable concept. 
We are cutting waste and increasing the value of quality foods from our farms for our shopping families, while dropping a few coins in the market's pocket. 
The market granola has become a staple item, and we are gearing up to explore new products that no vendors offer.
So it's announcement time!
We've been drying cherry tomatoes this week. Everyone has heard of sun dried tomatos, well, with the use of a dehydrator we will be producing the same thing.
We purchase a couple of shopping bags full of tiny sweet tomatoes from our farmers at the close of the market to then cut, process, and bag, returning them to you as an additional grocery item. We are toying with a dried herb tomato.
The market dried cherry toms will debut this Saturday. You will be able to find them, plus, our latest granola flavor at the market's token booth. I will whisper the words "blackberry granola" and now move on with this column.
Sustainability demands that as a group we take a future-focused look at ourselves, our lands, and the impacts of our current capitalist structure.
This Friday morning I am joining a couple of like-minded folks on the radio. I invited the market managers of the Neosho Farmers Market and Empire Market to spend an hour talking on AMI radio's 4 States Live Morning Show about locally sourced foods, community, and how exactly we wrangle these market events week in and week out.
The idea is to gather the three of us, stemmed from a quick conversation I had last Saturday. As a few of our "morning doves" were perched on a market bench waiting to purchase their produce, I remarked that the market "is like a circus every weekend."
Their expression back to me was so kind, full of appreciation for our efforts. I just want to say, "Ladies, we do it for you."
Running a farmers market is a full-circle act of love. It will be nice to spend time with Scott and Lindsey to talk about their own efforts at the other markets in our area. If you want to listen in we'll be chatting from 7-8 a.m. on KKOW 860AM.
As for this Saturday at Webb City Farmers Market, we welcome the last Cooking for a Cause group of the season. The Redettes, of Webb City High School, and their parents, will be here early cooking local eggs, sausage, biscuits & gravy, and cheddar hashbrowns as a fundraiser. The complete breakfast is available for $6, but they'll also sell each item ala cart if you aren't that hungry.
The Friends of the Webb City Library are presenting this month's Clickety-Clack We are Reading Around the Track. Old Streetcar No. 60 will be giving free rides to all from 9-11 a.m., pulling away from the station every 20 minutes.
Jonny Wood returns to play an acoustic set for customers strolling by our produce tables.
Just Jake & Corky will perform for our Tuesday market, where you can find dinner, along with bread, natural meats, honey, and a great variety of produce. Tuesday market is set to run through September so don't think that the evening market is over, there is still plenty growing for you.
MARKET HOURS
9 a.m. – noon Saturdays
4 – 7 p.m. Tuesdays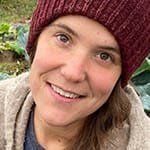 Rachael Lynch
Rachael Lynch is the manager of the Webb City Farmers Market.  For more current updates, visit the market's Facebook page.