Webb City Police Chief Don Melton speaks during a ceremony Tuesday morning making it known that Marshal Leonard S. Rich's death was in the line of duty.
New monument recognizes sacrifice made by Marshal Leonard Rich in the line of duty
There's a nice monument to Leonard S. Rich on a hill in Webb City Cemetery, but until Tuesday there was no mention of him dying in 1902 as the city marshal in the line of duty.
Police Chief Don Melton read a story about Rich's death in 2014 and thought his sacrifice should be noted by the community he served.
In his remarks Tuesday at the Rich gravesite, Melton said he was unsuccessful in searching for a descendant of Rich in hopes of obtaining permission to add a plaque or engraving to the existing monument.
Earlier this year, at the Jasper County Law Enforcement memorial service hosted by Sheriff Randee Kaiser, Melton asked KODE-TV reporter Gretchen Bolander if she could do a story to help find someone related to Rich and a photo of him to add to the Jasper County Law Enforcement memorial.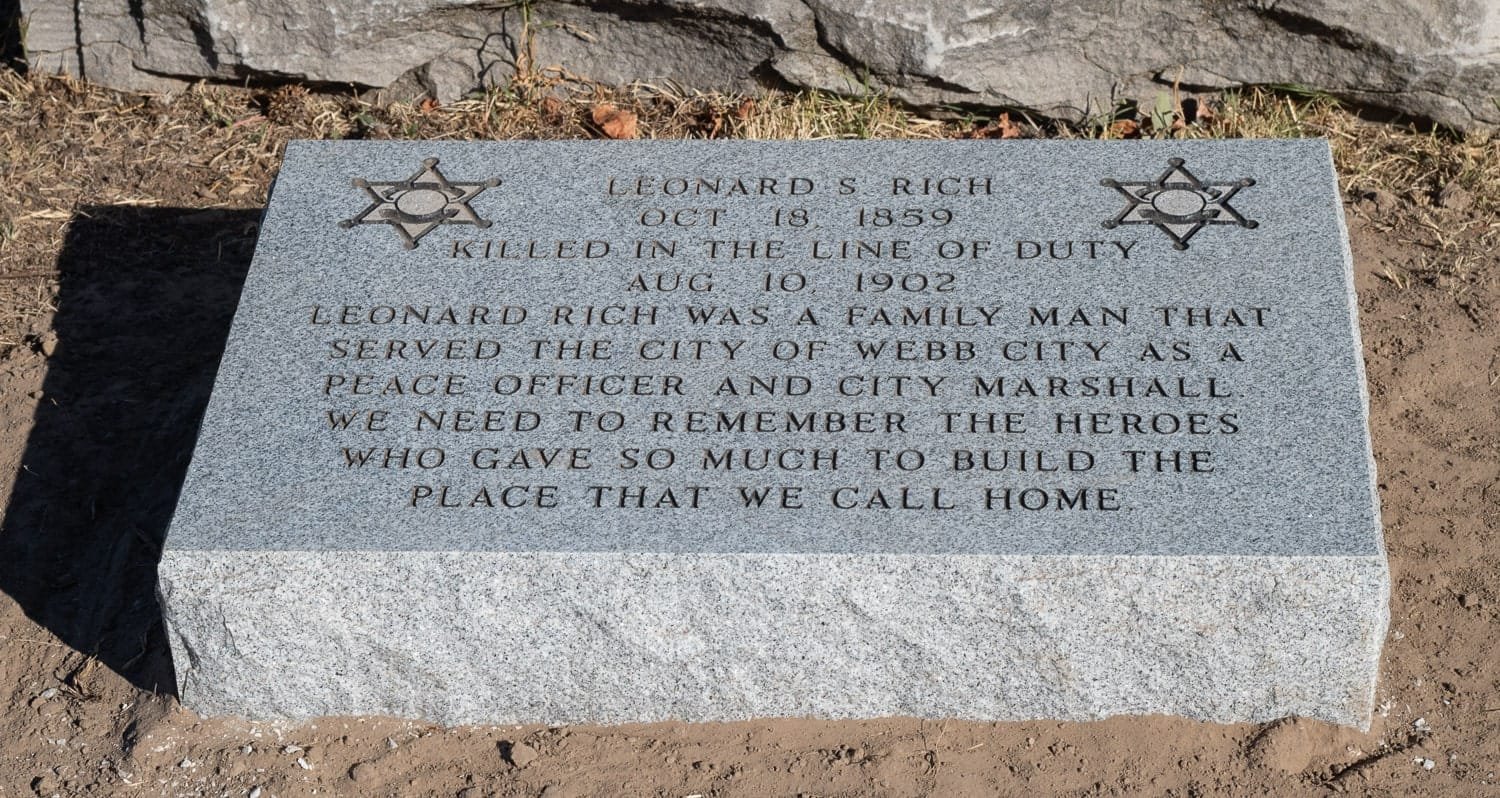 The ceremony was held on Leonard Rich's birthday, Oct. 18. Born in 1859, he would be 163.
The new monument reads: Leonard S. Rich, Oct. 18, 1859. Killed in the line of duty, Aug. 10, 1902. Leonard was a family man that served the City of Webb City as a peace officer and city marshall. We need to remember the heroes who gave so much to build the place that we call home.
The Leonard S. Rich monument, in place for 120 years, has been straightened by Mt. Hope Cemetery staff.
The day after seeing Gretchen's story, Chase Emery, with the Webb City Elks Lodge told Melton that he felt honoring Rich was a worthy cause and his organization would like to help fund it.
Emery put Melton in touch with Travis Boyd, the administrator of Mount Hope Cemetery, who recommended installing an additional memorial stone instead of modifying the existing monument.
Billy Joslen with Quality Memorials in Carthage was also willing to help with the project.
Melton said the project was fully funded by the Elks, Mount Hope Cemetery and Quality Memorials. Boyd and Joslen also straightened Rich's existing monument.
"Today we unveil a memorial stone, detailing Marshal Rich's sacrifice for our community," Melton said during the service Tuesday. "Marshal Rich's service to Webb City will not be forgotten."
Here is the Webb City Area Genealogical Society story, printed in the Feb. 28, 1914, edition of the Webb City Sentinel, which attracted Melton's attention to the only Webb City law enforcement officer who has lost his life in the line of duty.
Law enforcement officers now and then.
This photo of Webb City Police Officers was taken in the same era that Leonard S. Rich would have been serving as marshal.
In the line of duty
by Priscilla Brown
Today Webb City is one of the most desirable places in Southwest Missouri to live. The kind of place where a family feels safe and can raise their children with a strong sense of community. But it hasn't always been that way; like freedom doesn't come free, neither does law and order.
After the Civil War and in the years following, Southwest Missouri was open country with few lawmen. Gangs like the James and Younger Brothers ran rampant. Roy Daugherty a member of the famed Butch Cassidy and Sundance Kid's Wild Bunch robbed banks in Asbury and Neosho before being killed in a shootout with Joplin police. We were west of the Mississippi, and in those days anything west of the Mississippi was the Wild West.
By the turn of the 20th century, Webb City had gone from a mining camp to being part of the lead and zinc capital of the world. Along with the miners came their families and a need for schools and businesses. The old and rowdy ways no longer had a place among polite society. People wanted law and order.
Marshal Leonard S. Rich was a Webb City lawman dedicated to bringing law and order to his town. On the Saturday night of Aug. 10, 1902, he was responding to a disturbance inside Lizzie Reed's Resort.
The trouble was between the owner, Lizzie, and Jim Gideon. The resort was a two-story building on Main Street, with a parlor and girls upstairs. It seems Gideon had been giving some of the girls a bad time. Lizzie wanted him to take his gang and go down stairs, but he refused.
The Gideon brothers, Joe and Jim, had moved in December 1901 to Webb City from Purcell, in Indian Territory (Oklahoma). They quickly became known as dangerous men, and this was not their first run in with Marshal Rich.
Both brothers had been bragging all evening about how they were going to get a guy and the deed was going to take place sometime around midnight. Joe would not stop talking about it, and kept showing off his gun until Jim finally told him to take the gun back to the hotel room. Only Joe didn't do it, and he continued to drink.
Finally, Lizzie called Marshal Rich, Marshal James, and Sam Moon, a temporary police officer hired to serve during the street fair. At first, Marshal Rich tried to talk Jim down, and for a while it seemed to be working, until they got to the front door.
That's when a scuffle between Jim and Marshal Rich broke out. At the same time, a fight was going on between Joe Gideon and Marshal James. Shots were fired, and when it was over, Joe Gideon had killed Marshal Rich, Sam Moon had killed Joe Gideon and Jim Gideon had been shot through the arm. Marshal James was badly beaten but survived.
Marshal Leonard Rich was a peace officer and a family man. He married Eve May Eulitle in July 1888. They had a 6-year-old daughter, Stella. Rich is buried in the Webb City Cemetery; his stone does not show he died in the line of duty.
We need to remember the heroes who gave so much to build the place that we call home.
This information came from newspaper microfilm of The Sentinel at the Webb City Area Genealogical Society.