There always seems to be some good news for the column and this week is no exception. Tomorrow we welcome a new vendor to the market – Star's Aquas Frescas. Her refreshing cold drink is sold by street vendors in Mexico. Star will have watermelon, cinnamon, and lime flavors tomorrow, all made with fresh ingredients. Star plans to attend the Tuesday and Thursday markets so stop by tomorrow between 11 and 2 for a treat.
Another weekday-market-only vendor is Bee Hunter with specialty jellies and marmalades which taste great and make lovely favors and gifts.
Pupusaria Jandres will serve a variety of stuffed pupusas – meat, cheese, and/or veggies, while Lucy will have made-at-the-market egg rolls. (The pupusas are made at the market as well – we're talking fresh here – as we always do.)
The Free Kids Meal is Walking Nachos loaded with beef, cheese, lettuce and market tomatoes, plus apple slices and milk. Kids Meals are free to anyone aged 1 through 18 and can be eaten under the Kids tent or taken to go. Adults may pick up meals for their kids by showing a photo of themselves with the kids. 
Yep, Walking Nachos was new to me so I had to look it up – it might also be called "walk-around nachos" because it's in a bag like an individual chip bag rather than a bowl. I know, everyone but me already knew that….
Eat from the Garden starts at 12:30 by the Kids Tent on Thursdays. Extension nutrition educator, Ms. Lindsey, leads the kids in a lesson about healthy eating with a focus on fun. At 1, Ms Vicki with the Webb City Public Library leads an Outdoor Story Time.
Max Barnett is on the market stage from 11 to 1 tomorrow.
MU Extension is demonstrating and sampling Missouri Berry Salad – blueberries, blackberries, and raspberries with a dash of balsamic vinegar. Stop by for a taste.
Thursdays are just getting better and better. In addition to the vendors already mentioned, we're expecting seven farms – Brakers, E & O, Green's Greenhouse and Gardens, Greenbush Honey Farm, Lee Family Farm, Lee Farm Vegetables (they're cousins), and Nature Valley. Juniper Coffee will be on hand with hot and cold coffee, freshly roasted coffee beans, and house syrup. Stormy Farms has all natural chicken, pork, and farm fresh eggs.
What Thursday doesn't have is crowds and traffic.
The good news for Saturday's market is that Misty Morning will bring a truck load of sweet corn. The farmers always aim for the Fourth of July but the last few years we've missed the mark. I'm thinking we're all still eager for SWEET CORN even a week late.
In addition to our usual lineup of amazing vendors, we expect Lynn Sharpening Services back, as well as Grison Dairy & Creamery.
The Friends of the Webb City Library are serving Cooking for a Cause. My husband, Phil, is making the trip back from Colorado to help. After all, they recently gave us both a Lifetime Membership to the Friends so it's the least he can do.
This announcing you're moving (five years before you actually manage to do it) is kind of like going to your own funeral. All the pats on the back are appreciated but totally unnecessary. Phil and I only did what we loved doing. (And, honestly, we love the pats, too.)
I will not be helping with breakfast because 1) that's not my thing and 2) I plan to have a guest at the market – our 3-year old granddaughter, Nora. Hopefully, she will be enjoying all the fun things at the market, starting with meeting all her Webb City friends that she doesn't know. Then off to the market garden to plant butterfly weed and make a butterfly mask with Master Gardener Eric.
The Free Kids Meal pack on Saturday is nut free zucchini bread (with veggies from Harmony Hill), blueberries, and milk for breakfast and Pigs in a Blanket, baby carrots, D 'n' D smoked ranch dip, applesauce and milk for lunch. It's served from 9 to 11 and can be eaten at the market or taken to go.
Pete Situ is on the market stage from 9 to 11.
I don't have a lot of information for you about Tuesday, except the Free Kids Meal of pizza bagels, baby carrots, and cherry tomatoes with D 'n' D smoked ranch dip, and milk, will be served from 4:30 to 6:30. There are usually gardening activities on Tuesdays – weeding, watering, harvesting, and sampling the harvest from 4 to 6:45. Ghetto Taco and Songbird Kitchen are signed up to serve dinner.
In the meantime, this Saturday, I really will "See You at the Market!"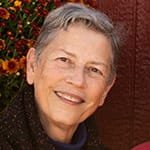 Eileen Nichols founded the Webb City Farmers Market in 2000. From a handful of producers, the market has grown to become nationally recognized.