Not everything about the heat is bad
Your favorites are in abundance
Do you know the only silver lining I can think of for this hot weather? Watermelon loves the heat. It helps it ripen and makes it even more delicious. What a good plan – when the weather is the hottest, our most refreshing, re-hydrating food is at its best. Let's eat some watermelon!
Our farms are bringing in seedless and seeded watermelon in several varieties. Cantaloupes are pouring in too. Braker Berry Farm expects to have sweet corn for another few weeks. Tomatoes are so abundant that the farms are bringing boxes of canning tomatoes in addition to their top quality slicers and cherry tomatoes in so many varieties. It is the season of abundance.
On Thursday Pupusaria Jandres serves pupusas with meat and/or cheese and veggie filling for lunch. Lucy Lee serves Asian specialties. Star's Aquas Frescas sells cool fruit based drinks. Juniper Coffee attends with locally roasted beans, house syrup, drip coffee, and COLD BREW.
Tim Snider is on the market stage from 11 to 1.
Kids activities abound on Thursdays. Eat from the Garden, an interactive kid class presented by Ms. Lindsey, a nutritional specialist with MU Extension, runs from 12:30 to 1:00 by the market gardens north of the pavilion.
At 1 p.m. the Webb City Public Library hosts an outdoor story time in the Kids Tent.
The Free Kids Meal is served from 11 to 1 p.m. The Thursday meal is a ham melt, market veggies and melon, and milk. Any child, aged 1 through 18, eats for free, regardless of income or residency. Kids can eat under the yellow and white tent or take their meal to go. Adults may also pick up meals without their children present but must show a photo of themselves with the children for our headcount.
Saturday's market features a new musical group – Robin's Hood. I think you're going to like them and their gentle jazzy sound. They'll play from 9 to 11 on the market stage.
The Chert Glades Master Naturalists serve Cooking for a Cause from 8:30 to 11. A full breakfast is $6 with a la carte options also available.
The Saturday free kids meal pack is: 
Breakfast – banana spice muffin, cantaloupe, and milk; and

 

Lunch – Markedibles of pretzels stuffed with peanut butter, market veggies with D'n'D Smoked Ranch Dip, watermelon, and milk. Markedibles are the market's version of Lunchables, only fresh and local.
Tuesday, we expect Ghetto Taco and Songbird's Kitchen for supper. The Free Kids Meal is a pesto veggie melt, zucchini slaw, market melons, and milk.
The market gardens will be open for learning activities.
Every year one of the Eat Street Tuesdays is dedicated to showcasing young talent. This year that Tuesday will be August 17. If you know of an especially talented young musician or artist, let our manager know. You can text her at (417) 438-5833 or just drop by the information table. Rachael tells me there is a special and magical guest that kids will love meeting at the August Eat Street, so be sure to put it on your calendar.
Here's the recipe for the dish MU Extension will demonstrate Thursday: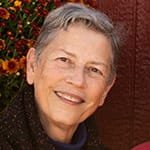 Eileen Nichols founded the Webb City Farmers Market in 2000. From a handful of producers, the market has grown to become nationally recognized.