As of Wednesday, Aug. 11, 2021
Nov. 16, 1947 – Aug. 4, 2021
David Lee Breeden, age 73, passed away on Wednesday, Aug. 4, at National Health Care in Joplin. 
He was born in Webb City on Nov. 16, 1947, to Earl Breeden and Leila Grace "Frib" Breeden. David grew up in Oronogo, and went to school through the eighth grade in Oronogo. He graduated from Carl Junction High School. David served in the U.S. Army from February 1967 through February 1969.  While in the Army, he married Billie Dawn "Dee" Gillisepe. Although that marriage did not last very long, it did produce two beautiful daughters, Kimberly and Jackie. Kim and Jackie provided David with eigh grandchildren and six great-grandchildren, and he is also survived by his brother, Randy Breeden and wife Diane (Dave's favorite "darlin' sister in law"). 
There was a period in his life in Oronogo that he was close to a neighbor, Charlene Kneeland and her grandson Levi Plante. When the need arose, he provided a home for Levi and raised him as his own. Dave had many jobs throughout his working life, but his passion was always for motorcycles.  Over the years he had owned, built or ridden many different types of motorcycles, from dirt bikes, to dragsters, to a Bonneville Salt Flat streamliner.
Funeral services were held Monday at Simpson Funeral Home, with Pastor Jeff D. Martin officiating.  Burial was in Oronogo Cemetery. Memorial contributions may be made to Second Kick Cycle Works, 18 E. Third St., Grove, OK 74344. This museum already had Dave's last dragster on display and is restoring his streamliner for future display. The family would like to give a special thank you to the staff of National Health Care and Phoenix Hospice for their care and kindness. Services are under the direction of Simpson Funeral Home. 
Feb. 18, 1956 – Aug. 4, 2021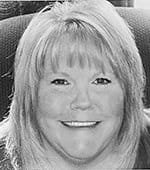 Patricia Sue Hoover, age 65, of Webb City, passed away on Aug. 4, at Freeman West Hospital in Joplin. She was born on Feb. 18, 1956, in Joplin, to J.B. Hopkins and Margaret (Webb) Hopkins.
Patricia was a beautician in Webb City for many years and loved spending time with her family, especially her grandchildren. She was a very accomplished artist who loved to paint and draw just about anything. 
Patricia is survived by her daughter, Libby Thetge and her significant other Alex Thetge, Joplin; her mother, Margaret Hopkins, Webb City; a brother, John Hopkins and wife Diane, Stella; sisters, Teresa Coffman, Webb City, Tasha Brown and husband Charlie, of Florida; and her grandchildren, Ryli Thetge and Jenson Thetge. She was preceded in death by her father, J.B. Hopkins. 
Services will be held at a later date. Arrangements were under the direction of Simpson Funeral Home. 
Oct. 16, 1974 – Aug. 6, 2021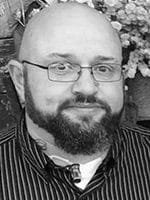 Marcus D. McGinnis, age 46, of Neosho, passed away on Friday at Freeman West Hospital in Joplin.  He was born in Joplin to Everett McGinnis and Carolyn (McReynolds) McGinnis on Oct. 16, 1974.  Marcus worked at Howard's Tire on Range Line in Joplin before purchasing the business and then later moving it to North Main Street in Joplin and naming it McGinnis Tire. He also loved to work on cars, but his favorite hobby was his sarcasm as all his friends and family will remember.
Marcus is survived by his mother, Carolyn McGinnis, Neosho; his children, Keesha Showalter and husband Jeremy, Joplin, DaShawn McGinnis, Oronogo, Drake McGinnis, Oronogo, Maggie McGinnis, Joplin; grandchildren, Iris, Sophie, Clayton and Kai Showalter; his sisters, Michelle Harrington and husband Brian, of Carl Junction, and Amanda Sanders and husband Kenny, Neosho; and his girlfriend, Janet Cusick, Oronogo.
A memorial visitation was held Tuesday at Simpson Funeral Home. Burial will be at a later date in Oronogo Cemetery. Services were under the direction of Simpson Funeral Home.