As of Wednesday, Dec. 7, 2022
Cities without a state are in Missouri 
Feb. 8, 1922 – Dec. 3, 2022
Earline Laura Costley Carnes, age 100, passed away Saturday, Dec. 3, at Leisure Homestead in Stafford, Kan. She had been a resident there for three years, since moving from Webb City.
Earline was born near Monett on Feb. 8, 1922. Her family moved to the Carl Junction area, where she graduated from high school in 1940. Perseverance was one of her gifts and after many years of working full-time and earning an associates degree at Joplin Junior College (Missouri Southern) she accomplished her goal of graduating from Kansas State University in 1953 with a bachelor's degree in home economics.
Upon graduation, she was employed as the Wilson County Extension home economist in Fredonia, Kan. There she met Kenneth L. Carnes. They were married Dec. 27,1953, in Joplin. To this union were born two daughters. The family moved to different towns in Kansas as Kenneth received job transfers as Farmers Home Administration supervisor.
Laura Suzanne was born in Washington,Kan. Daughter Carol Jean was born in Stafford, and the next move took them to Wellington until 1969 when they moved to their farm near Pittsburg. After Kenneth's death on May 24, 1997, Earline moved to Webb City, and lived there until 2018.
Earline was active in several United Methodist churches, in her daughters' activities and as a member of various clubs. She taught elementary school and was a substitute teacher in Wellington until the family moved to their farm. There she helped Kenneth with the farm and cattle operation and was a 4-H club community and project leader. She was a talented seamstress and enjoyed travel and refinishing furniture. Her true passion was gardening; growing large vegetable, fruit and flower gardens. She enjoyed collecting and trading flowers.
She was happiest outside enjoying God's creation. A prolific reader, she read daily newspapers and The Wall Street Journal well into her late nineties. Visiting with family and friends was her joy as well.
Earline is survived by a daughter Suzanne (Don) Hildebrand, Stafford, grandchildren and great-grandchildren: Kent and Rebekah Hildebrand and their daughters, Harper, Holland and Maize, of Manhattan, Kan.; Laurie and Heath Vincent and daughter Lilllian Laura and soon to be born Lincoln, of Wamego, Kan.; Josh and Bethany Hildebrand and daughters Lydia, Hannah, and Elyse, of Bel Aire, Kan.; son-in-law Larry Heller, children Laura Katherine and Will, of Bethesda, Md. Earline is also survived by her sister, Sue (John) Fredrickson, of Webb City, and many nieces and nephews.
Earline was preceded in death by her husband Kenneth; daughter, Carol Carnes (Larry Heller); brothers, Roland Costley, Ralph Costley, Bill Costley; and a sister, Paula Dill.
Private burial will take place at Evergreen Cemetery in Ft. Scott, Kan. with a celebration of life service in February. Memorials may be sent to the scholarship fund Earline began at KSU. Contributions may be sent to KSU Foundation and please indicate the Kenneth L. and Earline L. Carnes Scholarship Fund, number 05595, in care of Minnis Chapel, 125 N. Main, Stafford, KS 67578.
Dec. 5, 1947 – Dec. 1, 2022
Dennis Barry Hare, age 74, passed away peacefully on Thursday, Dec. 1, at his home in rural Marshall surrounded by friends and loved ones.
Born Dec. 5, 1947, in Joplin, he was the son of the late Clarence Hare and Alma Mulkins Hare. On June 3, 2000, he married the love of his life, Gina (Myers) Holder, and moved to the Marshall area.
Dennis graduated with the first four-year class from Missouri Southern State College in 1969 and taught six years at Carthage Junior High and one year at Camdenton High School. He served in the U.S. Army during the Vietnam War. Dennis worked shorts stints with Eagle-Picher and MacDonald's in Joplin. He retired from the Missouri Department of Mental Health in 2003 after 20 years of management service. After retirement, he did substitute teaching and also tax preparation for H&R Block and the VITA program. He served for a number of years on the Retiree Connection of MOSERS for retirees. For the last several years, he and Gina serviced vintage sewing machines as Wild Hare Vintage Machines, servicing, repairing, and restoring them to operation at no charge. He met many new friends in these endeavors.
In addition to his wife, Gina, Dennis is survived by his brother, Stephen Hare (Darla), of Pierce City; two sons, Erik Hare (John Hankins), of St. Louis, and Wesley Hare (Jodie), of Joplin; and two bonus children, Mike Holder (Shandi), of Nelson, Mo., and Bekah Holder, of West Palm Beach, Fla.; three grandchildren; one great-granddaughter; and his many fur babies.
A celebration of life was held Monday, Dec. 5, at Campbell-Lewis Chapel in Marshall, with Pastor Ralph Varner and Rev. David Norbury officiating. Burial with military honors was in Smith Chapel Cemetery. Donations may be made to the Saline Animal League or North Street United Methodist Church.
Sept. 14, 1950 –Dec. 4, 2022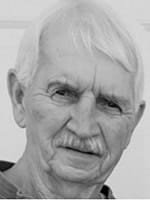 Michael Lynn "Mike" Sterling, 72, of Webb City, departed this life on Sunday morning, Dec. 4, in the comfort of his home after a two-year battle with cancer.
Mike entered this life on Sept. 14, 1950, in Webb City, born to the union of the late Harry and Maxine (Hegwar) Sterling. He was raised in Webb City and was a 1968 graduate of Webb City High School.
Mike worked at the former Elders Shirt Factory. Later in life, he began his career at Leggett and Platt, retiring in 2015. For the next few years, he drove for AAA Taxi. He was an avid fan of Webb City Cardinals football and the St. Louis Cardinals. He enjoyed mowing yards for area citizens and keeping himself busy. Mike was a member of Wildwood Baptist Church in Joplin and was a veteran of the Missouri National Guard.
He loved his girls, grandkids, and great grandkids more than anything. He was one to help any way he could at any given time. He will be missed by so many.
Mike was preceded in death by his parents; and two siblings, Carlis Sterling and Cheryl Poindexter.
He is survived by his two daughters, Shannan English, Joplin, and Hollie Sterling, Webb City; five grandchildren, Kylie, Kayla, Nakota, Alyxia and Logan; three great-grandchildren, Callie, Oaklee and Harper; a sister, Nancy Silvey, Webb City; a brother, Sherwin Sterling, Carl Junction; and a host of other family and friends.
A celebration of life will be held at 2 p.m. Friday, Dec. 9, at Wildwood Baptist Church in Joplin, with Brother Lew Poe officiating. Arrangements are under the direction of the Hedge-Lewis-Goodwin Funeral Home.