As of Wednesday,  Aug. 10, 2022
Cities without a state are in Missouri 
Jan. 13, 1937 – Aug. 4, 2022
Mrs. Esther Charlotte Armstrong, 85, of Webb City, departed this life on Thursday evening, Aug. 4, in the comfort of her home surrounded by her loving family.
Esther entered this life on Jan. 13, 1937, in Grandview, the daughter of the late William Thomas and Charlotte Esther (Dodson) Lair. She was raised and attended school in Anderson. She furthered her education by attending Crowder College. 
On July 3, 1952, in Bentonville, Ark., she was united in marriage to Artie Armstrong and to this union four daughters were born, Brenda, Deborah, Susan and Lisa. They lived in various places throughout the country including three years in Germany while Artie served in the U.S. Army. Esther believed in hard work. She worked at the Army Base at Ft. Leonard Wood and Katz Drug in Joplin. She helped her husband operate "Artie's Cafe and Donut Shop in Anderson. She also worked at both Simmons Hatchery and Simmons Poultry Plant, Treasure Lake Gift Shop in Branson, and Walmart in Branson and Webb City. Esther eventually retired from Jasper County Family Support Division. She enjoyed photography and working crossword puzzles. She was of the Full Gospel Faith.
Ester was preceded in death by her parents; her husband of 65 years and the love of her life, Artie Armstrong, on Aug. 26, 2017; Bay Carrier, whom she and Artie thought of as a son; a brother, Donald Lair; two sisters, Dorothy Workman and Pauline Daniels; and four halfsisters, Gladys, Ruth, Violet and Bertha.
Esther is survived by her four daughters, Brenda Joyce Clutter and husband Joel, Carl Junction, Deborah Ann Caywood, Diamond, Susan Esther Armstrong, Plano, Texas, and Lisa Rosalie Davis and husband David, Webb City; 11 grandchildren, Cory, Derek, Brennan, Elyse, Hayden, Sam, Kelsey, Rick, Robert, Chris and Hilaria; 12 great-grandchildren, Marissa, Kristy, Micah, Kolbie, Emmymae, Bentley, Collin, Everett, Margaret, Ezra, Eliana and Orion; two great-great-grandsons, Bryson and Grayden; and a host of other family and friends.
Graveside services were held Tuesday, Aug. 9, at Peace Valley Cemetery in Anderson, with Joel Clutter officiating. Pallbearers were Brennan Davis, Sam Davis, Hayden Davis, Cory Caywood, Chris Clutter, Micah Caywood and Kolbie Caywood. Memorial contributions may be made to the Salvation Army in care of Ozark Funeral Home in Anderson.
Dec. 15, 1935 – July 25, 2022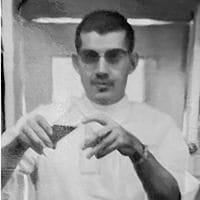 Orvel Lee Cooper, age 86, of El Dorado Springs, went to Heaven on July 25. 
Orvel was born on Dec. 15, 1935, in Picher, Okla., to Harvey and Jessie (Webb) Cooper (former owners of Broadway Market). He graduated from Webb City High School in 1953 and earned a bachelor's degree in pharmacy from the University of Missouri–Kansas City in 1959. He received his license to practice pharmacy from the Missouri Board of Pharmacy on Feb. 25, 1959.
Orvel married Donna Mae Beisner on Jan. 26, 1958. They celebrated their 61st wedding anniversary before Donna's passing in 2019. Orvel and Donna moved to El Dorado Springs, where Orvel opened Cooper's Pharmacy, marking the first of many business ventures they embarked upon together. Orvel also served his community as the mayor of El Dorado Springs for several years. He was proud to have been the mayor during the El Dorado Springs Centennial in 1981. He retired as owner of the Lockwood Pharmacy in 2020. He was a practicing pharmacist in the state of Missouri for over 60 years.
A one-time scholarship for a graduating member of El Dorado Springs Class of 2023 who plans a career in health care will be named the Orvel Cooper Memorial Scholarship. Memorial contributions are also being accepted at the Missouri Department of Conservation.
When he wasn't behind the pharmacy counter six days a week, he enjoyed all aspects of the great outdoors, especially hunting and fishing. Orvel enjoyed studying the history of the westward expansion of our country and he made many trips out West with family and friends.
Known to his family as Dad and Pappy, Orvel enjoyed cheering on his children and grandchildren at their school events, telling them stories which may or may not have been slightly embellished, and always supporting the dreams they chose to pursue. These were just a few of the ways that Orvel displayed his unconditional love for his children and grandchildren.
Preceding Orvel in death were his wife Donna, his parents, Harvey and Jessie Cooper; his in-laws, Don and Juanita Beisner; his sister-in-law, Sharon Cooper; son-in-law, James Callaway; and daughter Ann, who died in infancy.
Survivors include his brother, Dee Cooper, Broken Arrow, Okla.; his children, Candee Callaway, El Dorado Springs; Lee and Dena Cooper, Harrisonville; Eric and Becky Cooper, El Dorado Springs; grandchildren, Cory Cooper, Sam and Josie Cooper, Tyler and Courtney Cooper, Callee and Eric Kaufman, Luke Cooper, and Jake Cooper; great-grandchildren Catherine Kaufman, Deric Cooper, and Ben Cooper.
Arrangements were under direction of Bland-Hackleman Funeral Home, El Dorado Springs.
May 31, 1977 – July 21, 2022
Erika "Jill" Foulks, age 45, of Webb City, passed away Thursday, July 21, after a long battle with cancer. She was born on May 31, 1977, in Joplin to Michael Baird and Connie (Roeber) Baird.
Jill graduated from Carl Junction High School in 1995, and Missouri Southern State University in 1999. She worked for Flying Cross Uniforms for many years. She married Jason Foulks on Feb. 16, 2013.
Jill was preceded in death by her grandparents.
She is survived by her husband, Jason Foulks, of Webb City; her parents, Michael and Connie Baird, Carl Junction; her sister, Samantha Baird, Carl Junction; her daughters, Piper and Pressli Chapman, Webb City; her stepdaughter, Hannah Foulks, Jacksonville, Ark.; and many cousins.
A memorial service is scheduled for 6 p.m. Thursday, Aug. 11, at Thornhill-Dillon Mortuary, with the Rev. Dr. Phillip McClendon officiating. The family will receive friends following the service.