As of Wednesday, June 30, 2021
July 13, 1988 – June 29, 2021
Loving Written by Bryann's Family
Susan Bryann Outt Baird, of Joplin, went home to be with her Lord and Savior on Tuesday at 3:04 a.m.  She was 32 years old and the wife of Jacob Baird, and the mother of two precious sons, Emmett, 4 years old, and Everett, 2 years old.  She was preceded in death by her grandmothers, JoAnn Ross, and Betty Esacallier; and her grandfather, Buck Murray.  Surviving loved ones in addition to her husband and two sons include her parents, Dennis and Davette Outt; brothers, Damon Outt, and his wife, Kellie, and Daren Outt; grandfather, David Ross, and his wife, Wilma; father-in-law, Joe Baird; mother-in-law, Becky Baird; sister-in-law, Kellie Fransisco; her nieces and nephews, Payton Mashall, Tynnley Outt, Braxton Outt, Macie Outt, and Kytn and Weston Fransisco; Bryann had many aunts, uncles, and cousins that she loved dearly. 
Bryann loved her students and loved being a teacher.  She always put 100% into everything she did, whether it be a holiday, a birthday party, or teaching children's church and Sunday school, which she did for fourteen years.   
Her husband and her boys were her whole world.  She was such a wonderful wife and mother.  She and Jake were raising their boys to love and serve the Lord. 
She loved her parents so much and she was so caring and giving with them.  Bryann and her mom had a very special bond.  They spent much time together and they loved to shop and watch Christmas movies, and bake millions of pies for family dinners.
Bryann loved her nieces, nephews, and extended family.  She loved it when everyone got together for holidays.  She loved her church and her church family.
This precious girl leaves a huge hole in our family and we will never be the same without her.  We will miss her spunky attitude, her bright smile, and her huge dimples.  We know she is in heaven with Jesus and we will see her again, but for now our hearts are broken and our lives forever changed.  We love you Bryann, more than you will ever know. 
Psalms 56:8 
                "You have taken not of my journey through life….  Even when we can't see God's Plan, he sees our pain.  He knows when our path grows bumpy; He notices when our feet stumble and not only does God see, more importantly, He refuses to flee.  You have caught each of my tears in your bottle… "   
A celebration of her life will be held at 11 a.m. Wednesday, July 7, at the Frisco Church in Webb City, with burial to follow at the Carl Junction Cemetery.  The family will receive friends for a time of visitation from 5 to 7 p.m. Tuesday, July 6, at the church. 
Arrangements are under the direction of Parker Mortuary. 
July 20, 1958 – June 27, 2021
John Scott Elliott, 62, of Carl Junction, passed away Sunday after a hard-fought battle with COVID.
John was born July 20, 1958, in Wichita, Kan. to the late Dr. Raymond and Mildred Lois (Lane) Elliott. He was raised in the Wichita area, graduating from Wichita Southeast High School in 1976.
John married Janet M. Lane on Jan. 27, 1979, in Pittsburg, Kan. Together they had three beloved daughters, Ashley, Caitlin and Megan. John and Janet shared 42 precious years together before his passing.
John has always worked in the auto industry, holding several positions in sales, management, finance and most recently as the general manager of Skyway Buick GMC. John spent 28 years at Roper Auto Group and also worked for Max Motors, Nevada, and Frank Fletcher Toyota. John took great pride in his work and was very dedicated to his customers, considering each of them family.
John had a smile that could light up the room, and he never met a stranger. He loved to sing in the car, sledding, cooking breakfasts for his family, working in the yard and just being plain silly. John was sure to show the girls what unconditional love was, and he lived life to the fullest. He cherished the time spent and memories created with his wife, daughters, family and friends. To know John was to love him, and he will be greatly missed by all.
In addition to his parents, John was preceded in death by a brother, Robert Elliott.
John is lovingly survived by his wife, Janet; daughters, Ashley Elliott and Michael Cline, Caitlin Elliott and Megan Elliott; brother, Donald Elliott; sister, Betty Elliott; six grandpups; several nieces, nephews, great nieces and nephews; and many extended family members and friends.
Funeral services will be held at 2 p.m. Thursday, July 1, at Parker Mortuary, with Pastor Rick Flinn officiating. Memorial contributions may be made to the American Cancer Society.
July 23, 1966 – June 26, 2021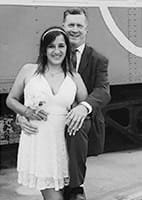 Giovanna Boza McCabe, of Webb City, went home to the angels and God above in Heaven on Saturday, following an emergency surgery. She was a beautiful 54 years young.
Giovanna was born in Lima, Peru, on July 23rd, 1966. Giovanna was proceeded in death by her father Carlos Chavez; grandmother, Elvira Florian; and aunt, Blanca Chavez.
Surviving loved ones include her mother, Fidelia Boza; her sister Jacqueline Hostetler; husband John McCabe; brother-in-law, John Hostetler; aunts, Chella Chavez and Eva Chavez; and uncle, Jorge Chavez. There are many other family members including cousins, aunts, uncles, nieces, and nephews who were very important in the enjoyment of life and family time in Giovanna's home in Peru. Frequent gatherings of Giovanna's extended family helped shape her love of family and spontaneous love of life and get-togethers.
A mother and daughter's love for each other was ever-present. Giovanna and her mother were either together, talking by phone or sharing FaceTime every day! Giovanna learned early in life about God's love as part of the teaching and sharing from her mother. As a result, Giovanna had a very strong continuous spiritual connection with God and was firm in her faith.
As a big sister, Giovanna was always taking her little sister everywhere, (sometimes reluctantly) but this meant they shared many same experiences, friends, and pop culture through the decades. The love and support were always a part of the special connection they enjoyed. Both sisters shared everything, like best friends, as well as sisters. They talked or had FaceTime every day and looked forward to every chance to be together.
Giovanna and John met in March of 2017 and on July 27, 2020, they were married forever in body and spirit. Giovanna loved her husband and so loved helping him build his Johnny Hot Dogs business. At home she adored Sahara, the family Golden Retriever, and Tyson, her family's Brittany Setter. She loved all animals and especially loved the cows at the end of the road near her home. She promised John that one day they would own one cow for their backyard. She would stop and take pictures of everything that was new to her in this world. Giovanna never took one ounce of life for granted and always gave thanks to God for every day and all the blessings she had along the way. She was starting her own decorative business as she was so talented in design and crafts. She always was making something special for someone so they could cherish in the love she saw in others. A devoted wife and lover of all things food you could find her preparing dinner nightly for two. Giovanna and John loved to go out and explore new restaurants with close friends and always loved to travel whenever they had the chance. Trips to Oklahoma City by Greyhound showed her love and dedication toward her mother and family. She was known to "take" John to the local casinos and share in the hopes of getting lucky and travel around the world! She worked tirelessly on her English and when communication needed a little help John and Giovanna had their own unique sign language to convey the message.
She made an immediate impression to be loved by others, and she never spoke ill toward or about another human being. She was as close to purity as you could find.
A celebration of life will be held at 1 p.m. Saturday, July 24, at Keltoi Winery, with Brandon Haag officiating. An open reception will immediately follow onsite. John and Giovanna would ask you to please join us to remember her beautiful life on this day.
Giovanna and John were planning to travel and so her journey will not end. John anticipates taking her along for a road trip in the future to visit places she wanted go and share her memory along the way.
Flowers can be sent to Keltoi Winery, 17705 County Road 260, Oronogo, MO 64855, July 23rd and 24th prior to the celebration. Arrangements are under the direction of Parker Mortuary.
April 2, 1943 – June 26, 2021
Lavona Pearl (Goben) McNett, 78, of Webb City, passed away peacefully, early Saturday morning in the comfort of her home.
Lavona entered this life on April 2, 1943, in St. Joseph, Mo., one of four children born to the late Irvin and Pansy Bernice (Black) Goben. She attended Savannah High School. On March 30, 1961, she was united in marriage to Samuel Lee McNett and to this union six children were born. Lavona worked for Cameron High School as a cafeteria cook until her retirement. Lavona loved to embroidery, cook and make fudge and peanut brittle for Christmas. She also loved spending precious time with her family and friends. She was a member of Life Point Pentecostal Church in Joplin. She was an amazing lady who was very special to many. She will be missed by all who knew and loved her.
Lavona was preceded in death by her parents; her husband of 51 years, Samuel McNett, on July 3, 2012; a son, Jeffrey McNett; two grandsons, Timothy McNett and Dustin Weidler; and two siblings, Preston Goben and Ronald Goben.
Lavona is survived by her five children, William McNett and wife, Gladys, of Kidder, Mo., Calvin McNett and wife, Shannen, of Lebanon, Mo., Randy McNett and wife, Sandy, of Charity, Mo., Preston McNett and wife, Tammy, of Lebanon, and Dianna Rearrick and husband, Shane, Webb City; a daughter in-law, Shanna McNett of Grove, Okla.; several grandchildren and great-grandchildren; a sister, Janet Smith and husband, Harry, of Burlington Junction, Mo.; as well as a host of other family and friends.
Lavona's Homegoing Celebration was held Wednesday, June 30, at Life Point Pentecostal Church in Joplin, with Pastor Fred Oates officiating. Graveside services and burial will be held at noon Thursday, July 1, at Lake Viking Cemetery near Gallatin, Mo. Arrangements are under the direction of the Hedge-Lewis-Goodwin Funeral Home.
Feb. 13, 1942 – June 24, 2021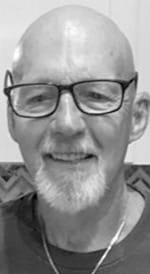 Everett Clarence Oringderff, Jr., 79, went to be with his Lord and Savior Jesus Christ on Thursday, following a brief illness. Everett was born Feb. 13, 1942, the son of Eva Stewart and Everett Clarence Oringderff Sr. During the latter part of Everett's life he lived in Kennedale, Texas, with his youngest daughter Ashley Montoya and family. Everett will be remembered by his big smile, sense of humor and larger than life stories, as well as his tag line, "Say your prayers."
Everett is survived by his four children, Bambi (John) Flournoy, Tulsa, Okla., Robin (Doug) McCallister, Webb City, Scott (Cee) Oringderff and Ashley (Christian) Montoya, Kennedale; his sister, Helen Farmer, Grain Valley, Mo. Everett is also survived by nine grandchildren, Kyle, Tyler, Lauren, Mallory, Cale, Luke, Jack, Lincoln and Maximus; five great-grandchildren, Axton, Aizley, Owen, Griffin and Lawson, with another one due in September; and many nieces and nephews. Everett was preceded in death by his father; three sisters; and brother.
A private funeral service will be held at a later date.  Local arrangements are under the direction of Simpson Funeral Home.
Oct. 5, 1930 – June 23, 2021
Kaye Francis Sanders, 90, went to sleep in the Lord on Wednesday, June 23, at Freeman's Hospital in Joplin. Kaye was born Oct. 5, 1930, in Detroit, Mich., to Harley C. and Buela (Coates) Rusk, both preceded her in death. She graduated from Carthage High School in 1947. She married Jimmy (Jim) Ray Sanders on Oct. 5, 1947. Her husband preceded her in death on Nov. 3, 2003. Her son, Dan E. Sanders, preceded her in death on Nov. 11, 2020. She was also preceded in death by her brothers, Harley Rusk Jr., Carl Rusk, Zane Rusk and Don Earl Rusk.
Kaye loved telling people about her Lord and was a faithful member and spiritual leader of the Carthage Seventh-day Adventist Church. She liked doing things for others and visiting with them. She loved spending time with her children, grandchildren, great grandchildren & great great grandchildren. She was a good & kind person. A wonderful & loving Mom & Grammie to her family. She has left a large hole in our hearts that won't be filled on this earth. She will be greatly missed by many.
Kaye is survived by one brother, Gary (Joan) Rusk, Berrien Center, Mich.; three daughters, Debi (Vinman) Timlin, New Smyrna Beach, Fla., Diana (Michael) Fidler, Summerfield, Fla., and Kathy Sanders, Deltona, Fla.; one son, Gene (Brooke) Sanders, Joplin; six grandchildren, Heather DePalma, Delina DeRousha, Damian DeRousha, Seth Musselwhite, Kary Ann Stone and Jesse Helsten; 18 great-grandchildren; and eight great-great-grandchildren.
No services will be held. Arrangements are under the direction of Simpson Funeral Home.
May 9, 1969 – June 24, 2021
Walter J. Thomas, age 52, of Alba, passed away Thursday at Freeman West Hospital. He was born in Carthage on May 9, 1969, to Calvin Thomas and Daisy (Reynolds) Thomas. 
Walter worked for the City of Joplin at the Waste Water Department and was a member of the New Beginnings Outreach Church in Purcell. He loved to work on cars and about anything else he could try and fix, he was a jack of all trades, you would see him tinkering with different projects in his spare time. 
Walter married Kimberly (Thurston) Thomas, and she survives him. He is also survived by his sons, Michael Thomas and wife Crystal, Webb City, and Timothy Thomas and wife Mackenzie, Carthage; a daughter, Jessica Thomas, Alba; grandchildren, Asher Thomas, Zoe Thomas, Walker Thomas, Liam Thomas, Autumn Thomas, Josey Thomas and Amya Gaut; brothers, Bill Thomas and Henry Cook; sisters, Helen Miller, Melissa Enslow and Kellie Thomas. 
The family will announce services at a later date. Arrangements are under the direction of Simpson Funeral Home.
Aug. 30, 1929 – June 25, 2021
Thelma Jearline (Jeri) Winans went to be with our Lord Jesus Christ on Friday, June 25. Jeri was born in Marion County, Ark., on Aug. 30, 1929, the daughter of Tom Mefford and Delphia (Terry) Mefford. She married B.C. Winans in 1946 and moved to Jasper County. Jeri was a pharmacy tech at St. John's Hospital for 23 years before retiring. She was raised in a Baptist church and her faith in Jesus was comfort to her throughout her life. Jeri enjoyed cooking for her family, crocheting and traveling. She was quite famous for her peanut brittle, lemon cheesecake and three-cornered rolls. 
Jeri was preceded in death by her husband, B.C.; her son David; her sister Geneva (Mefford) Own; and her brother, Alvin Mefford. She is survived by her son, Clarence Winans and his wife Brenda, Joplin; granddaughter, Letitia Kenney and her husband Guy, Moberly; grandson, Alex Winans and wife Megan, Nevada, Mo.; three great-grandchildren, Brianna Thompson, Eric Thompson and Parker Winans; a loving niece, Shirley Shockey and her husband Joe; a great-niece, Tamara (Shockey) Schneider; and a dear friend and caretaker, Susan Sims, who made it possible for her to stay in the home she loved for the last years of her life. 
A graveside service was held Tuesday at the Mount Hope Cemetery. Services were under the direction of Simpson Funeral Home.