As of Wednesday, Jan. 25, 2023
Cities without a state are in Missouri 
May 13, 1939 – Jan. 22, 2023
Lois Bernice Boyd, 83, of Joplin, departed this life on Sunday afternoon, Jan. 22, at National Health Care in Joplin.
Lois entered this life on May 13, 1939, in Baxter Springs, Kan., the only daughter born to the late Raymond and Rachel (Easley) Hill. She was raised in Baxter Springs and was a 1958 graduate of Galena High School. 
In 1958, she was united in marriage to Kenny Norvell, and to this union a son, Bryan, was born. Kenny passed in 1971 and in June of 1972, she married Tom Boyd. Lois and Tom were blessed with a daughter, Rachelle. 
Lois has resided in the Webb City and Alba area since 1972. She worked as a convenience store clerk for many years. From 1976 until 2000, she was at 7-Eleven/Halls Food Mart in Webb City before retiring in 2013 from Fast 4 U in Oronogo. She enjoyed visiting with the patrons of the store, loved her family and was a wonderful and caring homemaker.
She was preceded in death by her parents, Raymond and Rachel Hill; and husbands, Kenny Norvell and Tom Boyd.
Lois is survived by her two children, Bryan Norvell and wife Christie, Joplin, and Rachelle Kohler and husband Alvin, Pineville; a stepson, Tommy Boyd and wife Dawnette, St. Francis, Minn.; six grandchildren, Ryan Norvell (Kate), Robert Norvell (Ashley), Austin Norvell (Tiffany), Andrew Norvell (Tara), Shelby Cox (Nathan), Canon Hance (Kyle), and her beloved granddog Brodi; eight great-grandchildren; a brother, Ray Hill, Joplin; and a host of other family and friends.
Graveside services will be held at 3 p.m. Friday, Jan. 27, in Carterville Cemetery, with Ryan Norvell, Robert Norvell, Austin Norvell, Andrew Norvell and Nathan Cox serving as pallbearers. The family will receive friends from 1 to 2:45 p.m. Friday at Hedge-Lewis-Goodwin Funeral Home.
March 10, 1924 – Jan. 20, 2023
Mrs. Virginia Maxine Faught, 98, of Dudenville, departed this life on Friday morning, Jan. 20, at Good Shepherd Nursing Center in Lockwood, Missouri.
Virginia entered this life on March 10, 1924, in Alba, daughter of the late Ernest and Lola (Cessna) Miller. Her formative years were spent on the family farm near Asbury. 
On April 28, 1942, she was united in marriage to Finley N. Faught and together they shared 39 years before his passing on Sept. 15, 1981. They purchased a farm in Dudenville, in 1949, where they both remained until the time of each of their passings. She was a longtime member of the Dudenville United Methodist Church, where she taught Sunday School and played the piano.
She was preceded in death by her parents; her husband, Finley Faught; an infant daughter, Patricia Ann Faught; and two sisters, Marjorie Moss and Norma Shepherd.
Virginia is survived by her daughter, Judy Robinson of Golden City; a grandson, Nathan Robinson, Golden City; a brother, Orville Miller, Nixa; a sister, Carol Doty, Purcell; and a host of other family and friends.
Graveside services will be held at 1 p.m. Thursday, Jan. 26, at Dudenville Cemetery near Golden City, with Pastor Ron Zimmerman officiating. Arrangements are under the direction of Hedge-Lewis-Goodwin Funeral Home.
Sept. 5, 1956 – Jan. 23, 2023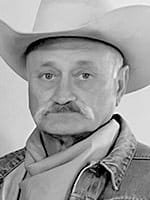 Douglas Larry Gregory, age 66, of Liberal, went home to our Heavenly Father on Monday, Jan. 23
Doug was born Sept. 5, 1956, in Grinelle, Iowa, to the union of Larry and Estella (McGrath) Gregory.  
In his early years; Doug rode bulls/bareback horses and attended Fort Scott Community College. It was here that he met the love of his life; Pamela Runnels. Doug and Pam were united in marriage in 1978 and the family they created together was his most precious possession. He was a devoted husband, father and Papa/Papi. Doug loved his family fiercely and his greatest joy could be found in gatherings with his "circle." He enjoyed fishing, looking for coyotes, tending to his cattle or simply watching/feeding his birds.  
Doug was a tireless worker with undeniable integrity and strength. He was soft spoken, tenderhearted, firm but always kind. Many of us thought of him as a "jack of all trades." Over the years, he was an electrician, roofer or plumber (least favorite because he hated the mud). Whatever his family needed him to be was the role he assumed. Doug also worked as a machinist, rancher and farrier. He took great pride in his work as an accomplished farrier/blacksmith. Specifically, his skills with branding irons and propane heaters. Doug made over 2,800 irons over his lifetime. The last of which was completed this past December.  
Doug often referred to himself as an "old, broken-down cowboy." His earthly journey was not an easy one but his faith never wavered. He was baptized in the family pond and Doug's life echoed his relationship with our Savior and he kept his heart and mind focused on his Heavenly reunion. 
Doug was preceded in death by his parents, Larry and Estella Gregory, one son, Colby Gregory and one brother, Bob White. He is survived by his wife, Pamela (Runnels) Gregory, two daughters, Cassidi Abts, (Shannon Abts) Callie Crain (Jay Crain), one son Shane Lathrop (Christiane). Five grandsons: Jay and Jace Goodwin, Case Crain, Jaron Lathrop and Landon Lathrop. Four granddaughters: Carlie (Wyatt) and Camden Crain, Carly (Tristan) and Chloe Abts. One great-grandson, Jax Goodwin. Two brothers, Dan Gregory (Carol Gregory) and Steve White and many nieces and nephews.
Memorial services will be held at 10 a.m. Saturday, Jan. 28, at Nashville Christian Church, with Woody Wilkenson and Don Smith officiating. Honorary pallbearers will be Shannon Abts, Jay Crain, Shane Lathrop, Dan Gregory, Steve White, Ed Neil, Gregg Ash, Phillip Rose, Jay Goodwin, Jace Goodwin, Case Crain, Landon Lathrop and Jaron Lathrop.  Private burial will take place at Nashville Cemetery next to his son Colby. Memorials may be contributed to either the Nashville Cemetery Care Fund or Nashville Christian Church. Arrangements are under the direction of Hedge-Lewis-Goodwin Funeral Home in Webb City.
April 5, 1940 – Dec. 14, 2022
Charles Pearl Jarnagin, of Webb City, age 82, passed away Wednesday, Dec. 14, 2022. Charles was born, April 5, 1940, in Elkland, son of Claude and Tamzie Jarnagin, one of 11 children.
He graduated from Webb City High School in 1960, and he married Carol Ann Pittman in February 1960. They had two sons, Jeff, of Eureka Springs, Ark., and Richard, of Neosho.
He is survived by wife, sons, grandchildren, great-grandchildren; one brother Deryl; and two sisters, Wanda and Wilma.
Charles retired from Fleming Foods after 21 years. He enjoyed time with family, yard work, gardening and fur babies.
A memorial service will be held at 10 a.m. Saturday, Jan. 28, at Destiny Church, 3411 N. Range Line Road.
Feb. 4, 1946 – Jan. 18, 2023
Edyth (Edy) Newby of Webb City, passed away on Wednesday, Jan. 18.
Edy was born Feb. 4, 1946, daughter of Charles and Patricia Allen, in Springfield. She was employed for 33 years with the Webb City R-7 School District as an elementary librarian. She was an active member of Emmanuel Baptist Church in Webb City, where she taught Sunday School for many years.
Edy married Harold Newby in 1978, in Webb City. He preceded her in death on July 4, 2000.
Edy is survived by her daughter, Anne Logsdon, Webb City, and son, Allan Hunter, St. Louis; stepsons Ron (Sammye) Newby, Van Buren, Ark., and Chris (Shelley) Newby, Joplin; four grandsons, Robert (Cassie) Herndon, Ryan (Morgan) Herndon, Josh (Rachel) Newby, and Jeremy (Jessica) Craig; two granddaughters, Stephanie Logsdon and Shalee Higginbotham; three great-grandchildren, Naomi, Axel, and Willow; and two sisters, Debbie (John) Fitzgibbon, Springfield, and Lisa Holden, Joplin.
After her passing, Edy continued to serve others and share her love of reading by donating her corneas to two recipients.
In accordance with Edy's request, her ashes will be laid to rest next to Harold in Ozark Memorial Park Cemetery, Joplin.
The family invites the public to celebrate Edy's life during a memorial service from 2 – 2:30 p.m. Saturday, Feb. 4, with visitation to follow, at Emmanuel Baptist Church, 300 N. Pennsylvania St., Webb City. Arrangements are under the direction of Mason-Woodard Mortuary.