As of Wednesday, May 19, 2021
June 30, 1950 – May 18, 2021
Don Crissman, age 70, of Webb City, passed away Tuesday, May 18, at his home. 
He was born on June 30, 1950, in Joplin, to Kenneth Crissman and Betty (Huey) Crissman. He graduated from Webb City High School and retired as a custodian from Tri-State Trucking. 
Don is survived by a brother, Cris Crissman and wife Maryann, Webb City; and a sister, Kenna Philliber and husband Wayne, Joplin. 
Don loved everyone and will be greatly missed by all. There will be no services. He will be interred at Ozark Memorial Park Cemetery in Joplin. Arrangements are under the direction of Simpson Funeral Home.
Sept. 14, 1925 – May 12, 2021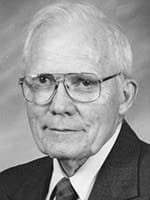 Jacob Bryan Sperry, 95, of Pittsburg, Kan., passed away Wednesday, May 12.
He was born Sept. 14, 1925, at Osawatomie, Kan., the son of Peter Everett and Lulu Olleva (Fink) Sperry.
Mr. Sperry entered into the United States Army in December of 1943. He served in the 75th Infantry Division (Europe) during World War II, fought in the Battle of the Bulge, and was honorably discharged in February of 1946.
On July 30, 1950, he was united in marriage to Reita Mlle Hinkel at Concordia, Kan. She preceded him in death on Dec. 12, 2004.
Mr. Sperry was an associate professor (mathematics) for 32 years at Pittsburg State University before his retirement in 1995. He taught for a total of 45 years, 11 in high school and 34 in college. He was also a football and track coach for many years and longtime sponsor of FCA at PSU impacting generations.
Membership was held in the First Church of the Nazarene, National Council of Teachers of Mathematics and on the Draft Board for Southeast Kansas for 20 years.
Mr. Sperry is survived by three daughters, Mlee Sperry, Webb City, Kipra Odaffer, Webb City, and Janel Smith (Mike), Webb City; three sons, Jay Sperry (Vickie), Palm Bay, Fla., Kevin Sperry (Donna), Palm Bay, Fla., and Kyle Sperry (Hilary), Rose Valley, Pa.; 16 grandchildren; 14 great-grandchildren; and numerous nieces and nephews.
In addition to his wife, he is preceded in death by his parents; two brothers; one sister; one daughter-in-law, Sherilyn Sperry; one son-in-law, Steve Odaffer; and one grandson, Tyler Odaffer.
A service for Mr. Sperry was held Monday at the First Church of the Nazarene, with the Rev. Jim Sukraw officiating. Burial was in Fort Scott National Cemetery. Memorials may be made to the Pittsburg State FCA and/or Christ in Youth, Joplin. Arrangements are under the direction of the Brenner Mortuary, Pittsburg, Kan.