As of Wednesday, May 26, 2021
Dec. 7, 2006 – May 23, 2021
Hayden Arthur Adams, age 14, of Joplin, passed away Sunday. 
Hayden was born on Dec. 7, 2006 in St. Louis. He enjoyed doing what most 14-year-old boys do, playing video games, building things with Legos, archery, boy scouts and spending time with his animals. He enjoyed spending time outdoors, whether it was camping, fishing, swinging with his sister, jumping on the trampoline or riding bikes. Most importantly he had a deep love for God and his family. He cherished his time we would spend making memories or just hanging out on the couch.
Hayden touched many lives in his short 14 years. He had the biggest smile and best hugs. He loved so many and was loved by so many more. He had an energy that with even one encounter with him, you would remember for life.
He will continue to stay with us through memories and the laughs he forced us to endure even when we didn't want to. He is everywhere, in all our lives. He will live on through us. He will be greatly missed by all who knew him.
He leaves behind his mother, Jenny Tyler, and step-dad, Heath; his father, Tyson Adams; sister, Natalie Adams, and brother, Quinton Tyler; grandparents, Arthur Bosworth, Jan Stevens, Rick Stevens, and Doug and Crystel Adams; aunts and uncles, Brittany and Dustin Miller, and Megan and James Pace; great-grandparents, Alice and Keith Adams, Janice and John Coady, and Connie and Don Lancaster; plus, cousins, family and friends.
Memorial services will be held at 1 p.m. Friday, June 4, at Carterville Christian Church. Committal of ashes will follow at Ozark Memorial Park Cemetery. Memorial contributions may be made to St. Louis Children's Hospital or to the American Heart Association. Arrangements are under the direction of Parker Mortuary.
July 4, 1927 – May 23, 2021
Mrs. Peggy Jean Bailey, 93, of Joplin, departed this life Sunday morning at Westgate in Joplin.
Peggy entered this life on July 4, 1927, in Moberly, one of three daughters born to the late Oscar and Vivian (Fisher) David. She graduated high school in 1945 in Kirksville. 
On Sept. 15, 1973, in Webb City, she was united in marriage to Carl Bailey and together they shared 34 years before his passing on June 13, 2008. 
Peggy's work history included 10 years at KFC corporate, 10 years at the Webb City Sentinel and 20 years as personnel director at Midcom Cable, retiring in 1985. She was a longtime member of Central United Methodist Church in Webb City, teaching the kindergartner Sunday School class for over 35 years.
She was preceded in death by her parents; her husband, Carl Bailey; and two sisters, Betty Lou and Patsy David.
Peggy is survived by her four children, Patrick Platter and wife, Connie, Springfield, Sherry Mayor and Elton, Joplin, John Bailey and wife, Karen, Neosho, and Glenna Sue Bailey, Duenweg; 10 grandchildren; 20 great-grandchildren; several great-great-grandchildren; and a host of other family and friends.
Funeral services will be held at 10 a.m. Friday, May 28, at Hedge-Lewis-Goodwin Funeral Home, with Pastor Clint Lambeth officiating. Burial will follow at Ozark Memorial Park Cemetery. Pallbearers will be Patrick Platter, John Bailey, Elton Mayor, Matt Nunnally, Joshua Yates and Donald Brown. The family will receive friends on Thursday evening from 5-7 p.m. at the funeral home.
Sept. 16, 1930 – May 19, 2021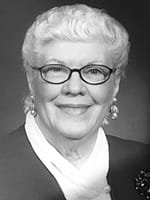 Claudine Coyle, age 90, of Carl Junction, passed away peacefully Wednesday, May 19, at her home. She was born Sept. 16, 1930, in Galena, Kan., to Claude Brooks and Beatrice (Martin) Brooks. She graduated from Carl Junction High School in 1948.
Claudine married Charles "Tom" Coyle on June 3, 1950, in Eureka Springs, Ark. They were married for 70 years. She was a member of PEO, in Columbus, Kan., for many years and the Joplin Women's Club. She was a member of the First Christian Church of Carl Junction. 
Claudine was preceded in death by both parents; her husband Tom; and her brother Sam Brooks of Hermiston, Ore. She is survived by a son, Rex Coyle, Joplin; a daughter, Karen Campbell, Bella Vista, Ark.; a granddaughter, Maegan Erskin and her husband James; and three great-grandchildren, Kali, Kelton, and Suzanna Erskin, all of Bella Vista.
A graveside service was held Monday at Carl Junction Cemetery, with Pastor Jeff D. Martin officiating. Services are under the direction of Simpson Funeral Home, Webb City.
Oct. 18, 1929 – May 23, 2021
Eva L. Herr, age 91, of Asbury, passed Sunday after a short illness.
Eva was born Oct. 18, 1929, in Waco, Mo. She was the daughter of the late Alonzo and Ethel (Evans) Bendure and lived in the area her lifetime.
Eva married Raymond M. Herr on July 20, 1956. He preceded her in death Aug. 18, 2006, after 50 years of marriage.
Eva was a member of the Asbury Baptist Church, where she was the treasure until her death. She also worked before becoming a homemaker at Newman's and Ramsey's department stores in Joplin. Later, she was a clerk at the Asbury Post Office.
Survivors include children: Dennis (Becky) Herr, Joplin, and Judy (David) Mills, Asbury; grandchildren, Lucas Mills, Webb City, Daniel (Kelsey) Herr, Lenexa, Kan.; Michael Herr, Lowell, Ark.; Faith Mills, Asbury; and sister Christina (Roy) Welch, Carl Junction.
Eva was also preceded in death by brothers Bert and Virgil Bendure and a sister Ruth Coffey.
Graveside services will be held at 10 a.m. Friday, May 28, Crocker Cemetery, with the Rev. Gerald Burnside officiating. The family will be present for a visitation from 6 to 7 p.m. Thursday at Simpson Funeral Home in Webb City. Memorial contributions may be made to the Missouri Baptist Children's Home.
Sept. 21, 1932 – May 25, 2021
Mr. Robert James "Bob" Wilbert, 88, of Webb City, departed this life on Tuesday evening in the comfort of his home. 
Bob entered this life on September 21, 1932, in Pittsburg, Kan., one of four sons born to the late Riney and Ethel (Gallet) Wilbert. He was raised in Pittsburg, and was a 1950 graduate of St. Mary's High School. He furthered his education at the University of Kansas, graduating in June of 1957 with a civil engineering degree. 
On Aug. 27, 1955, he was united in marriage to Billie Johnson and to this union four children were born. Bob was employed by the Missouri Department of Transportation for 38 years, retiring in 1995, as District 7 Materials Engineer. He was a lifelong Boston Red Sox fan and a loyal follower of St. Mary's Colgan and Pittsburg State University sporting events from 2001-2019. Billie and he traveled extensively after retirement, driving on smaller highways throughout 48 states, visiting National Parks and various state capitols. He was a longtime member of Sacred Heart Catholic Church in Webb City and was a veteran of the United States Army. 
His parents and three brothers, Riney, Don and Howard Wilbert, preceded him in death. 
Bob is survived by his wife of 65 years, Billie Wilbert of the home; their four children, Patricia Holley (Steve), Glendale, Ariz., Alan Wilbert (Sherri), Carl Junction, Linda DiModugno, Webb City, and Kathi Wilbert, Joplin; nine grandchildren, Dr. Heather Holley-Decker (Kyle), Stephanie Ratliff (Adam), Ali Wilbert, Lauren Repsher (Christian), Maria DiModugno, Aubri Barwick (Dalton), Glenn Wilbert, Michael DiModugno and Bruce Wilbert; five great-grandchildren, Raelynne and Braxton Decker and Bella, Colton and Lillianna Barwick; and a host of other family and friends. 
Funeral Mass will be held at 11 a.m. Wednesday, June 2, at Sacred Heart Catholic Church, with Father Paco Gordillo officiating. The family will receive friends from 6 to 8 p.m. Tuesday at the church, with a Rosary service to begin at 7 p.m. Memorial contributions may be made to Sacred Heart Catholic Church. Arrangements are under the direction of Hedge-Lewis-Goodwin Funeral Home.
Dec. 18, 1949 – May 20, 2021
Thomas Wisner, 71, of Carterville, passed away Thursday. He was a warehouse supervisor.
A celebration of life will be held at a later date. Arrangements are under the direction of Ozark Memorial Park Crematory.
March 25, 1961 – May 23, 2021
Beth Youngblood, age 60, left her hurting earthly body to be welcomed home in the arms of Jesus on Sunday, May 23, 2021. 
She was preceded in death by her parents John Garrett and Lila (Harper) Garrett. She is survived by three brothers, Mike Garrett, Asheville, N.C., Randy Garrett, Webb City, David Garrett, Terra Haute, Ind.; three children, Emily Garrett, Neosho, Jacob Youngblood, Neosho, and Carley (Alex) Mikeska, Joplin; eight grandchildren, Hannah (Gabriel) Cole, Alexis Youngblood, Elijah Garrett, Aubrey, Jax and Zavin Youngblood, Harper and Taysom Mikeska; as well as two bonus grandsons Corey and Camden Clark. She is also survived by her closest friend, Tricia Braden. 
Beth grew up with her family in the Webb City area, and she raised her children here as well. She served people her entire life, she was kind, generous and always knew what to say at the right time. She had many titles as mother, sister, and friend but her favorite title of all was grandma. Beth loved her grandkids more than life itself. Her best days were spent with all her kids and grandkids laughing and playing in her home. Those who knew her loved her and laughed with her, she enjoyed coloring with Aubrey, having Tuesday night dinners with Taysom and Harper, taking naps with Alexis, and spending her evenings with Hannah and Eli. She loved having her younger grandsons Zavin and Jax over to play. 
Beth has been struggling with her health for years and has been home bound for a while, but she continued to live her life for God even when she was unable to attend church, she enjoyed watching online and listening to worship music. She was a fervent prayer worrier just like her mother before her. There is nothing more she wanted than her family to know how much she loved them. She said on her last day she was awake that she had the perfect life. Beth is with us today and every day, she is in the presence of the Lord and walking the streets of gold finally pain free. 
The family held a memorial service Wednesday at the Joplin Full Gospel Church, 2601 S. Indiana Avenue, Joplin. Arrangements were under the direction of Simpson Funeral Home.