Feb. 24, 1958 – June 7, 2022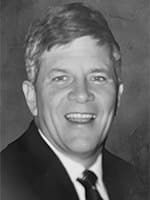 Michael Dean Eddy, age 64, of Webb City, passed away Tuesday, June 7, at Freeman West Hospital in Joplin with family and friends by his side.
Michael, son of Paul Dean and Shirley (Edson) Eddy, was born on Feb. 24, 1958, in Kansas City. He graduated from Carl Junction High School with the Class of 1976 and then went on to obtain a bachelor's degree in education from Missouri Southern State University and his masters degree in science from Pittsburg State University.  \Shortly after graduation, he married his long-time girlfriend, Anita Ozbun. Together they celebrated 40 years of marriage in May. Michael worked with Shelter Insurance for over 35 years and enjoyed working on his farm and raising cattle. He was an avid sports enthusiast. He participated in and coached many sports, including tennis, golf and soccer. He also enjoyed hunting with his friends and family. He enjoyed music and listening to live and local bands in the area. He was a devoted family man and loved spending time with his family. 
Survivors include his wife, Anita Eddy, of Webb City; two sons, David Eddy and his wife Christy, Prosper, Texas, and Nathan Eddy and his wife Caitlin, Joplin; his mother, Shirley Eddy, Joplin; a brother, Mitch Eddy and his wife Sharell, Oronogo; grandchildren, Elly, Hallie, and Carter; and several nieces and nephews. Michael was preceded in death by his father, Paul Eddy.
Funeral services will be held at 10 a.m. Friday, June 10, at the Christ Church of Oronogo in the Student Ministry East building, with ministers Scott Boudreaux and Shawn DeGraff officiating. Burial will follow in Carl Junction Cemetery, with Kevin Beatty, Scott Graham, Jeff Burgess, Jerry Pope, David Richardson and George Wardlow serving as Pallbearers. The family will receive friends for a time of visitation from 6 to 8 p.m. Thursday, June 9, at Christ Church of Oronogo in the Student Ministry North building. Memorial contributions may be made to Mercy Foundation or to Christ Church of Oronogo, Right Here Right Now fund, in care of Parker Mortuary.
Aug. 15, 1943 – Sunday, May 29
Bonham Wayne Oney, 78, of Carthage, passed away Sunday, May 29, at St. Luke's Nursing Center. He was born on Aug. 15, 1943, in Louisiana, Mo., to Dr. Glenn Reid Oney and Bonnie Sue (Freeman) Oney. He graduated from Alba High School in 1961, and graduated with a bachelor's degree from Kansas State College of Pittsburg (PSU) in 1968 and received his master's degree in 1972. 
Bonham taught and coached at North Platte High School in Dearborn, Mo., and Lamar High School. In 1971, he started a career selling insurance for Missouri Farm Bureau that lasted until he retired in 2009. He loved his job and always said there was never a day he didn't want to go to work. He especially enjoyed playing golf during several trips he earned because of his sales to such locations as Monaco, Hawaii, and Aruba. He prided himself in taking care of his clients and all the friendships he made during his career. 
Bonham was a longtime member of the First Christian Church in Carthage. He loved to serve communion to shut-ins, sing in the church choir, and was a member of many quartets. He looked forward to ringing the bell for the Salvation Army each Christmas season and singing carols to the shoppers and children. He was a longtime season ticket holder and supporter of Stone's Throw Dinner Theater in Carthage. 
Bonham loved playing basketball, baseball, refereeing and umpiring. He was a lifelong fan of the St. Louis Cardinals. He was introduced to golf by his brother Ron. After 55 years of swinging clubs, he finally achieved the elusive hole in one on Sept. 16, 2015. He co-hosted the annual golf tournament for the Four State Christian Fellowship. While he enjoyed the game of golf, he most enjoyed all the friendships he made on the course. 
On May 8, 1965, he was united in marriage to Lida Ruth Scott, and together they have shared the last 57 years. They were blessed with two sons, Scott Reid Oney, Carthage, and Glenn Ray Oney, Carthage; one granddaughter, Julia Anne Oney, Carthage; a sister-in-law, Ellen Oney, Webb City; nephew, Ronald Freeman Oney II, Joplin; and a niece, Sherry Byrd Brown, Carl Junction. Bonham was preceded in death by his parents and his brother Ronald Freeman Oney. 
Services will be held Saturday, June 11, at First Christian Church, 800 S. Main St., Carthage. Visitation will be at 10 a.m., followed by a service at 11 a.m. Burial will be at a later date. Memorial contributions may be made to the First Christian Church (the Bridge), or the Carthage Crisis Center. Arrangements are under the direction of Midland Cremation Society.