As of Wednesday, Oct. 6, 2021
March 28, 1935 – Oct. 5, 2021
Myrtle Lee (Conner) Babbitt, age 86, passed away unexpectedly at 12:02 a.m. Tuesday at her home in Webb City. She had spent the day with the love of her life, Joe Babbitt, taking their daily road trip and dinner date to wherever her heart desired. This was an every-afternoon trip that she always looked forward to and eagerly waited for Joe to ask her if she wanted to head north, south, east, or west and then off they would go. Joe and Myrtle Lee returned home the evening of October 4th and later, when it was time to go to bed, she peacefully went to sleep… with the angels.
Myrtle Lee was born March 28, 1935, to John and Beulah Conner in Neosho. She was a 1953 graduate of Webb City High School. On Sept. 17, 1955, she married Joe T. Babbitt, who proved to be her real-life angel. She attended Joplin Junior College and Southwest Missouri State University and received her bachelor's degree from Missouri State College. She went on to obtain a master's degree from Pittsburg State University. She was a longtime member of the Webb City Chapter of P.E.O. as well as a devoted member of Frisco Church. All of these things molded her into the caring, God-loving, intelligent woman that she was.
With that education she became a teacher of business education for two years at Webb City High School, then went from there to teach business education at Crowder College in Neosho for 24 years. During her time at Crowder, she was sponsor of the Phi Beta Lambda business organization. After recently speaking to a former student of Mrs. Babbitt, it was evident how much of an impact she made not only in their education, but also in their spiritual growth and because of that, hundreds of other lives were impacted after this student/now friend became a professor at Oral Roberts University.
It wasn't always work and no play for Myrtle Lee and Joe. They were able to take many trips to destinations all over the world, including Australia, Alaska, Jerusalem, and Ireland. They eventually fell in love with Arizona and became "snowbirds," staying there every winter to avoid the cold Midwest.
Myrtle Lee loved spending time with family. She is survived by her husband of 66 years, Joe T. Babbitt, of the home; four children; Susan (Joel) Hole, Springfield, David (Richele) Babbitt, Webb City,  Melanie (David) Reynolds, Dallas, Texas, and Eric (Mindy) Babbitt, Columbus, Kan.; 11 grandchildren; seven great-grandchildren; two brothers; Harold Conner, Norman, Okla., and Dee (Kathleen) Conner, Greenville, S.C.; and many close dear friends and family not listed. 
She is preceded in death by her sister, Johnnie Mae Huey, and by her beautiful ballerina granddaughter, Lauren "Gidget" Redmon-Vanderford, who we're certain were waiting for Myrtle Lee at the gates of heaven.
Services will be at 10 a.m. Saturday at Frisco Church in Webb City, with the Rev. Matt Snyder officiating. Burial will follow in the Mount Hope Cemetery. Visitation will be from 6-7 p.m. Friday at the Mason-Woodard Mortuary. Pallbearers will be Kyle Babbitt, Kyade Hughes, Tyler Babbitt, Cameron Hole, Lane Humphreys, Matt Gerhart, Brice Alumbaugh, and Quinton Inman. Memorial contributions may be made to Frisco Church of Webb City.
April 4, 1940 – Oct. 4, 2021
Paul George Ivy, age 81, of Webb City, passed away Monday at Freeman Health System in Joplin.
Paul was born on April 4, 1940, in Webb City, to the late George and Nellie (Tate) Ivy. He retired from Missouri Steel Castings Co. after working as a molder for nearly 40 years.
On Feb. 24, 1961, he married his best friend, Ethel (Howard) Ivy, at Pleasant Hill United Methodist Church. Together they were blessed with 60 years before his passing. He was a loving husband. Paul loved the outdoors, and you could find him hunting or fishing in his spare time. He loved all his children, grandchildren, and neighbors. He was grandpa to all the kids. He was a born again Christian and loved the Lord.
Paul is lovingly survived by his wife, Ethel Ivy; two children, Paula (Greg) Duley and Brian (Shannon) Ivy; three siblings, Betty Long, Wanda McKee, and Nina Landes; one sister-in-law, Catherine Jackson; five grandchildren, Michael (Connor), Kristina (Justin), Cory, Dakota, Deborah; one great-grandchild, Beau; and one great-grandbaby on the way, Cora.
The family would like to announce that cards are welcome. Arrangements are under the care and direction of Parker Mortuary. Burial will be at a later date.
May 20, 1972 – Sept. 30, 2021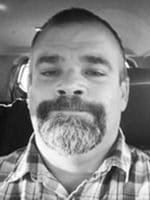 Raymond James Redden, age 49, of Oronogo, passed away on Thursday, Sept. 30, at Mercy Hospital Joplin.
Raymond was born on May 20, 1972, in Joplin, to the union of William and Ceclia (Mitchell) Redden. He married his best friend and love of his life Melissa (Turchek) Redden on July 17, 2021, in Oronogo. He worked on the production line for a distribution center for a number of years. He also retired as a volunteer fireman in Seneca. He loved riding his Harley Davidson and was a part of the Law Enforcement Motorcycle Club (LEMC) Itus Virtus and to them he was known as "Spanky." As a club they would partake in Toys for Tots. Every Christmas they would go to Walmart and purchase toys for kids that had parents who couldn't afford gifts under the tree. Raymond was an active member at the VFW. He loved all his kids and grandkids, to them he was "Paw" or "Poppy."
Raymond is lovingly survived by his wife, Melissa Redden; two children, Kody Redden (Sandy), Neosho, and Garrett Redden (Chassady), Miami, Okla.; bonus kids, Jacob Bay, Fayetteville, Ark., and Madison Bay, Oronogo; parents, William and Ceclia Redden; two brothers William Redden (Crystal), Joplin, and John Redden (Brianda), Joplin; father-in-law and mother-in-law, John and Debra Turchek, Carl Junction; brother-in-law and sister-in-law, Mark and Melinda Brown, Carl Junction; grandchildren, Brantly "Dink" Redden, Landon "Bobo" Redden, Timothy Redden, and three grandbabies on the way; his dog, Sophia Mae; Itus-Virtus family; and numerous nieces and nephews.
Funeral services were held on Wednesday at Parker Mortuary. Memorial contributions will go toward medical expenses.