As of Wednesday, Sept. 29, 2021
Oct. 27, 1938 – Sept. 24, 2021
Sandra Jean Dunaway passed away on Sept. 24, at the age of 82 at her residence in Quapaw, Okla. She was born on Oct. 27, 1938, in Galena, Kan. to William Woodard and Jewell (Stark) Woodard.
Sandra married Lewis Dunaway Sr. on June 16, 1956, and he proceeded her in death. Also, proceeding her in death was a daughter, Sandra Galford; and sons, William Dunaway Sr., and Lewis James Dunaway Jr; and a sister and a brother.
Sandra is survived by her daughters, Debbie Dunaway, Quapaw, Sheryl Sisk and her husband Terry, Miami, Okla.; her brother, Frank Woodard and his wife Peggy, Joplin; her sisters, Nancy St. Clair, Joplin, Billie Albright, Quapaw, and Norma Littlepage, Galena, Kan.; five grandchildren; seven great-grandchildren; and two great-great-grandchildren that she loved, dearly.
She loved to work outside with her flowers and was very proud of her Quapaw Indian Heritage. No services have been scheduled by her family at this time. Arrangements are under the direction of Simpson Funeral Home.
On the evening of Saturday. September 18th, 2021, Lenny Alfonso Sabado passed away suddenly at the age of 50 in Santa Fe, New Mexico.
Lenny was born in Chicago. Il., and had a lifelong passion for his Bears and Cubs. Lenny graduated from Webb City High School with his class in 1989 where he developed many lifelong friends. Lenny enjoyed working for Wildflower International as a Logistics Specialist in New Mexico.
Lenny was preceded in death by his parents, Melvin and Alice Gabriel. Mark Sabado Sr. and by his beloved grandmother Luz Ortiz Ortega.
He is survived by his mother Nellie Cruz; and his siblings, Leticia De Vogel, Mark Sabado Jr., Usa Dodson, Vanessa Sanchez, Adami Sabado, Andrew Sabado, Angela Gabriel, Daniel Gabriel, Tom Gabriel and Anna Hill; and by many cousins, nieces and nephews.
Lenny was known for his beautiful smile, his happy and always pleasant personality and his contagious laughter when surrounded by his friends. He always left the conversation with "Love you."
An intimate ceremony was held at Riverside Funeral Home, attended by his immediate family.
A special thank you to Ann Hill, The Rev. Donatas (Father Don) at Christus St. Vincent in Santa Fe for his beautiful prayers and blessings.
Jan. 6, 1953 – Sept. 24, 2021
Mr. David Wayne Vowiell, 68, of Carl Junction, departed this life on Friday evening in the comfort of his home after a long illness.
David entered this life on Jan. 6, 1953, in West Plains, one of two children born to Bruce and Betty (Wheeler) Vowiell. He was raised in Joplin and was a 1971 graduate of Joplin High School. 
On April 3, 1978, he was united in marriage to Barbara Monroe and together they have shared the last forty-three years. David worked as a graphic artist throughout his life. He enjoyed fishing and was always involved in his sons' sporting activities.
He was preceded in death by his father; and a grandson, Jack Vowiell.
David is survived by his wife, Barbara Vowiell, of the home; three sons, David Vowiell Jr., Kansas City, Nathan Vowiell and wife Ellen, Carterville, and Jeff Brown, Carthage; six grandchildren, Ethan Vowiell, Ava Vowiell, Mia Vowiell, Emma Brown, Grace Brown and Thaxton Brown; his mother, Betty Vowiell, Willow Springs; a sister, Dawn Vowiell, Willow Springs; a cousin, Karen Owens, Willow Springs; and a host of other family and friends.
Memorial services will be held at 11 a.m. Saturday at Hedge-Lewis-Goodwin Funeral Home, with Pastor Charles Chrisman officiating. The family will receive friends at 10 a.m. Saturday.
Sept. 13, 1933 – Sept. 26, 2021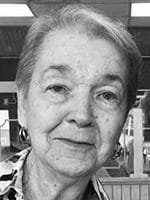 Mrs. Ruth Colleen Wilson, 88, of Oronogo, departed this life on Sunday in the comfort of her home.
Ruth entered this life on Sept. 13, 1933, in Alba, one of six children born to the late Arlo and Hazel (Rose) Lasiter. She attended school in Alba and was a lifelong area resident.
On May 27, 1949, in Webb City, she was united in marriage with George Wilson, and together they shared nearly 70 years before his passing on March 4, 2019. Besides being a devoted homemaker, Ruth worked for a period of time at the former Elmhurst Nursing Home and Elders Shirt Factory. She enjoyed playing the organ, going to area flea markets, working in her yard and gardening. She was a member of the Eastern Star, the Vickers Club and the Oronogo United Methodist Church.
Ruth was preceded in death by her parents; her husband, George Wilson; a grandson, Craig Hilton; and four siblings, Zula, Margaret, Jack and Bud.
She is survived by her two children, Tony Wilson and wife Linda, of Miller, Mo., and Vickie Lyons, of Joplin; five grandchildren; seven great-grandchildren; one great-great-grandson; a brother, Larry Lasiter, of Carterville; and a host of other family and friends.
Funeral services were held Wednesday at Hedge-Lewis-Goodwin Funeral Home, with Pastor Teri Haywood officiating. Burial was in Friends Cemetery in Purcell. Pallbearers were Tony Wilson, Jeremy Wilson, Jason Wilson, Richie Lyons, Danny Reid and Christopher Blanchette. Memorial contributions may be made to Oronogo United Methodist Church, in care of the funeral home.