Jan. 27, 1953 – Jan. 10, 2022
Tim Atnip, 68, of Jasper, passed away Monday, Jan. 10, at his home, with his wife and boys by his side.
Tim was born on Jan. 27, 1953, to Austin Atnip and Bettie (Shafer) Atnip in Carthage. He attended Oronogo Schools until the sixth grade, when he moved to Jasper. There he met his life long love, Janet. They both graduated with the Class of 1971. Tim was a lifelong farmer, who really enjoyed farming with his family. Along side his wife and boys, he owned and operated Atnip Enterprises. He was a 27-year member of the Jasper R-5 School Board. He also served on the ASCS Board, as well as the Farm Bureau Board. Through the years, Tim served as a trustee for both the Carthage Church of the Nazarene and the Purcell Baptist Church. He had many interests, such as truck and tractor pulling and dirt track racing with Atnip Motorsports, but he loved his family, his faith, and the Lord most of all. 
Tim was united in marriage with Janet (Tiller) Atnip on Oct. 27, 1972, at the Carthage Church of the Nazarene, and she survives. Other survivors include three sons, Jeremy Atnip (Jaime), Brad Atnip (Sarah), and Adam Atnip (Allison); eight grandchildren, Larissa (Logan), Hadley, Garrett, Addison, Emery, Clayton, and Natalie; one companion dog, Ed; and numerous other family members and friends. 
Tim's family would like to give a special thank you to Fresenius Dialysis Clinic and their wonderful staff, Brenda, Liz, Cindy, Deb, Jenny, and good friend, Dialysis Debbie, along with Integrity Home Health and Hospice. 
They would also like to thank their company office manager, Nancy McClintock, and the dedicated employees of Atnip Enterprises. 
A service was held Friday for Tim at Purcell Baptist Church. Burial was in Friends Cemetery in Purcell. Contributions may be made to Purcell Baptist Church. Arrangements were under the direction of Ulmer Funeral Home.
Sept. 8, 1938 – Jan. 17, 2022
Mrs. Dorothy Ann "Dot" Coleman, 83, of Webb City, departed this life suddenly on Monday morning at Mercy Hospital Joplin. 
Dot entered this life on Sept. 8, 1938, in Mattoon, Ill., daughter of the late Lawrence and Edra (Stulls) Brady. She was raised and attended school in Mattoon. 
On Nov. 2, 1956, in Carthage, Dot was united in marriage to Jack Coleman and to this union three children were born, Brenda, Pam and Randy. They resided for several years in Riverside, Calif., while Jack was serving in the U.S. Air Force. They left moved to Webb City in 1976. Dot worked at Motorola for many years before retiring from the Webb City Walmart bakery department.  She enjoyed playing bingo and visiting area casinos. 
Dot was preceded in death by her parents; her husband of 48 years, Jack Coleman, on May 26, 2015; her daughter, Ginger Coleman Martin; and five siblings.
She is survived by her three children, Brenda Jones and husband Dan, Webb City, Pam Freeman and husband Chris, Webb City, and Randy Coleman, Webb City; seven grandchildren, Crystal, Jennifer, Matt, Taylor, Natasha, Morgan and Monica; eight great-grandchildren, Kylee, Kaden, Mikayla, Jack, Cierra, Alex, Hunter and Boen; one great-great grandson, Gus; as well as a host of other family and friends. 
Visitation will be held from 5 to 7 p.m. Friday, Jan. 21, at Hedge-Lewis-Goodwin Funeral Home. Due to the current health crisis, the family requests that masks be worn while visiting the funeral home.
Aug. 6, 1933 – Jan. 11, 2022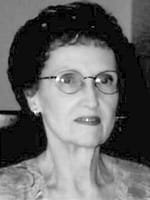 Carolyn Joyce Conner, 88, of Webb City, passed peacefully Monday, Jan. 11, into the arms of her loving Savior.
Joyce and her twin sister, Loyce, were born on Aug. 6, 1933, in Webb City to Guy Ellis Henry and Lelia Opal (Dawson) Henry. Joyce was one of 11 beloved brothers and sisters. She graduated from Mt. Vernon High School in 1951. 
Joyce met the love of her life, Jerry Conner, at Emmanuel Baptist Church in Webb City while he was on leave from the Navy. They were united in marriage just three months later also at Emmanuel, on Jan. 6, 1952.
Joyce had several different jobs in her lifetime, but her main occupation and joy in life was in being a homemaker, mother, and grandmother. She had the gift of hospitality, a passion for cooking, and you never left her house without being well fed.
Joyce leaves behind two daughters, Janet Bradfield (Rod), Oronogo, and Cathy Shipman (Jerry), Diamond; and a son, Craig Conner (Mary), Cedarville, Ill.; three sisters, Loyce, Grace Ann, and Norma; three brothers, Joe, Tom and John; 10 grandchildren; and 13 great-grandchildren. Joyce was preceded in death by her daughter, Suzanne; and her husband, Jerry; and siblings Dick, Bob, Pat, and Wilma. 
Funeral services were held Tuesday at Emmanuel Baptist Church, Webb City. Interment will follow in Ozark Memorial Park Cemetery, Joplin. Memorial contributions may be made to Emmanuel Baptist Church, in care of Clark Funeral Home, PO Box 66, Neosho, MO 64850.
Aug. 20, 1947 – Jan. 16, 2022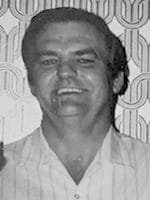 Lavern Kenneth Gorecki, age 74, of Webb City, passed away peacefully Sunday. Lavern was born to John and Helen (Bolanowski) Gorecki on Aug. 20, 1947, in Saginaw, Mich. 
Lavern married the love of his life Ruth (Snell) Gorecki on June 6, 1980, in Las Vegas, Nevada. 
Lavern was a painter and locksmith for over 30 years. He lived most of his life in California but moved to the Oklahoma and Missouri area to be closer to his mother and sister. He liked fishing, camping, playing the drums, and played in a polka bank with his brothers when they were younger and called themselves The Entertainers. He was a member of the First Christian Church of Miami, Oklahoma. 
Lavern was preceded in death by both of his parents, John and Helen Gorecki, brothers; Herb Gorecki and Ron Gorecki, and sister Evelyn Hollis. 
He is survived by his loving wife, Ruth Gorecki; his three children, Nancy Anderson Gorecki, Amy June Batten, and Charles Kenneth Gorecki; grandchildren, Thomas Meadows, Joey Cochran, Alexander Kenneth Gorecki, Riley Batten; his brother, John Gorecki and wife Judy, Moonpark, Calif.; and he has several family members alive in Michigan, California and Oklahoma. 
A memorial service will be held at 11 a.m. Friday, Jan. 21, at First Christian Church in Miami, Okla. Arrangements are under the direction of Mason-Woodard Mortuary.
Robert Guenzel, 61, of Oronogo, passed away Thursday, Jan. He was a senior master technician for Pittsburg Ford.
He is survived by his mother, Lucille Smith; brothers, David, Martin, Steven and Dustin; sisters, Mary Kay (Timothy) and Beverly; daughter, Alaya (Mo) Kitch; son, Lane (Leann) Guenzel; grandsons, Kenneth, Robert, Oliver, Tucker and Sawyer; and many nieces, nephews and good friends. He is preceded in death by his father, George Guenzel.
A celebration of life will be at a later date. Arrangements are under the direction of Ozark Memorial Park Crematory, Joplin.
Aug. 13, 1982 – Jan. 13, 2022
Jacob Daniel "Jake" Halvorsen passed away at his home in Alba on Thursday. Jacob was born in Joplin on Aug. 13, 1982, to Frank and Charity "Domich" Halvorsen. Both of Jacobs parents survive. 
Jacob was married to Jennifer Anne Davie, and she survives. He attended Webb City schools. He worked at Japanese Steak House in Joplin as a hibachi chef for several years. Jacob was of Christian faith. 
Along with Jacob's parents and his wife, he is survived by a son, Chandler Brown-Halvorsen, Joplin; a brother, Frankie Halvorsen, Webb City; a sister, Mercy Stevens, Alba; two nephews, Mason Halvorsen and Dillon Smith; and a niece, Kalli Maggard. 
Funeral Services for Jacob were held Tuesday at Alba Christian Church. Arrangements were under the direction of Ulmer Funeral Home.
Aug. 18, 1926 – Jan. 16, 2022
Kathryn King McCoy, age 95, was reunited with her spouse, Charles Ray McCoy, on Sunday, after a quarter century of holding his wedding band closely. The final well-spent moments of Kathryn's life took place in her daughter's home, surrounded by family and laughter.
Kathryn was born to Clarence Owen and Sue May King on Aug. 18, 1926, in Galena, Mo., where she grew up with her two siblings. At the age of 15, Kathryn married her childhood and forever sweetheart on May 31, 1942. Charles Ray was shortly drafted into Word War II but soon returned home to his "Katy" and their first of five children. Together, they built a family life and legacy dedicated to the Lord.
Kathryn was preceded in death by her husband in July of 1996, after celebrating 54 years of marriage. She was also preceded in death by her brother, Robert King; a grandson, Micah Ansley; and a great-granddaughter, Abby Hulderman. 
Kathryn leaves behind her sister, Betty Jean Burrow, Lee's Summit; and five children and spouses, Roger and Marti McCoy, Joplin, Marsha and Ken Ansley, Webb City, Marilyn and Paul Smith, Joplin, Patty and Terry Ogden, Carthage, and Curt and Patti McCoy, Joplin; 11 grandchildren; 30 great-grandchildren; and one great-great-grandchild.
Kathryn was a faithful friend of God. She was a lifelong member of College Heights Christian Church, was active in Prime Timers and Cheerleader ministry. She was a dedicated prayer warrior for her family and friends, praying for them by name daily. Kathryn was a wonderful homemaker and was generous with all she had. She had a surprising ability to light up a room with laughter and her joy was her family.
Proverbs 31: 28-29 – "Her Children rise and call her blessed. Her Husband also and he praises her. Many women do noble things, but you surpass them all." 
Funeral services will be held at 11 a.m. Thursday Jan. 20, at Mason-Woodard Mortuary, with Rick Bushnell officiating. Burial will be in Mt. Hope Cemetery. Kathryn's namesake and great-granddaughter, Kathryn Stratton, had the honor of capturing the spirit and life of Kathryn King McCoy in writing this obituary. Memorial contributions may be made to God's Resort, in care of the mortuary.
March 1, 1944 – Jan. 11, 2022
Sandra Kay Morris, 77, of Webb City, went to be with her Lord and Savior Jesus Christ in her heavenly home on Tuesday, Jan. 11, at Mercy Hospital Joplin. Kay was born on March 1, 1944, in Pittsburg, Kan., the daughter of Hester Louise and Harold B. Cooper. She grew up in Lamar with her older brother, Harold Richard Cooper. 
Kay married Michael Payton Morris on Oct. 25, 1964, in Lamar. She and Mike lived in El Centro, Calif., and Oklahoma City, Okla., while Mike served in the U.S. Air Force. After Mike's honorable discharge from the service, they moved to Independence, Mo., to raise their family. After 13 years, Mike and Kay moved their family to Webb City, where they have lived 42 years. 
Over the years, Kay served her family through her homemaking. She greatly loved her children, grandchildren and great-grandchildren. She made a lovely home, entertaining her family on birthdays and holidays. Cooking was one of her many talents, and she always made her family's favorites. Kay also served the Lord by working alongside her husband to host Bible studies, their backyard Bible school in the summers, and encouraging her many friends and family. She has served as a Sunday school teacher, children's church leader, church visitors' contact and, later, organizing activities for older adults in her church, currently at Servant's Church in Webb City. She served as a volunteer at Carterville Elementary School, earning the volunteer of the year for the Webb City School District. She made copies, served as room mother, and was a grandparent for students who didn't have one on Grandparents' Day. 
Kay is survived by her husband, Mike Morris, Webb City; her daughter, Kris Williams and her husband, Rocky Williams; her son, Steve Morris and his wife, Sherri Morris; her granddaughter Shayla Clark and her husband Cameron Clark; her granddaughter Kassie Johnson and her husband Matt Johnson; her great-grandchildren, Laura, Carter, Brinkly, and Brixton. 
Funeral services were held Monday, at Hedge-Lewis-Goodwin Funeral Home. Interment was in Mount Hope Cemetery. Arrangements were under the direction of Hedge-Lewis-Goodwin Funeral Home.
June 8, 1928 – Jan. 15, 2022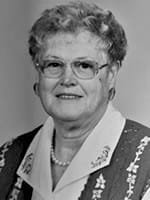 Edith Pearl (Moore) Seward was at home and surrounded by her loving, caring family when she passed to be with the Lord, on Saturday. She was born June 8, 1928, the youngest of 10 children of William R. Moore and Nettie (Pennington) Moore. She graduated from Mt Vernon High School in 1946.
Edith married (Loyd) Rex Seward on June 26, 1946, in Columbus Kan. They owned and operated Rex Transfer and Storage, agents for North American Van Lines in both Webb City and Carthage. They worked side by side until they retired in 1991. Edith and Rex were married for 65 years until his death on April 18, 2011.
Edith was a hard worker. In addition to raising her five children, she managed the family business. When she and Rex retired, they joined the Good Mobile Miners Travel Club and enjoyed traveling to various state parks to camp. Edith had been in every state of USA and even traveled to Alaska by land.
Edith's faith was very important to her, and she loved the Lord and served at Forest Park Baptist Church. She was very active with the Woman's Missionary Union by organizing the children's room for donations. She was known by encouraging others through her singing and had opportunities to perform on many occasions.
She leaves behind a son, Jerry Seward, and a daughter, Linda Corner, both of Webb City; two daughters-in-law, Debby Mitchell, Joplin, and Marina Seward, Oronogo; 11 grandchildren, Ramona Spruce, Aurora, Michael Woods, Carthage, Chad (Dana) Perry, Webb City, Kari Ann (Stephen) Kostlan, Palm Desert, Calif., Paul (Sara) Perry, Corinth, Texas, Robert (Laci) Seward, St Louis, Shelley (Danny) Ward, Cherryville, Kan., Bridgette (Andrew) McReynolds, Carl Junction, Amanda (Brandon) Morris, Joplin, Hannah (Zach) Palmer, Joplin, Amy Ogden, Oronogo; 26 great-grandchildren; and four great-great grandchildren.
Edith was preceded in death by her spouse; two sons, Ronald R Seward, and David W Seward; a daughter, Carolyn Woods; a grandson, Kevin A. Woods Sr; and all of her siblings and their spouses.
A visitation, under the direction of the Fossett-Mosher Funeral Home in Mt. Vernon, will be held at 10 a.m. Friday, Jan. 21, at the Forest Park Baptist Chapel in Joplin, with a funeral service to follow at 11 a.m. at the church. Burial will immediately follow at the Mt. Vernon IOOF Cemetery.
Memorial donations may be made payable to William's Cemetery in Mt. Vernon, in care of the funeral home.
July 4, 1933 – Jan. 18, 2022
Gladys M. Tuggle, age 88, of Columbus, Kan., formerly of Webb City, passed away on Tuesday in Columbus. She was born on July 4, 1933, to Orlando William McKnight and Juanita (Butler) McKnight in Carterville.
Gladys worked at Webb City Junior High School as a cook for 29 years until her retirement in 1995.  She had lived in Webb City all except the last five years of her life, which she spent in Columbus. She was a member of Emmanuel Baptist Church in Webb City.
Gladys married Donald Hugh Tuggle on Dec. 14, 1951, and he preceded her in death in 2005. She was also preceded in death by a daughter, Lisa Tuggle, in 2016; her mother, Juanita McKnight in 1999; and her father, Orlando McKnight in 1987.
Gladys is survived by her children, Michael Tuggle and wife Kirstin, and Debra Pryor and husband Tom; her sister and best friend Bea Dininger; and her brother William Glen McKnight; a niece, Vicki Coots (Jim); six grandchildren; 11 stepgrandchildren; and eight great-grandchildren.
A visitation will be held from 9 to 10 a.m. Monday, Jan. 24, at Emmanuel Baptist Church, followed by the funeral service and then burial in Mount Hope Cemetery. Services are under the direction of Simpson Funeral Home.