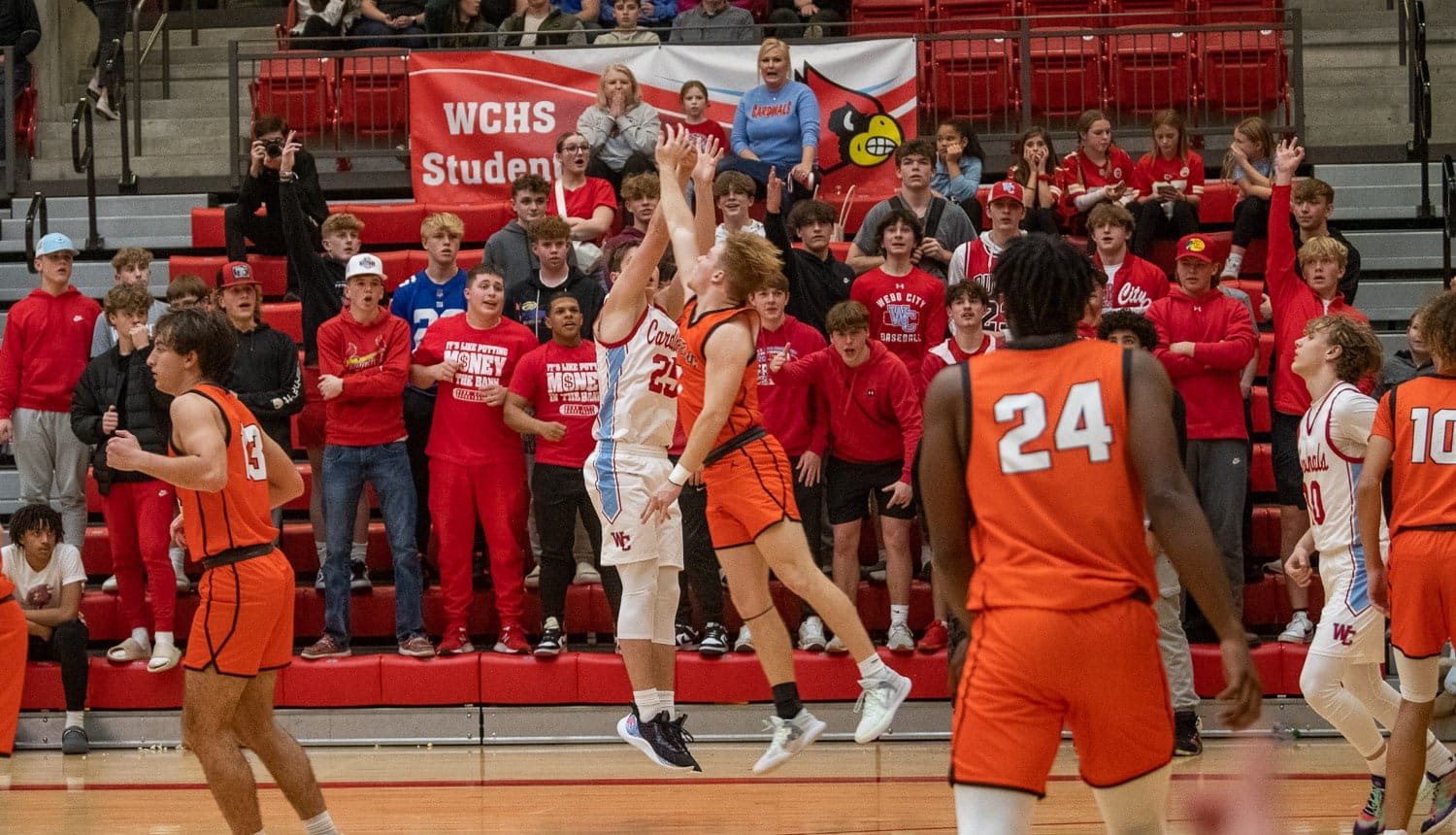 The student section wills Barron Duda's 3-pointer to the basket during the homecoming game Friday against Republic.
One week left in regular season
After a road trip to Nixa Thursday, the Webb City boys basketball team will cap the regular season with two home games next week.
First will be the final Central Ozark Conference game vs. Carl Junction on Tuesday. Last will be a makeup game with Hillcrest on Thursday.
The Cardinals (15-8, 2-5) are in need of a win after back-to-back losses – 63-50 vs. Republic for homecoming and 81-64 Tuesday at Joplin.
Barron Duda led the Cardinals against Republic with 14 points, while Alex Martin scored 12.
Holton Keith scored 23 at Joplin, and Duda had 10.
This Friday's assignment is at Nixa, where the Class 6 Eagles are so far unbeaten, 22-0.
Carl Junction is 8-16.
Seeding for the Class 5 District 7 tournament hadn't been posted as of Wednesday night. It will be at Belton.
District preview Monday when CJ visits the Dome
The Webb City girls are seeded second behind Carl Junction in the upcoming Class 5 District 7 tournament at Belton.
On Monday, they'll go head-to-head in the Cardinal Dome. Carl Junction is 23-1 on the season.
Webb City improved to 15-8 Monday with a 54-19 win at Joplin. Sami Mancini scored a game-high 15 points and grabbed 13 rebounds. Malorie Stanley added 13 points.
The Cardinals will open district play at 5 p.m. Thursday, March 2, vs. seventh seeded Belton.