Ready for winter and the holidays
We'll be open with special markets before Thanksgiving and Christmas
Guess what folks?! The ground crew of Webb City's Parks & Recreation has done it again. Every Autumn, when the weather turns cold they dedicate two days to hanging sides and installing doors on the Market Pavilion in King Jack Park. It takes five men and a tractor to steady the walls that must weigh a ton altogether. Thank you Parks Department, the community here is buttoned up and ready for winter.
We have more news about the special opening happening on Wednesday, Nov. 24th, the day before Thanksgiving. The Thanksgiving Market means you can provide the freshest feast table for your friends and family. You can pre-order the baked goods you need with Sunflower Bakery, (417) 884-2000. They have dinner rolls, pie, cookies, cinnamon rolls, and mouthwatering bread selections. The good thing about pre-ordering is you'll get exactly what you want when you come to pick up your other produce and meats at our Thanksgiving Market.
This Saturday, our Christkindlemarket vendors have hand-painted wooden carvings available for Thanksgiving or Christmas themes. 
Robin's Hood takes the market stage for the second time. This talented group brings a folk twist to some good oldies. They'll play from 9 to 11 a.m., so come pull up some benches and stay awhile.
Songbird's Kitchen and Mo'Mushrooms offer hot food. Juniper Coffee will have your coffee and Cascara Tea drinks ready. To accent the flavors of fall, Juniper Coffee jumped in the kitchen to create a market vendor mash-up they're calling it Smoked Pumpkin Spice Syrup. DnD Smoked worked on the cinnamon, and Austin stirred up the syrup. This syrup will be available for a limited time as an add-in to any of their hot drinks.
To quench the curiosity of folks wondering when they can shop at our market during the holiday season, we'll provide a complete calendar of open times. We are dedicated to the availability of locally grown foods and hope you will continue to shop local with our farms and artisan food vendors all winter long. See you Saturday!
UPCOMING MARKETS
Saturday, Nov. 20, 9 – noon
Wednesday, Nov. 24, Thanksgiving Market open 10 – 2 p.m.
Saturday, Nov. 27, 9 – noon
Saturday, Dec. 4, 9 – noon
Saturday, Dec. 11, 9 – noon
Saturday, Dec. 18, 9 – noon
Friday, Dec. 24, Christmas Eve Market open 10 – 2 p.m.
Saturday, Dec. 25, Closed for Christmas
Saturday, Jan. 1, 9 – noon
POLAR BEAR EXPRESS: BOOK VERSION
Saturday, Dec. 4, 9 – 11:40 a.m.
Saturday, Dec. 11, 9 – 11:40 a.m.
Saturday, Dec. 18, 9 – 11:40 a.m.
Rides are free and start every 20 minutes from the historic trolley station west of the pavilion.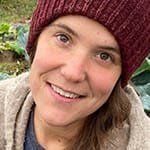 Rachael Lynch
Rachael Lynch is the manager of the Webb City Farmers Market.  For more current updates, visit the market's Facebook page.