Dante Washington pulls in a touchdown pass Friday against Ozark at Cardinal Stadium.
Regular season ends Friday as Cardinals seek to keep secure second seed in districts

Not quite a touchdown for Dupree Jackson, but he ran it in on the next play.
Dupree Jackson clutches the ball with his good hand as he crosses into the end zone.
Cade Wilson scores the first touchdown of the game.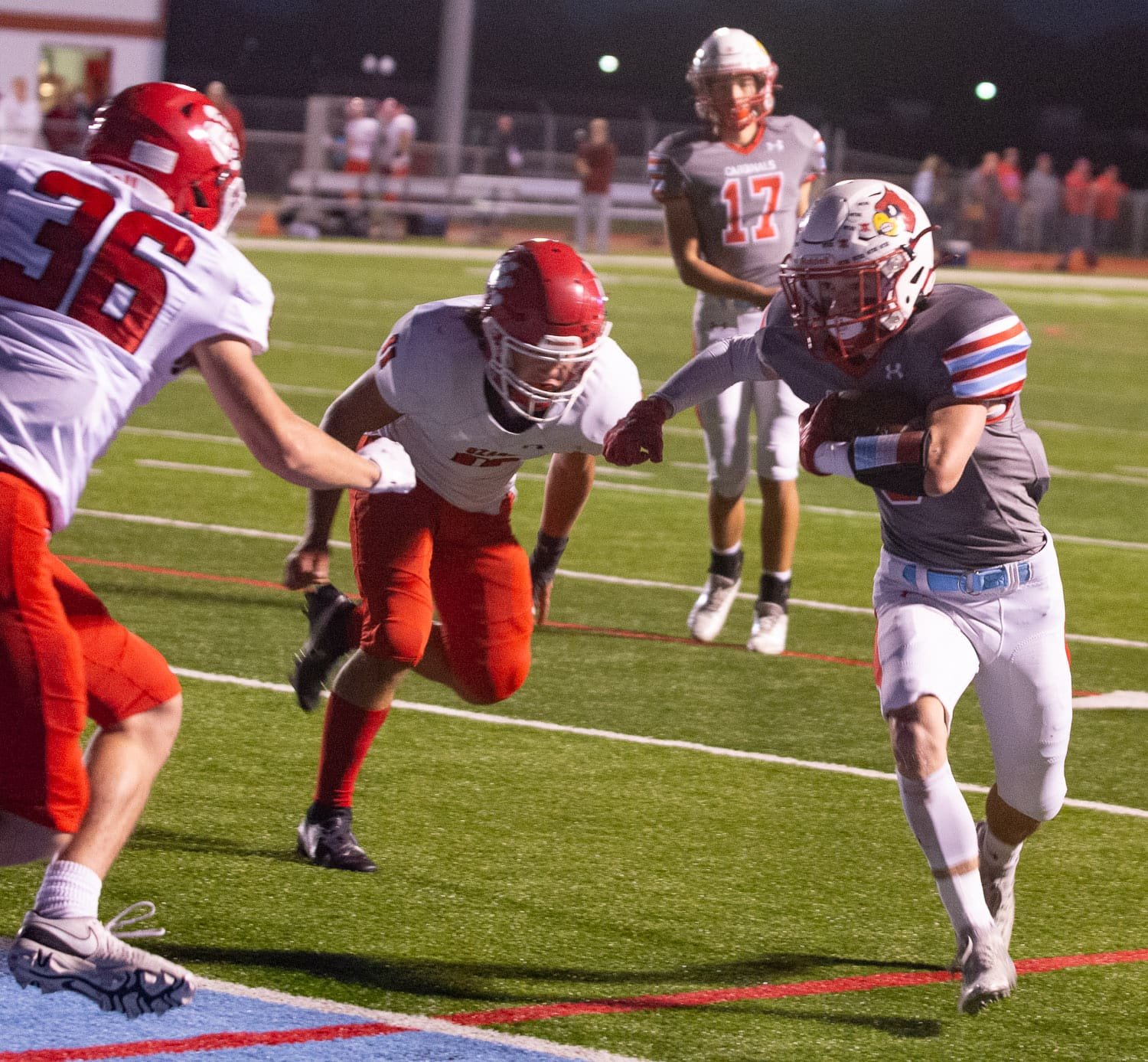 Webb City hopes to close out it regular season Friday with a win at Willard to secure its second seed in the Class 5 District 6 tournament.
The Willard Tigers are 0-8 after giving the Neosho Wildcats their first win last week.
The Cardinals improved to 5-3 last week with a 63-48 win over Ozark ( on senior night at Cardinal Stadium.
Cade Wilson ran for a 65-yard touchdown on the first play from scrimmage and scored two more touchdowns (3- and 57-yard runs) in the first quarter, giving Webb City a 19-0 lead.
Dupree Jackson ran for 46-yard touchdown following an Ozark touchdown. And then the Tigers scored two more touchdowns to cut Webb City's lead to 4 (25-21).
Wilson closed out the half with a 14-yard touchdown (33-21).
Ozark and Webb City alternated in scoring two touchdowns apiece in the third quarter. Landon Johnson connected with Jonah Spieker for a 20-yard pass touchdown, and Jackson ran in from 1 yard out.
Ozark drew within one possession again (49-42) with a touchdown to start the fourth quarter.
Another Jackson running touchdown and Johnson passing touchdown (39 yards to Dante Washington) ended Webb City's scoring for the night.
Ozark had one more passing touchdown before the game ended 63-48.
The two teams' total offense numbers were practically the same, but Webb City averaged 12.3 yards on 44 plays while Ozark averaged 7.6 yards on 70 plays. 
Wilson ran for 202 yards (14.4 average), and Jackson added 138 yards (10.6 average).
Johnson completed 6 of 8 passes for 142 yards and two interceptions.
Washington averaged 50.7 yards on three kickoff returns for a total 152 yards.
Cooper Crouch led the defense with 15 tackles (11 solo) and 2.5 sacks.
Thanks to Mike Miller for the stats:
Gavin Stowell tackles for an Ozark loss of yardage.