Ancestors, Legends & Time
Let's visit a neighboring community with some "Remember Whens." Let's visit Purcell – one third of Tri City (Alba, Neck City, Purcell) History.
Florence Helen Elliott recalled when Purcell would have a torch-light parade around Purcell Square. Candidates who were campaigning would carry torches and sing as they marched. Sounds kind of neat!
Bea Robinson said that when the streetcars were active she would put her ear to the track to listen for an approaching streetcar. When she heard one coming, she would lay two straight pins on the tracks in hopes that the streetcar weight would smash them into a pair of little scissors.
Ruth Williams recalled the fun and memories of a movie theater, skating and a dance hall in the quiet town of Purcell.
Mary Thetge remembered when there were more than 5,000 people living in Purcell and 15,000 in Alba. She said the windows from the old city hall, that bullet holes in them, were installed in her house.
Here are some wonderful memories by Betty Jane Sallee Baker; "When my father, Clifford Sallee operated the John Ross Grocery of Purcell, he would cull the fruits and vegetables. Anything with bad spots was for our family use. I loved oranges, so one day, during business hours, I entered the store with customers and said, 'Papa can I have a rotten orange?' He was so embarrassed as he was such a proud man.
"When he operated the Anderson Mercantile Store in West Purcell, my sister Eva Worthy lived next door. Her clock wasn't running, so she would send Jack (her son) over to the store to get the time. He would say, 'Grandpa, Mama wants to know what time it is with a chocolate on top.'
"I also remember when he had his own store in West Purcell. Only a few people had telephones then, so each morning, he would take his Model T Ford and drive around town to take orders, then go back to the store to fill them and back to make deliveries." What wonderful service.
Here is a memory of Bea Hubbard Robinson that sounds a little dangerous. Harold and Herbert fixed a buggy that fit on the streetcar tracks. The girls would climb in the front seat, and after giving the buggy a shove, the boys would jump into the back seat and away they would go, down across Spring River Bridge. Then everyone would get out and push the buggy back up the hill for the next ride.
Bea also recalled the old-time medicine shows on the Purcell Square. Later, the merchants would sponsor a free movie outside on the square. Bea said it was like having a drive in theater.
Elma Teague Greever was 95 years of age in 1983 when she made a very profound statement: "… it seems people were more happy in them days (early 1900s) than now, and it certainly took less to make them happy and there was by far more family life."
More memories of Helen Elliott: "Do you remember when the old street car that ran from Webb City to Alba stopped at the platform just east of the Spring River bridge, where church and school socials were held on the pretty grassy slopes and swimming was good? These grassy areas along the river were the nearest things we had to a park.
"Remember the old mill; the old dam and the boat rides; the tent meetings on the square in Purcell and the baptizing in Spring River; Sunday hikes and buggy rides; the kids that climbed the tailing piles and slid down in the old scoop shovels; excitement when the train came in; when they brought the dancing bear to Purcell and had to lock him in the jail overnight; the old organ grinder and his monkey; Jim West who held hot air balloon ascensions on Sundays; the old Walker restaurant on the north side of the square in Purcell, where you could get a bowl of soup or chili, piece of pie or cake and a soda for 25 cents; you could hear the wildcats and coyotes howling in the river bottoms. Making cold chills run up your spine."
A special thanks to the Tri-City Historical Society for compiling such wonderful memories in their two volumes, printed in 1982 and 1984.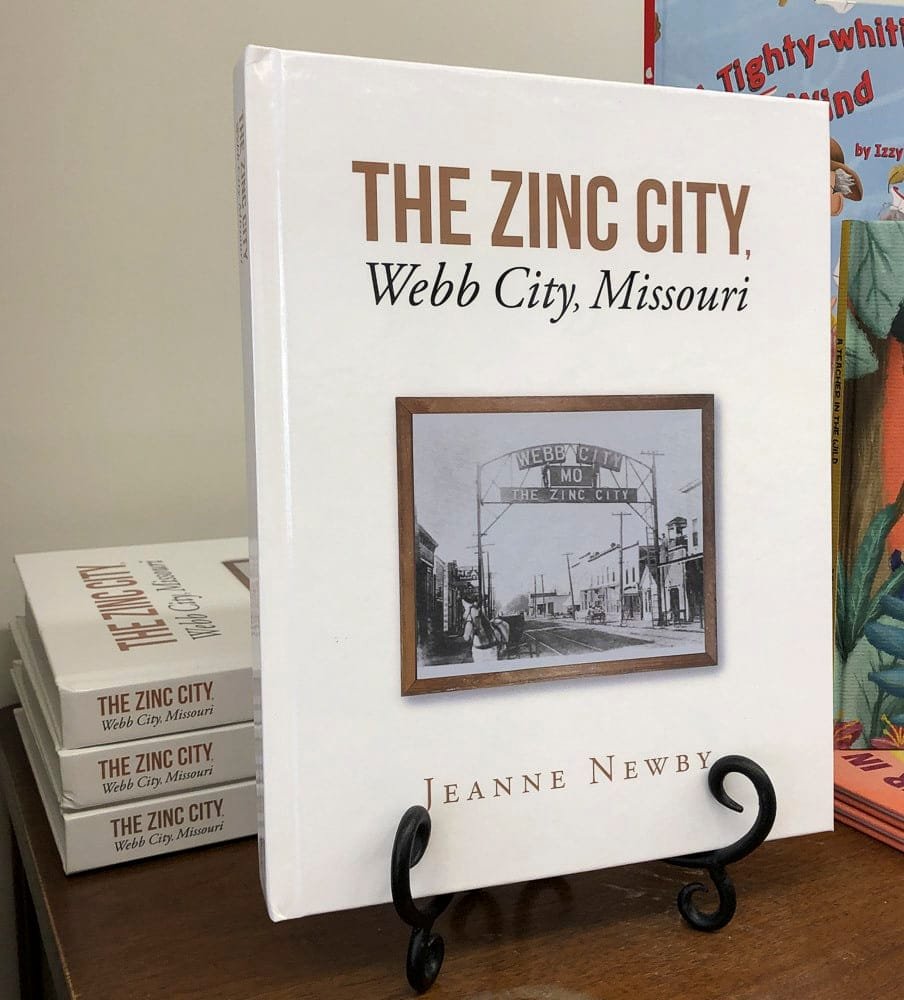 Jeanne's new book, "The Zinc City, Webb City, Missouri" is now available at Webb City Chamber office and other local retailers, such at Maggie Jane's Gifts, at 8 S. Main St.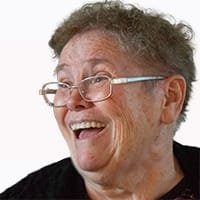 Jeanne Newby
A lot of us appreciate the Bradbury Bishop Fountain, but Jeanne actually worked behind the counter making sodas while she was in high school. She knows everything about Webb City and is a member of the Webb City R-7 School Board.