Snow and record low temperatures bring electrical and water shortages
Free water is being handed out to Carterville residents while the city waits for its only well to be repaired
Cities and residents alike are dealing with the effects of unusually low temperatures and a high amount of snow.
In addition to clearing snow from the streets, Webb City public works employees have been repairing broken water mains.
The biggest challenge, though, is providing water to neighboring Carterville.
Carterville officials notified residents on Facebook Monday that they were aware of a lack of water pressure.
At 8 p.m. Monday, Carterville opened its side of the water connection between Webb City and Carterville. But two hours later, a 6-inch water main broke at Main and Pine streets.
It turned out that the city's well needs to be repaired.
On Wednesday morning, volunteers were handing out cases of water in Carterville. Shane Burns was credited with buying the water at Atwoods. 
More water will be handed out Thursday morning at the Carterville (Gym) Community Building.
Also, Henkle's Ace Hardware was offering to fill containers brought to the store in Webb City by Carterville residents. Chris Henkle is a member of the Carterville City Council.
There was a tip online to fill bathtubs with snow so when it melted there would be water to flush toilets.
There was trouble with the flow through the connection between the two water systems so a Webb City fire engine was used Tuesday night to pump water from Webb City to Carterville. The connection is now at full flow.
"We're shoving water to Carterville as fast as we can," says Webb City City Administrator Carl Francis says.
At the same time, Francis says helping Carterville is putting a strain on Webb City's system. The situation has to be monitored so the high usage doesn't "suck the system down to dangerous levels."
With the connection opened fully and no further main breaks, Francis says Webb City's wells should be able to fill the towers in both cities overnight Wednesday.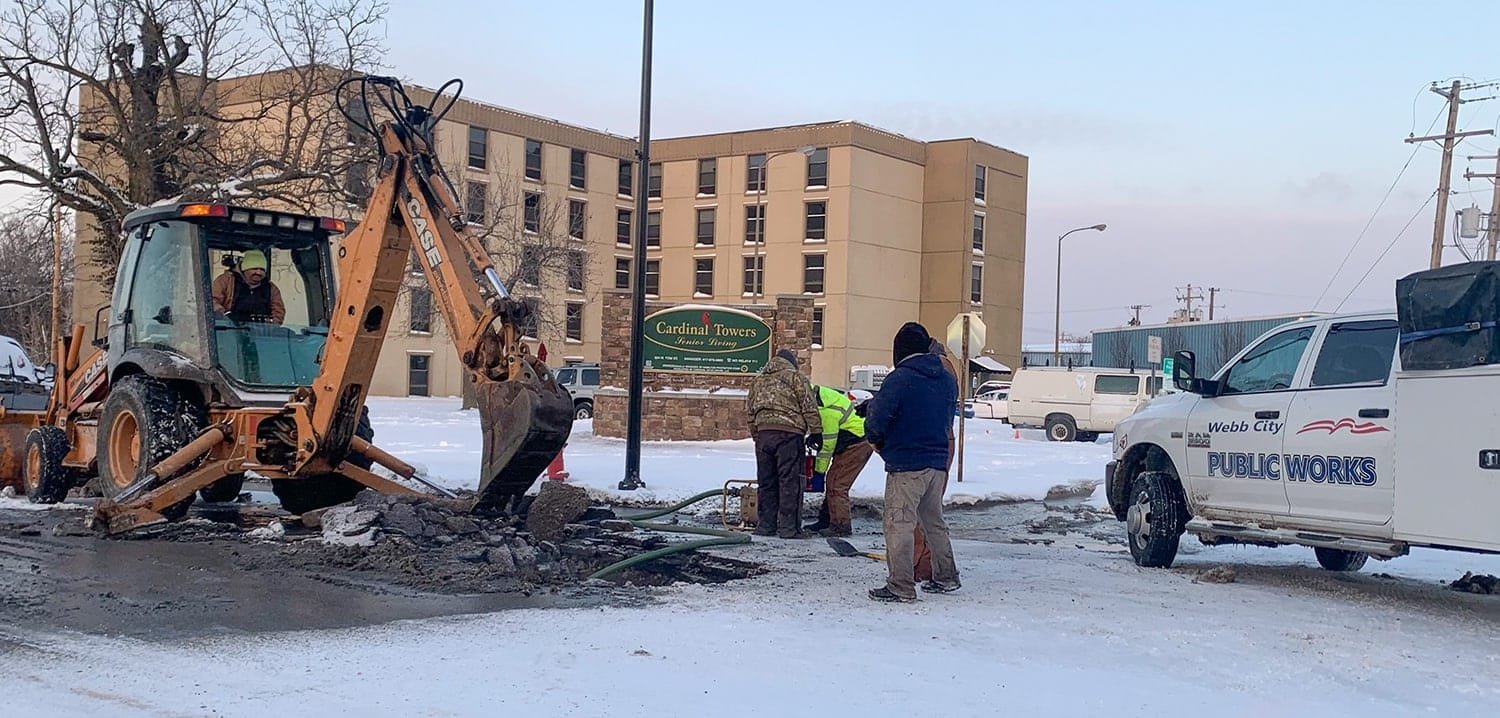 Public works employees fix a broken water main on Main Street at Austin Street. (CITY PHOTO)
Rolling blackouts
Electricity in certain sections of the area was intentionally blacked out by Liberty Utilities Monday night and Tuesday morning under order of the Southwest Power Pool. The hour-plus rolling blackouts, which were implemented throughout the Midwest, were deemed necessary to keep usage from exceeding the peak.
As of 11 a.m. Tuesday, Liberty reported 10,771 customers without power – not as a result of the rolling blackouts. A record low of -15° was recorded Tuesday morning at the Joplin Regional Airport. As the temperature rose, Liberty received word that it could halt the rolling blackouts.
However, Liberty advised Wednesday morning that the Southwest Power Pool, the regional power grid continued to be strained due to prolonged cold temperatures, record-breaking demand, and fuel supply issues.
COVID second vaccinations postponed
The National Guard was to have returned to give second doses of the COVID-19 vaccine, but that will have to be rescheduled.
In fact, all state offices were closed for a time this week.
School cancelations use up forgivable snow days
So much for getting Good Friday off. Under a normal year, six snow days that didn't need to be made up would have been enough to guarantee that Good Friday, April 2, wouldn't have to be used as a snow makeup day.
But this year's certainly not normal.
The six forgivable snow days were allowed by the state as AMI (alternate method of instruction) days.
As the district announced school will be closed again Thursday because of the weather, it noted that its six AMI days had been used up and Good Friday will be a school day.