PARKVIEW TOURNAMENT CHAMPS. (JENN BRISCO PHOTOS)
Cardinals dominate at Parkview soccer tournament
There will be two chances to watch the 6-1 team at home next week
by Jenn Brisco
Webb City boys soccer tacked on another win Tuesday to kick the team's record to 6-1. The Cardinals scored 7 at Carl Junction while keeping the Bulldogs away from the end zone.
They Cardinals were there to play last weekend when they won the Parkview tournament in Springfield.
The first game was Friday against Parkview, which Webb City won 2-1. Goals were scored by senior Tristan Barroeta and an "own goal" from a corner kick.
On Saturday, Webb City dominated the field against Aurora with excellent passing. Several attempts made at goal fell short. Sophomore Jadon Brisco managed to head butt one in from a corner kick and from there the Cardinals couldn't be stopped. SBarroeta and junior Alex Flores went on to score two each, as well as sophomore Josh White scoring one. Webb City Cardinals win 6-0.
Last up was opponent Willard. Webb City beat Willard in the first game of the regular season by only 1 after two overtime's and penalty kicks. Despite the high temperatures on Saturday, Webb City started the game by scoring their first three goals in a matter of minutes, putting a lead against Willard that they never recovered from. Barroeta and Flores scored two each while senior Gabriel Gallegos scored one as well as he corner kicked that became an "own goal." Webb City Cardinals wound up with another 6-0 win.
Junior goal keeper Connor Black along with defenders senior Hasten Hardy, junior Nate Woolverton and sophomores Trevor Peterson and Brisco kept the Tigers out of scoring distance against the opponents. Midfielders junior Felipe Perez, sophomore Luis Gallardo and freshman Daniel Aguilar kept the ball moving, setting fellow teammates up for several shots in the tournament. The speed of sophomores Josh White and Joe Wermuth was hard to defend and kept the ball moving up the field. Freshman Kaulden Hood showed good ball control and smart passes.
After going to Logan-Rogersville Thursday, the Cardinals will be home Tuesday against Neosho and Thursday for senior night against College Heights.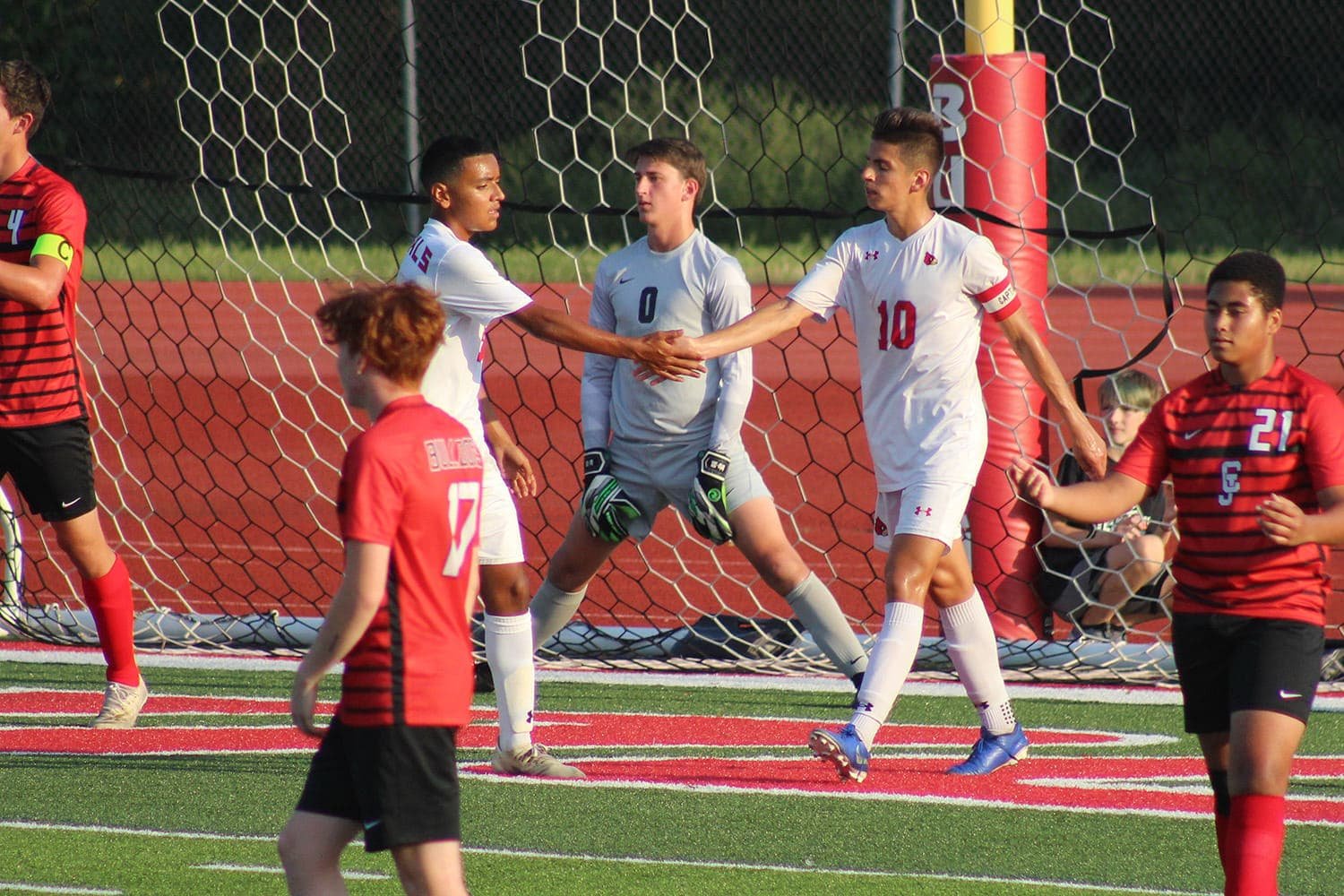 Luis Gallardo congratulates Tristan Barroeta after he scored a goal.