Something special at every market
Dave's Honey Thursday, Native Plants and Clickety-Clack Saturday, Eat Street and mariachi band Tuesday
Rarely does a week go by that I don't have good news to share with you and this week is no different. In fact, we have something special at each market this week.
We have a Thursday honey farmer! Helm Family Farm has for several years sold their honey at every market but this year decided to give up the Thursday market. It is our goal, of course, to have a good selection at every market throughout the week, so our manager reviewed her applications and has found honey for Thursday. 
THURSDAY MARKET
Starting tomorrow, Daveys Bees 100% Pure Raw Honey from Greenbush Honey Farms will be at the market. Dave Giefer and his family have a long time commitment to conservation and have preserved a Kansas prairie where half of their hives are located. The other half are on their farm near Girard, Kan. They use only organic treatments to control bee parasites and diseases. Their motto is "From our hive to your home" so come on over between 11 and 2 and see if Davey's honey is right for your home.
And while we're on the topic of bees, Bee Hunter will also be at the market tomorrow. It may sound from the name that they sell honey, too, but no! They make and sell innovative jellies and marmalades. The name comes from the bees they keep on their farm. Their honey is used as an ingredient. Bee Hunter sells only at the weekday markets.
Other vendors expected Thursday include Braker Berry Farm, Nature Valley, The Lee Family Farm, all with produce and plants, and Stormy Farms with all natural chicken, pork, and farm fresh eggs.
Pupusaria Jandres will have cooked-to-order pupusas with a variety of fillings tomorrow. Max Barnett will be on the market stage. MU Extension nutritionists will demonstrate mashed turnip and sweet potato.
SATURDAY MARKET
Now for more good news – this time at the Saturday market. Clickety Clack – We're Reading Down the Track is back! The streetcar will pull out of the depot just west of the market about every 20 minutes, starting at 9 a.m., with the last run leaving at about 11:40 am. The book for Saturday is "The Little Red Caboose." Ann Foos will read from 9 to a little after 10, when Steve McCrary takes over. This is the first Clickety Clack in over a year and we are all so ready for it. The ride, which is organized by the market and operated by the Southwest Missouri Railroad Association and the Friends of the Webb City Library, is free.
The Kids Gardening Club is planting sunflowers on Saturday.
The Free Kids Meal pack is:
– Breakfast: Peanut butter cream of wheat, a banana, and milk.
– Lunch: Hamburger ziti 'n' cheese, broccoli, fruit salad, and milk.
The meal pack of breakfast and lunch is free to anyone aged 1 through 18. Adults can pick up meals for their kids by showing a photo of themselves with their children (or grandchildren or neighbor children, etc). The meals are served in the big tent north of the pavilion from 9 to 11. The meals are packed to go, but kids are welcome to eat under the tent.
Cooking for a Cause this Saturday benefits the Ronald McDonald House. I expect you know what they do but just in case, the house is located in Joplin and provides a home for out-of-town parents while their child is in the hospital. When our youngest, Emily, was dismissed from Children's Hospital as a 6-day-old newborn we were offered a stay at the Ronald McDonald House if we were concerned about returning to Webb City and being so far from the hospital. The doctors (she had two or three) assured us she was fine, so we headed home, but we appreciated the offer.
Another incredibly generous experience during that trying time happened when we checked out of the Crown Center Hotel, where we and my father had rooms. The bill will much lower than I expected. "Didn't you have a child at the hospital?" We hadn't told them, but they had noticed. "We charge half price for anyone with a child in the hospital."
Even at half price, long stays can be financially disastrous for families and to have a warm, welcoming home with staff and volunteers to provide support is a bright spot in a scary time. The market is happy to partner with Ronald McDonald House in their important mission. Breakfast is served from 8:30 to 11.
Randy & Phil are on the market stage Saturday.
We have a special guest vendor this Saturday. Smiling Sun Gardens specializes in plants native to Missouri. Native plants, which are typically perennial, are suited to our environment, the soils, the weather, and the rainfall – or lack of it. Our regular vendor, E & O, offers a native plant as well, Echinacea, commonly known as Cornflower, so be sure to check his out while you're doing your native plant shopping.
TUESDAY MARKET
Tuesday is our first Eat Street of the year, and looks to be the best we've ever had. In addition, to the regular market offerings, we will host the following food trucks: Ghetto Taco – award winning street tacos and Mexican corn; Culver Creek – delicious barbecue; Flounders – fish & chips and more; Songbird's Kitchen – Asian specialties; and Hershey's Mobile Ice Cream Parlor – sundaes, shakes, root beer floats, banana splits and more.
The food will be great, and the music will be fantástico. Joya Azteca Mariachi, of Northwest Arkansas, will play from 4:30 to 7:30 p.m. Webb City's very own Latino Dancers of Pinocchio School of Dance will perform at 6 p.m. Special thanks to the Missouri Humanities Council for underwriting this celebration of Latino heritage.
The regular market season is in full swing and getting better every week. Next Thursday and Friday the market holds the Missouri Tomato School online and in person at the Mt. Vernon Research Center. For details, go to webbcityfarmersmarket.com.
Starting June 3, the Webb City Public Library will present Tails & Tales, an outdoor story time with picture books, rhymes, songs, and a craft every Thursday from 1 to 2 pm through July at the market. This will be a fun time for children, pre-school through early elementary, and their families. Enjoy the free kids meal before the program and bring a blanket to spread on the lawn or sit at one of the market's picnic tables for the program.
See you at the market!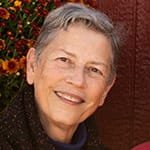 Eileen Nichols founded the Webb City Farmers Market in 2000. From a handful of producers, the market has grown to become nationally recognized.