Who else stood outside Wednesday during the afternoon's mist? I did for a brief minute when I headed to my car after work. I had spent my morning in the market's windowless commercial kitchen so I was surprised to step out into a brisk breeze filled with microscopic raindrops. But the bigger surprise came when I realized it wasn't bone-chilling and miserable. People! We are so close to the warm part of spring!
I'm not saying Wednesday was pleasant picnic weather, but the tilt towards the sun can be felt and is so welcome. There was a smile on my face as I stole a glance at a patch of brazenly blooming dandelions. They come up every spring within the border of where the meal tent sits half the year. 
You see, between concentrated foot traffic and poor sun exposure, that area is pretty void of vegetation, plus rather packed down. Only the strongest can break through after countless stampedes. 
Just like the dandelions, the Webb City Farmers Market is strong entering 2022.
Folks in my profession start gearing up and pulling on our boots when the wind changes. As the wind changes, the sides come off the pavilion and more of our farms return. 
Lee Family Vegetables has started selling again, and last Saturday we greeted Nature Valley Farm for the first time in 2022. 
But don't worry about being cold the next couple of weeks because sides on the pavilion will keep us out of the wind until April 16. 
The year is starting off so very similar to ones before. Similar in the way we will be bringing together the area's most concentrated group of farming friends offering produce, products, and home necessities. 
Area charity groups will take turns raising money for their causes by cooking breakfast every Saturday. 
In 2022, the market will continue to serve free kids meals, but now they'll be 70% locally sourced. Mabel will be back with breads and made-from-scratch biscuits and sausage gravy. 
The difference from previous years for her is that she will carry on baking and farming with her new husband, Daniel, not her family from Harmony Hill Farm. 
You see folks, our market theme this year is GROW, and growth is similar and different at the same time. Our year is set to be as familiar as the past, but warmer winds have started bringing changes.
Here's something different starting this year. Our members voted to change the Thursday market's time – no longer opening in the afternoon but adopting Tuesday's time of 4-7 p.m. 
Also, decided at that meeting were the opening days of our additional weekday markets and so it is with great excitement I release the 2022 full season's dates and hours.
Tuesday Market, 4-7 p.m – Opening April 19
Thursday Market, 4-7 p.m.– Opening May 19
Saturday Market, 9 a.m.-noon – Open year-round (Which means this week, too, of course.)
In 2022 we are seeking out business sponsors for the Cooking for a Cause food costs. This is to ensure the various nonprofit groups keep more of the funds their breakfast raises even with the cost of supplies jumping up. 
We will offer more gardening classes that are open to the public than ever before in my time with market. A team of volunteers from the community and Jasper County Master Gardeners will be around every Tuesday evening for the Market Sprouts program, which is a kids gardening club. 
We're welcoming Eric Osen of the Jasper County Master Gardeners two Saturdays a month for adult-focused topics on bettering your harvest. The ability to grow a portion of your household's food can have a positive effect on your lives and this sustainable practice has a global impact. We want to start a gardening revolution, maybe you do too?
We don't feel like that's enough because if I listen to Eric and am able to grow a truckload of tomatoes, then what?! I love bruschetta, but that's a lot of bruschetta. Don't worry, we got you. There will be cooking demonstrations and informational sessions on food preservation. All of the information about our summer activities will appear on Facebook and the market's website: webbcityfarmersmarket.com over the next few weeks.
With the market full of vendors and our garden teaming with life, our information table and various activities will be all a buzz with our volunteer staff of Marketeers. I welcome you to get involved in 2022. If you can only help once a month or once a week, we'd love to give you a chance to relax and try connecting with the community in a proactive way. There is an informal volunteer interview with the manager, hey, that's me. This is mainly to grab your contact information as well as see a little of who you are and what help you are interested in giving. I have so much fun with our volunteers and can't stress how important their work is to this farmer's market.
2022 is similar to past years in more parts of the park than our little dandelion-filled northeast corner. 
Parks and Recreation offers summer sports but not before the Annual Easter Egg Hunt. On April 9, kids will line up to dash around like jackrabbits collecting colorful eggs. Kiddos from all over can join in the fun with peers of the same age. Littles up to 4 years old will scurry about at 1 p.m. Children 4-6 will be ready to run at 1:30 p.m. Those age 7 to a reasonable age will be set free at 2 p.m., and kids with special needs can have all the excitement starting at 2:30 p.m. This is another event which could offer you a way to volunteer, I will be there from 1 to 3 p.m. Interested volunteers should contact Webb City Parks Department to get assigned to a job.
It's such a wholesome thing to give back to our community with something more valuable than money – your time. 
While our farms grow food to feed people, our people grow communities to improve each others experience in this big beautiful world. In 2022, I hope you step out in the rain with me to feel growth on the wind. Let's eat better, and get our hands dirty. Let's treat those we love most to foods we grew ourselves. Let's support local economy by choosing to shop locally sourced products. Let's see what 2022 can mean for us all.
See you at Market this Saturday… and Tuesday's starting April 19… and why not on Thursday's, too, starting May 19.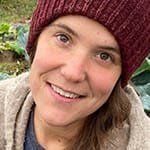 Rachael Lynch
Rachael Lynch is the manager of the Webb City Farmers Market.  For more current updates, visit the market's Facebook page.