Ripley Shanks wins the pole vault event at Webb City's meet on Friday.
Spring sports season nears the peak
Roman Balboa makes his move to pass Neosho's Kaden Cole in the 1600 but got beat at the tape. 
Vikings pick Zach Davidson as tight end/punter
TRACK
After hosting their own meet Friday, the Webb City track squads were gearing up for the Central Ozark Conference meet Thursday at Branson.
TENNIS
Trenton Hayes and Cale Stephens won the doubles crown today in the Central Ozark Conference tournament at Joplin.
BASEBALL
Webb City will be seeking it sixth win in a row Thursday, May 6, as the Cardinals host Republic.
The Cards, 16-5 and 6-2 in the COC, defeated Neosho 8-1 at home Tuesday. 
Two more home games will close out the varsity season – Saturday vs. Hillcrest and Harrisonville and Tuesday against Kickapoo.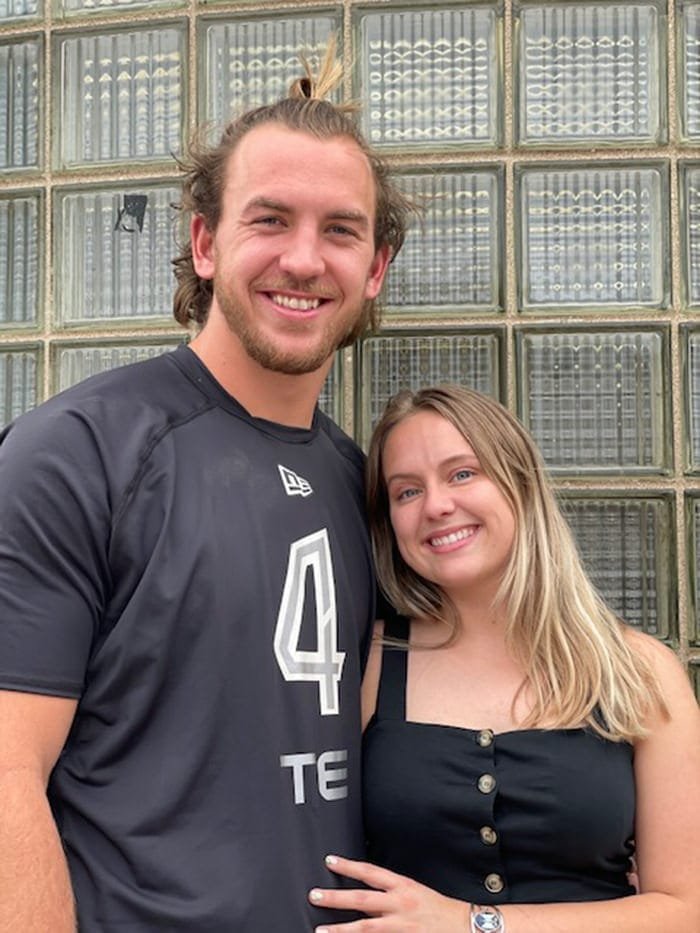 Zach Davidson and Juliet McGowan after Zach took the call Saturday from the Vikings.
ZACH DAVIDSON IS A VIKING
The Minnesota Vikings selected Zach Davidson in the fifth round (No. 168)of the NFL draft Saturday. 
Davidson was primarily a punter for the Webb City Cardinals and was recruited to play that position at Central Missouri University, but he became the tight end in the conference and drew the attention of the NFL.
He received the call at the Unity Building in downtown Webb City, which is owned by the grandparents of his girlfriend since high school, Juliet McGowan.
Signees with their families are: Haven Stanley, Jamie and Michele Stanley; Roger Carranco, Ana and Antonio Carranco; Pryce Mason, John Mason; Alex Johnson, Shannon and Mark Dalton, and Nickhai Howard, Josh and Megan Long and Charisa Ullrich.
FIVE CARDINAL SIGNEES
Cardinal Dome was the site of another college signing ceremony Wednesday.
Signing letters of intent were: Haven Stanley, soccer, Evangel University; Roger Carranco, wrestling, Central Missouri University; Pryce Mason, track and field, Missouri Southern State University; Alex Johnson, football and tennis, Westminster College, and Nickhai Howard, basketball, Labette County Junior College.