Spring – the welcome change
Welcome the return of fried pies and more eggs
It's that time of year when the changing seasons become more evident. You know the saying "change is hard," well, not springtime change at the market.
For example, will any of us complain that Sunflower Bakery is back with their fried pies and other baked goods. Not me! And this change will also be welcome – more eggs will be at the market this Saturday thanks to our new vendor, Cummings Cross Farm. Our manager Rachael Lynch was completely charmed during her inspection to see their many breeds of chickens free ranging across 10 acres. Expect to find farm fresh eggs in a variety of shell shades ranging from brown to white to light green.
Marta Jandres, who comes to the market as part of Harmony Hill Farm to make her pupusas, has made the leap to independence. You'll find Pupusaria Jandres at the market Saturday with pupusas made to order and stuffed with a choice of spinach, zucchini, or beans.
Harmony Hill will have breakfast Saturday – biscuits and gravy and eggs cooked to order. Randy & Phil will be on the market stage.
The Free Kids Meals this Saturday are packed to go.
Breakfast: strawberry yogurt parfait with honey granola and milk,
Lunch: red beans & rice, cheese stick, sliced cucumbers and baby carrots, fruit salad, and milk.
The meals are free to anyone aged 1 through 18 and available for pick up from 9 to 11. Children do not need to be present but please show a photo of yourself with the kids for our head count.
Our master gardener Eric will be under the tree north of the pavilion setting up the market's container gardens from 9 to 11:30. The containers began life as large plastic feed containers but Eric is adapting them for growing.
Container gardens are great for folks who don't want to invest the time (think weeding) or space that a regular garden requires. They're great for patios, balconies, and decks and can be particularly fun when themed.
The market will have a salsa garden with plants like cilantro, onions, peppers and tomatoes and a marinara garden with basil, parsley, tomatoes, peppers, and oregano.
Personally I'm a big fan of herb gardens and plan to have a big pot filled with market herbs on our new terrace in Colorado just a few steps from the kitchen. Yep, I'll be hauling Webb City Farmers Market plants to Colorado. I love local but honestly what I see in Denver doesn't compare in quality, size and price with what's available at our market.
Folks are welcome to stop by to watch and ask questions, or even pitch in if they want. This is all part of our two-year program, Learning to Love growing and eating fresh local veggies.
Market-made granola available at the information table Saturday will be pecan & oats or cinnamon apple & oats. The granola features pecans from Fairhaven and honey from Helms Family Farm. The apples are from a local orchard and dried in the dehydrator in the market kitchen. For $5 you get a 1-pound bag. You can enjoy the granola as a breakfast cereal, to top off yogurt or as a crunchy snack
Vendors we're expecting this Saturday include:
FARMERS
Braker Berry Farm – produce
Helm Family Farm – honey
Lee Family Farm – produce
Maypop Flower
MO Mushrooms – fresh mushrooms & dried mushroom products
OakWoods Farm – produce, wheat grass
Yang Family Farm – produce
RANCHERS
Clear Water Shrimp Farm
Cummings Cross Farm – eggs
Garrett Family Farm
Misty Morning Farms
Sunny Lane Farm
BAKERS
Harmony Hill – plus produce
Redings Mill Bread Co.
Sunflower Bakery
OTHER DELIGHTS
DnD Smoked – salts, spices, mixes
Good Golly Tamales
Grison Dairy & Creamery – cows cheese
Juniper Coffee – coffee beans, coffee drinks, & house syrup
Kings Kettle Corn
Pupuseria Jandres
2Ts Soap & Stuff
I just enjoyed a new dish made by my daughter, Emily. My doctor put me on a low-carb diet some time ago and I struggle to have a filling and varied diet so what a pleasure this new tasty dish was. I was familiar with spaghetti squash replacing pasta but never would have thought of spiralized kohlrabi. It has a neutral flavor with just a hint of sweetness. Emily sauteed it with oil, salt and pepper until it was slightly caramelized and then added a few tablespoons of water and continued cooking until it reached the firmness she wanted. It was delicious combined with alfredo sauce and sauteed shrimp and made a satisfying and filling main course with very few carbs, That's a hard combination to achieve.
Next time you find kohlrabi and shrimp at the market, I highly recommend you give it a try regardless of what kind of diet you might be on.
We'll be open from 9 to noon on Saturday with more choices every week. See you at the market!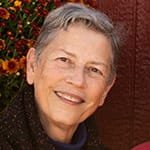 Eileen Nichols founded the Webb City Farmers Market in 2000. From a handful of producers, the market has grown to become nationally recognized.