State of Missouri certifies Sentinel nonprofit corporation
Zinc City Sentinel Inc. will be doing business as Webb City Sentinel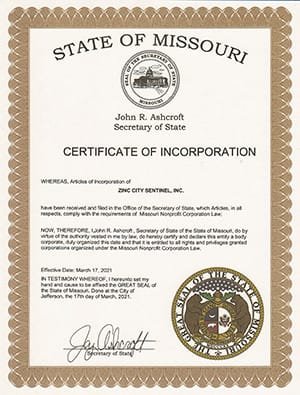 You may have noticed something common to website menus – "About" – has been missing from this website's menu – but not anymore.
I can now tell you about Zinc City Sentinel Inc., which was recently approved by the Missouri Secretary of State's office as a nonprofit corporation.
This new corporation's purpose is to continue providing local news coverage much the same way the print version of the Webb City Sentinel did for 141 years.
Q. Why didn't you name the new corporation Webb City Sentinel Inc.
A. Because the state won't approve two corporations with the same name. We won't officially end Webb City Sentinel Inc. until the end of our fiscal year in July.
Q. Are you going to change the name of the website to Zinc City Sentinel? 
A. No. You won't see the corporation name much. The website name will still be the Webb City Sentinel and Wise Buyer.
Q. Who is behind the nonprofit corporation?
A. Bob Foos, the publisher, is on a board of directors including, Ann Foos, Vicki Groff, Juliann McFall, Marti Pittman, Kathy Sidenstricker and Brennan Stebbins.
Q. Should the corporation become defunct, what will happen to the money that's been donated?
A. Any Zinc City Sentinel funds on hand at the time it shuts down (not in the foreseeable future) will be distributed by the circuit court to other local nonprofit organizations. In other words, it won't be kept by anyone associated with the Zinc City Sentinel.
Q. How will money donated to the Zinc City Sentinel and revenue from advertising be used?
A. So far, money is building in an account to at some point pay for operating expenses. The old Sentinel corporation has covered the expenses to get the website started.
Q. What do your operating expenses include?
A. Fees for website hosting, protection against hackers, website applications and a monthly subscription for Adobe software. It does not cover any salaries. Existing equipment is adequate.
It would be nice in the future to be able to pay contributors.
Q. Will the Sentinel continue to be read online for free?
A. Yes.
Q. But if we want to donate, how can we?
A. That's an actual question that's been asked. And it's gratifying. Until now, the answer has been, "Please wait until the nonprofit corporation has been approved and has its own bank account."
Donations can be made out and mailed to:
Zinc (or Webb) City Sentinel
701 Ellis St.
Webb City, MO 64870
There is also a donation form on the website.
Q. Are donations tax deductible?
A. Not yet. State approval was required before application could be made to the IRS for Zinc City Sentinel Inc. to become a 501(c)(3) organization. That's what's necessary for donations to be tax deductible.