Thanks to you, our WIC fundraiser was a success
I feel so grateful today because of the support we saw over the last two weekends for the Market WIC Program. Our funds were running thin for this hunger-fighting program focusing on Women, Infants and Children, and our market community showed up, raising a little over $600 to provide quality fresh foods for the youngest of our citizens. Thank you!
Parents today understand children need good food for proper development. Fast food and preservative-filled box meals are cheap, but cheap in vitamins and minerals essential for growth as well. A box of cereal is a couple of dollars and will fill a belly for a week, but the sugar content should come with a warning label.
Parents dedicated to the healthy growth of their children sacrifice more of their budget to provide healthy meals, they give up time to be in the kitchen every day ensuring their dinner plates are setting up their youth for a healthy life. 
Parents with lower incomes feel the pinch in their pockets even harder and don't always have time to cook because of work schedules. They love their children just as much and value the food they are setting out at mealtimes.
This is why we are dedicated to offering food assistance programs like the Market WIC Program and taking part in the Double Up Food Bucks program, which helps SNAP recipients buy more fresh fruits and vegetables.
Vendors and members of our board of directors had some fun last night walking in the Webb City Christmas Parade. We dressed up to spread the joy of locally grown foods and where to find it. Many folks still don't realize that our farmers market is open all year on Saturdays.
Except, with Christmas landing on a Saturday this year, we will be open instead on Friday, Dec. 24. The Christmas Eve Market will be open from 10 a.m. to 2 p.m. so no one needs to go without their weekly groceries.
For the two Saturdays left before Christmas, we've gained more artisans with hand-crafted items. Leatherwork, handmade doll clothes, wood decorations, and hot cocoa bombs for those stockings. This is just part of what's available this weekend from our Christkindlemarket vendors.
We'll welcome The Mayfields to the market stage. This husband-and-wife duet is part of Red Bridge Bluegrass. They have played at the market for many years. We love hosting their music during the holidays, adding cheer to the airways of the market pavilion.
Also this Saturday, we'll have six produce farms, five food vendors, four craft booths, three ranches, two bakeries, and a partridge in a pear tree. Okay, scratch the partridge but there will be an apiary, which if we stretch it rhymes with pear tree. See you at the Market.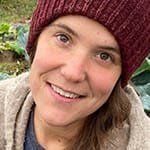 Rachael Lynch
Rachael Lynch is the manager of the Webb City Farmers Market.  For more current updates, visit the market's Facebook page.